Not many celebrities in the entertainment industry are able to flow easily in different aspects of showbiz, but that is not the case with our dear Justin Timberlake. When he sings, he leaves you with your mouth agape in awe, when he takes the dancing floor, he keeps your spirit high and when he is handed a script, be sure to get a 100% performance. The popular entertainer is also a record producer and a well-bred businessman.
His contributions in the music industry have earned him seven American Music Awards, four Emmy Awards, ten Grammy Awards, eleven MTV Video Music Awards, and a host of others.
Justin Timberlake's Age and Early Life
Born with the full name Justin Randall Timberlake on January 31, 1981, in Memphis, Tennessee, the singer grew up in the small town of Shelby Forest.
He started performing from the time he was a child, singing gospel and country music. His career was kicked-started when at the age of 11, he competed in the TV show, Star Search, performing country songs. As a result of the high level of popularity he earned due to his performance in the show, Justin landed a role in the 6th edition of Mickey Mouse Club.
Subsequently, he, alongside JC Chasez, his co-actor on Mickey Mouse Club, joined the boy band, NSYNC. Justin, the youngest member of the group, was one of the two lead singers. and despite the fact that the band grew to be famous even internationally, performing in many big events like the Super Bowl, Olympics and Academy Awards, it was disbanded in 2002.
Afterward, Justin Timberlake released his debut album, Justified (2002) and today, the rest is history.
Family Details
The celebrity musician is the son of Lynn (Bomar) Harless and Charles Randall Timberlake, a choir director in a Baptist church. When he was three years old, his parents divorced but despite that, Justin revealed that he never lacked love and attention from them both.
As a result of his father's marriage to another woman named Lisa Perry, he had two step-brothers – Jonathan and Stephen – and a half-sister, Laura Katherine, who died not long after she was born in 1997. When he was five, his mother remarried and according to the singer, his stepfather showed him the value of stepping in and really being a man.
He comes from a family of musicians and it was his grandfather who first introduced him to the songs of country artists like Johnny Cash and Willie Nelson.
Son And Other Kids
The award-winning singer has been romantically involved with some pretty big stars in Hollywood, including Britney Spears and Cameron Diaz and although his relationship with the ladies lasted for a long time, it eventually ended.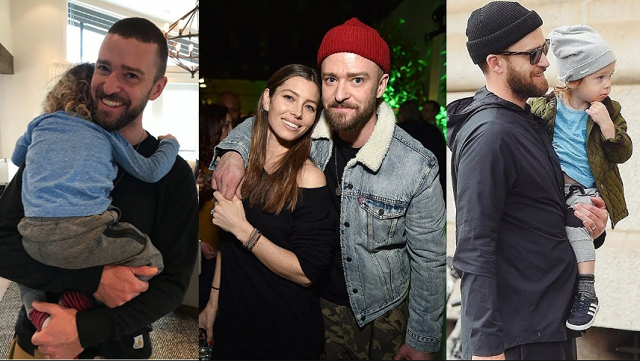 However, Justin Timberlake met actress Jessica Biel and things turned out differently for them. They started dating in January 2007 and in December 2011, they got engaged before tying the knots on October 19, 2012, at the Borgo Egnazia resort in Fasano, Italy, and they are still together till date.
They welcomed their first child, a son named Silas Randall Timberlake, in April 2015. Although the couple wanted to have Silas at home and had already put everything in place, things didn't exactly go as planned so he had to be birthed through an emergency C-section at the last minute. Apart from Silas, there is no record of any other child fathered by the singer.
Net Worth
Justin Timberlake has earned millions of dollars from his music career. Besides the sales of his albums, he has also embarked on a number of highly successful tours, including The 20/20 Experience World Tour and the FutureSex/LoveShow tour, which made $127.8 million. He also launched the Justified and Stripper tour alongside Christina Aguilera and they made $45 million from tickets sales.
The musician has also made some money from movies. Although he is not popular as an actor, he has featured in a number of Hollywood films which were successful commercially. This includes The Social Network and Bad Teacher which earned $224.9 million and $216.2 million respectively, at the box office.
Aside from the entertainment industry, Justin has also proven to be a very astute businessman. He a co-owner of three restaurants in the United States, including Chi, Destino, and Southern Hospitality which opened in 2003, 2006 and 2007 respectively. In 2005, he and his friend, Juan ("Trace") Ayala, launched a clothing line named William Rast. About two years after this, Timberlake bought over the run-down Big Creek Golf Course in his hometown, redeveloped and changed its name to Mirimichi Golf Course.
The musician and his wife are stakeholders in the professional basketball club, Memphis Grizzlies. In 2018, he collaborated with Levi's to launch a collection of a clothing line called Fresh Leaves. Justin also provides celebrity endorsement for many products.
Considering his many business ventures, it is not surprising that the prince of pop counts his money in millions of dollars. According to Forbes, he earned $44 million from his music, tour, commercials, and hospitality between June 2007 and June 2008, thus, becoming the 4th best-paid music personality in the world at the time. In 2013, Billboard named him the third most paid musician of that year with his earnings of $31 million. On the Forbes Celebrity 100 list for 2014, Justin Timberlake took the 26th spot with earnings of $57 million and the next year, he rose to the 19th position in the same list, having made $63.5 million.
Following the continuous growth in his earnings each year, Justin Timberlake currently has a net worth of $250 million which is mostly earned from his singing career.
Height
The Cry Me a River coroner does not look tall at a glance but he actually is, standing at 6 feet 1 inch (1.85 m). He weighs 76 kg (168 pounds) and has light brown hair and a pair of blue eyes that accentuates his perfectly chiseled face.
His facial features are so well put in place that some people believe he must have gone under the knife to achieve it, particularly his nose and lips. Although the singer has never responded to the rumors at the different times it cropped up, his ever-faithful fans have always succeeded at shutting it down with the claim that he is only aging gracefully.