There are many pitchers who play in Major League Baseball (MLB) but only a few of them can be grouped in the class of Justin Verlander whose talent and achievements so far are remarkably astounding. This is no surprise as he began playing the sport as a child. The baseball pitcher for the Houston Astros, among other attainments, is a World Series champion and has been named to the All-MLB First Team, and the MLB All-Star game 8 times.
He started his MLB career with the Detroit Tigers in 2005 and joined the Astros in 2017. A member of the 3,000 strikeout club, Justin is married to an actress and model. As such, it is not a surprise that his love life gets as much attention as his career.
Justin's Father Inspired His Baseball Career
Born in Manakin-Sabot, Virginia, on February 20, 1983, the baseball player is the first of Kathy and Richard Verlander's two sons. He shared a very close relationship with his father while growing up and naturally became a lover of baseball because his father was a big fan of the sport.
According to the story, it was his father who encouraged him to play the sport after he witnessed Justin throwing a rock farther than he could. As a nine-year-old boy, he joined the youth baseball level in the Richmond area and was said to be the best pitcher in the area. His father also registered him in The Richmond Baseball Academy where his throwing velocity increased shortly after.
Justin Verlander was also a student at Goochland High School where he continued playing baseball and later moved to Old Dominion University in Norfolk, Virginia. By the time he finished his college career with the Monarchs, Justin set a record as the all-time strikeout leader in his university's team, the Colonial Athletic Association Baseball Tournament, as well as the Commonwealth of Virginia (Division I) with a total of 427 in 335⅔ innings. As a result of his excellent performances, he was selected to the United States 2003 national team which won a silver medal in that year's Pan American Games.
After a three-year college baseball career, Justin Verlander joined the professional league as he was selected by the Detroit Tigers in the 2004 MLB Draft. He was selected as the second overall pick and has continued to set new records in the league.
How He Became The Highest-Paid Pitcher In MLB History
Drafted in 2004, Verlander made his MLB debut in 2005. As he was a newbie, details of his first deal with the Detroit Tigers are hard to come by. But following his outstanding performance, the Tigers were eager to extend his stay with the team, so they offered him a five-year $80 million contract extension in the offseason that ushered in the 2010 season.
In the years that followed, Justin dominated the league, pulling off records that are too many to count. From Players Choice Award to Pitcher of the Year Award, Sporting News Player of the Year Award, and AL Cy Young Award, Verlander won so many that it became apparent he was worth every bit of his $80 million deal.
At the dawn of the 2013 season, the Tigers had to review his contract. They handed Justin Verlander a deal that made him the highest-paid pitcher in the history of the league. It was a seven-year contract for a massive $180 million. There was also a $22 million vesting option for 2020.
A Look At His Recent Contract And Net Worth
As fate would have it, the Astros came for Justin in 2017 and the Tigers were willing to let him go. After the deal that saw him join the Houston Astros, the baseball player inked a two-year $66 million contract extension which will see him remain with the Astros through the 2021 season.
Verlander's $66M, 2 year deal is rightfully a record salary at $33M per year. Greinke AAV is counted as $32.5M by MLB since he has some deferred $ in his $206.5M, 6-year deal. #astros

— Jon Heyman (@JonHeyman) March 23, 2019
Based on the foregoing and the fact that Justin currently earns $33 million yearly, it is easy to see how he came to acquire his wealth estimated at $95 million.
Apart from his career earnings, the MLB star has lucrative endorsement deals with companies such as Under Armour, Breitling, GlaxoSmithKline, and Rawlings.
What's So Special About His

Pitching Style?
Saw @JustinVerlander pitch yesterday. Fastball. Dealing with easy velo. This is just… Need words… HE'S BACK! pic.twitter.com/Dhr00pPy3b

— Chris O'Leary | Baseball (@thepainguy) March 16, 2016
The pitching styles are quite many and any pitcher can throw any of them, what makes the difference for Justin is that his' is a blend of deception, pinpoint control, and speed that often leaves a professional hitter swinging like an amateur.
Justin's pitching style revolves around the changeup, four-seam fastball, 12-6 curveball, and slider; which are the most common baseball pitches. He stands out because of his velocity and how he manipulates his throwings. For instance, it has been observed of late that he uses the changeup style almost always against left-handed batters.
Also, it has been noticed that he employs the 12-6 curveball when he wants to offset hitters' timing as his' often buckles hitters' knees. For his sliders, he throws fast ones away and down to right-handed hitters and slow ones under the hands of left-handed hitters.
Feats That Prove His Pitching Style Is Worth Emulating
Since his MLB career took off, Justin Verlander has always made it to the top of the league in innings pitched. He has even led the league in that regard in four seasons; most recently in 2019. Other seasons are 2012, 2011, and 2009.
A five-time American League strikeout champion, this pitcher has led the MLB in three of the five seasons. Justin has made it to the Top 10 in innings pitched 9 times; he attained this feat consecutively from 2009 to 2013 and again from 2016 to 2019.
When CC Sabathia retired in 2019, Verlander became the only active pitcher with at least 3,300 career strikeouts. He is one of only 18 players in the MLB that has attained this.
The Baseball Pitcher Is Married To Kate Upton
Kate Upton is an American supermodel and actress who has appeared on the cover of the Sports Illustrated Swimsuit Issue of four different years. She has also modeled for other reputable companies such as Beach Bunny Swimwear, Complex, Esquire, and has appeared as a cover model for Vogue Italia (November 2012), Vogue UK (January 2013), Vogue (June 2013), and Vanity Fair's 100th anniversary among others.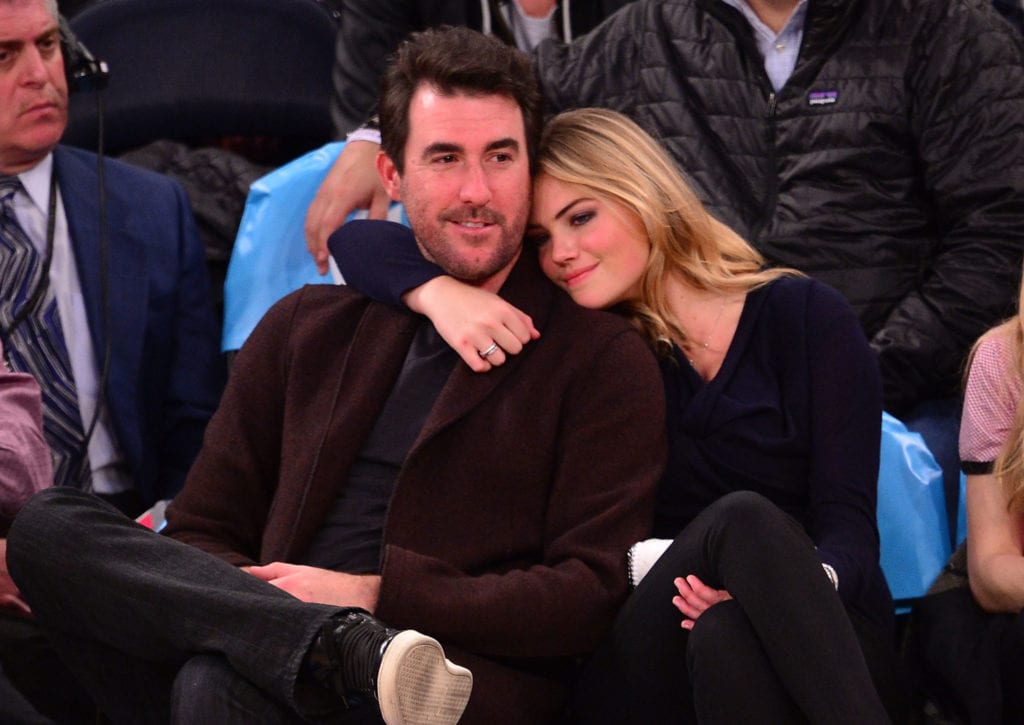 Born on the 10th of June 1992, in St. Joseph, Michigan, Kate Upton, who took the fifth spot on Models.com's list of sexiest models in 2012, was also listed among Maxim's Hot 100 list in the same year and AskMen's Top 99 Women for 2013. The following year, she was named "Sexiest Woman" by People's magazine.
The beautiful model started acting in the 2011 film, Tower Heist, playing the role of Mr. Hightower's mistress. She has gone on to feature in other movies like The Three Stooges, The Other Woman, and The Layover.
The Couple Were Friends Before They Started Dating
Kate Upton and Justin Verlander met in 2012 but were just friends until early 2014 when they started dating. Speaking with Bleacher Report in August 2018, the baseball player revealed that while they were dating, Kate helped him recover from an injury which left him depressed and upset with the world.
According to him, she was someone he could talk to and also trust and that, probably, was one of the reasons why he decided to take their relationship to the next level as he discovered at that point in his life that she was what he needed.
They got engaged in 2016 after dating for two years and in November 2017, they got married in a private ceremony which took place in a medieval church situated in Tuscany, Italy. The wedding ceremony had close family and friends of the couple in attendance. In November 2018, Kate and Justin welcomed their first child named Genevieve Upton Verlander.