There are many pitchers who play in the Major League Baseball (MLB) but only a few of them can be grouped in the class of Justin Verlander whose talent and achievements so far are off the hook. This is no surprise as he began playing the sport as a child. Here is the story of how he became so successful in the sport.
Bio
Born in Manakin-Sabot, Virginia, on February 20, 1983, the baseball player is the first of Kathy and Richard Verlander's two sons. He shared a very close relationship with his father while growing up and naturally became a lover of baseball because his father was a big fan of the sport.
According to the story, it was his father who encouraged him to play the sport after he witnessed Justin throwing a rock farther than he, his dad, could throw it. As a nine-year-old boy, he joined the youth baseball level in the Richmond area and was said to be the best pitcher in the area. His father also registered him in The Richmond Baseball Academy where his throwing velocity increased shortly after.
Justin Verlander was a student at Goochland High School where he continued playing baseball and later moved to Old Dominion University in Norfolk, Virginia. By the time he finished his college career with the Monarch, Justin set a record as the all-time strikeout leader in his university's team, the Colonial Athletic Association Baseball Tournament, as well as the Commonwealth of Virginia (Division I) with a total of 427 in 335⅔ innings. As a result of his excellent performances, he was selected to the United States 2003 national team that won a silver medal in that year's Pan American Games.
After a three-year college baseball career, Justin Verlander joined the professional league as he was selected by the Detroit Tigers in the 2004 MLB Draft. He was selected with the second overall pick and has continued to set new records in the league.
Justin Verlander Net Worth
Justin's successful career has earned him an estimated net worth of $105 million. The seven-time MLB All-Star apart from his baseball career, also made a part of this huge sum from endorsement deals with companies such as Under Armour, Breitling, the pharmaceutical company, GlaxoSmithKline and the sports equipment manufacturing firm known as Rawlings.
In 2013, he became the highest-paid pitcher in the league history after he agreed to the terms of a seven-year contract with the Detroit Tigers worth $180,000,000. Consequently, he earned a base salary of $20,000,000 in 2013 and 2014, and $28,000,000 from 2015 to 2019.
Read Also: Aaron Judge Ethnicity, Parents, Girlfriend, Brother, Height and Weight
Is He Married? Who Is His Wife Or Girlfriend
Justin Verlander is married to Kate Upton, an American supermodel and actress who has appeared on the cover of the Sports Illustrated Swimsuit Issue of four different years. She has also modeled for other reputable companies such as Beach Bunny Swimwear, Complex, Esquire and appeared as a cover model for Vogue Italia (November 2012), Vogue UK (January 2013), Vogue (June 2013), and Vanity Fair's 100th anniversary among others.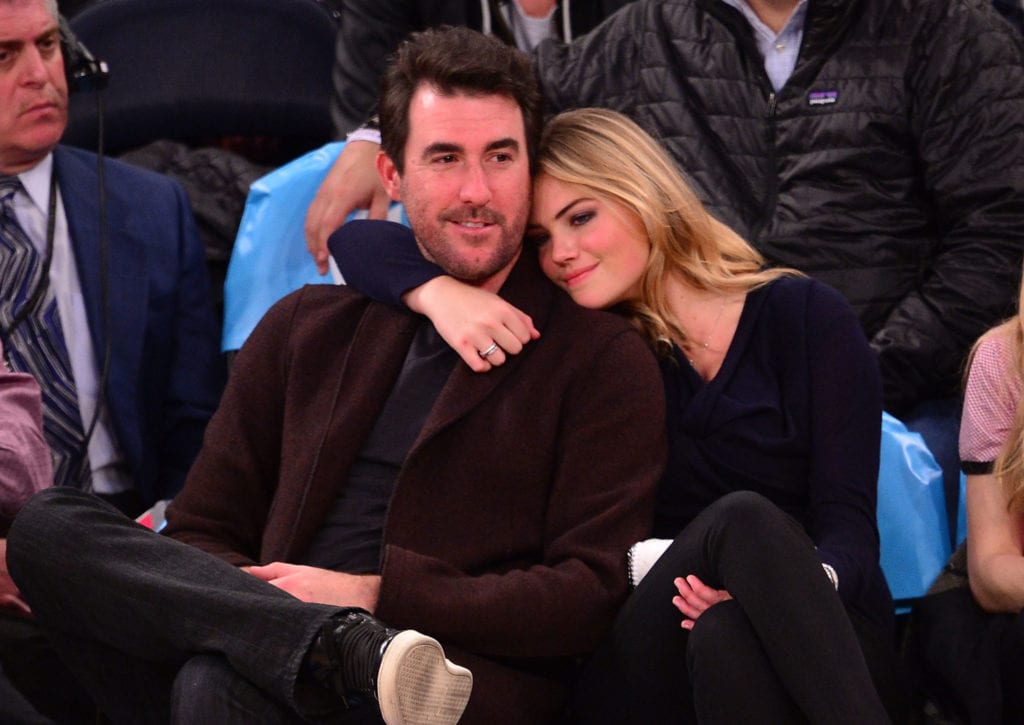 Born on the 10th of June 1992, in St. Joseph, Michigan, Kate Upton who took the fifth spot on Models.com's list of sexiest model in 2012, was also listed among Maxim's Hot 100 list in the same year and AskMen's Top 99 Women for 2013. The following year, she was named "Sexiest Woman" by People's magazine.
The beautiful model started acting in the 2011 film, Tower Heist, playing the role of Mr. Hightower's mistress. She has gone on to play feature in other movies like The Three Stooges, The Other Woman and The Layover.
Kate and Justin met in 2012 but were just friends until early 2014 when they started dating. Speaking with Bleacher Report in August 2018, the baseball player revealed that while they were dating, Kate helped him recover from an injury which left him depressed and upset with the world. According to him, she was someone he could talk to and also trust and that, probably, was one of the reasons why he decided to take their relationship to the next level as he discovered at that point in his life that she was what he needed.
They got engaged in 2016 after dating for two years and in November 2017, they got married in a private ceremony which took place in a medieval church situated in Tuscany, Italy. The wedding ceremony had close family and friends of the couple in attendance. In November 2018, Kate and Justin welcomed their first child named Genevieve Upton Verlander.
Height
The dark brown haired, right-handed baseball pitcher stands at 6 feet 6 inches and weighs 102 kg (225 lb). He has brown eyes with a body measurement of chest – 46 inches (116 cm), waist- 36 inches (91 cm), and biceps 15 inches (38 cm).