Except for a few exceptions, wives of sportsmen hardly share the same visibility as their husbands. One of those exceptions is Justine Karain, wife of the 2018 Master Tournament Winner, Patrick Reed. Her husband's achievements in the game of Golf have brought her before the public eye; making her the subject of thousands of google searches.
On her own, while Justine has never been a celebrity, she has had it going for herself as a medical worker; nurse, before later becoming a caddie because of her husband.
Justine Karain Transitioned From Being A Nurse To A Caddie Because of Patrick Reed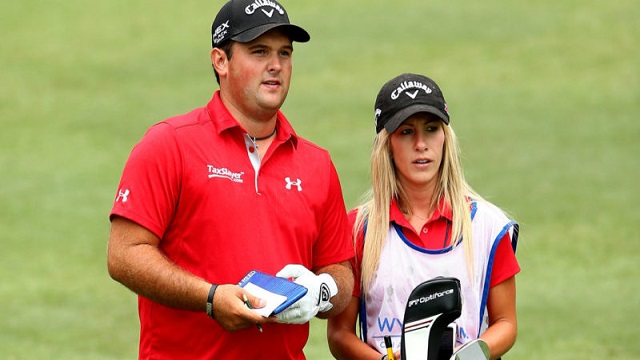 It is easy for one to see Justine Karain as a full-time Caddie because she always served as one for her husband. However, she was initially a full-time nurse whose career seemed to be going well.
Because of her relationship with the golfer who later became her husband, she decided to change her career path – becoming a caddie. According to her, if anyone had told her she was going to later stop practicing as a nurse when she was pursuing her nursing degree, she would never have believed it. Her father did not also believe her when she told him she was becoming a caddie.
She would continue working beside her husband for the two years they dated until she became pregnant and she was forced to drop the bag. As motherhood responsibilities slowly crept in, she was no longer readily available on the golf course to cheer her husband up. She focused on raising their two kids, instead.
After she dropped aside as his caddie, it was her brother that took over.
Her Marriage To Patrick Reed Broke His Family Apart
Justine Karain and Patrick Reed have a close-knit family. Upon their first meeting in 2009, the pair began an affectionate relationship that lasted three years before taking it a notch higher with their engagement on January 9, 2012. They were married months later in a private wedding ceremony on December 21, 2012.
While the marriage marked a great beginning for them, it wasn't the same for Reed's family who were strongly opposed to the marriage. His parents did not think Justine who was 4 years older than their son was suitable for him.
More so, Patrick was just 22 when he married Justine Karain, 26, and his parents reportedly considered the two to be too young to get married when they did. His parents Bill and Jeannette as well as his sister Hannah did not attend the wedding as he did not invite them and since then, he has cut them off. Asides from blacklisting them from their wedding ceremony, Patrick once asked that his parents be removed from the course in the 2014 U.S. Open when they came to watch him play.
Consequently, Justine Karain does not have a thriving relationship with her in-laws and has even criticized them publicly for the supposed physical and verbal abuse they put Patrick through when he was growing up.
So far their marriage has produced two children, a daughter they christened Windsor-Wells (b. May 2014) and a son, Barrett Benjamin, born on December 6, 2017.
Patrick Reed's Childhood Was Built Around Golf
2008 US AM ❤ My special memories of Pinehurst #Patrick Reed #caddydaddy pic.twitter.com/PmCdpToYRE

— Jeannette Reed (@JKReed58) June 11, 2014
Patrick Nathaniel Reed was born on August 5, 1990, and was brought up by his parents alongside a sister in a family that has always loved golf. His maternal grandfather and aunty were golf players and he learned to start playing even before the age of 10, at which age he was already wearing trousers at tournaments, unlike other kids that wore shorts.
When he was a freshman at University High in 2006, he helped the institution to win the state golf championship. He continued playing at the University of Georgia before transferring to Augusta State University.
Reed turned pro in 2010 at the age of 20 and since then, he has risen into becoming a great player in his own rights, winning a single Masters Tournament, in 2018.
Justine Karain Grew Up As An Intelligent Kid Who Loves Sports
Justine Karain was born in Houston, Texas on December 19, 1986. Although not too many details exist about her early childhood, family, and education, we do know that she was born into an affluent family and that she has a brother by the name Kessler Karain. She attended Klein Forest High School where she helped start the women's golf team. This would be Justine's earliest 'swipe' at golfing.
After graduating from high school, Justine Karain then attended Louisiana State University for Health Service Administration for her undergraduate education. She then proceeded to Augusta State University, where she earned another degree in Nursing.
She is Also a Trained Athlete
While it is certain that Justine Karain has no ambitions of being a professional golfer, she also has a history of her own in sports. Asides from being an A-student, Karain was also an excellent swimmer and played soccer during her high school days and part of her college days.
She continues to support her husband who, so far has twice won the European Tour and bagged multiple wins in the PGA Tour. His biggest win yet came in 2018 when he emerged victorious in the Masters' Tournament.
Karain Had A Brush With Death In 2014 
Justine Karain had had a serious brush with death in 2014 after she suffered a grand mal seizure while she was in the bathtub. Fortunately for the couple, Patrick was still at home when it happened and he was able to save her from drowning.
She was moved to Naples Community Hospital where she was given the care and support she needed. The event made her husband withdraw from the Franklin Templeton Shootout pro-am.
Although Justine came out of this easily and was only said to be needing some good rest, it was not her first health scare as she previously had a health challenge in China where she had a lacerated ulcer that covered her left cornea. But for the medical help the couple sought that night, doctors told them it would have led to something serious.
Her Husband Is The Richer Of The Two
https://www.instagram.com/p/BnFZcMJh3xW/
As her husband's caddie and previously a nurse, there are no details as to how much Justine makes as salary. This also goes on to mean that her actual net worth is not known even though it is no secret that she was brought up in a rich family.
On the other hand, her better half has an estimated net worth of $9 million as of 2020. He made his fortune from his career as a professional golfer from his earnings as well as the endorsement deals he has.