Kacey Musgraves is a popular country music singer and songwriter. In the course of a successful career, the American singer has released at least three critically acclaimed albums. These albums have spurned hit songs such as Space Cowboy, Follow Your Arrow, Merry Go Round, Biscuits, High Horse, and It Is What It Is.
Musgraves has received several awards for her work including multiple Grammys. She has also headlined her own soldout tours and opened for other big artists as well. Additionally, she has earned a reputation as a country music rebel – thanks to her liberal views. Find out more about her here including her age, height, husband, as well as other facts about her.
Kacey Musgraves Bio (Age)
Kacey Lee Musgraves was born on the 21st of August 1988 in Mineola, a town in Wood County, Texas. She comes from a family of four which includes her dad, Craig Musgrave (a business owner) and her mom, Karen Musgraves (an artist). The singer also has a younger sister named Kelly Christine Sutton (nee Musgraves).
Musgraves' musical talent manifested at an early age. She, therefore, learned how to play the guitar and performed at various local venues. One of such venues was the local theatre where she became very popular. Kacey Musgraves graduated from high school (Mineola High School) in 2006 and turned her attention squarely on making music. She produced and marketed her own demo tapes and landed her first record deal in 2008. Under Triple Pop Label, she recorded acoustic covers of songs by One Republic (Apologize) and Miley Cyrus (See You Again).
Her covers racked up millions of streams online and propelled her into the spotlight. Kacey Musgraves released her debut album, Same Trailer Different Park, in March 2013. The album featured monster hits such as Merry Go Round and Follow Your Arrow and won her several awards including the 2014 Grammys for best country song and best country album. Musgraves has released two more successful albums, Pageant Material (in 2015) and Golden Hour (in February 2018).
Her Husband – Ruston Kelly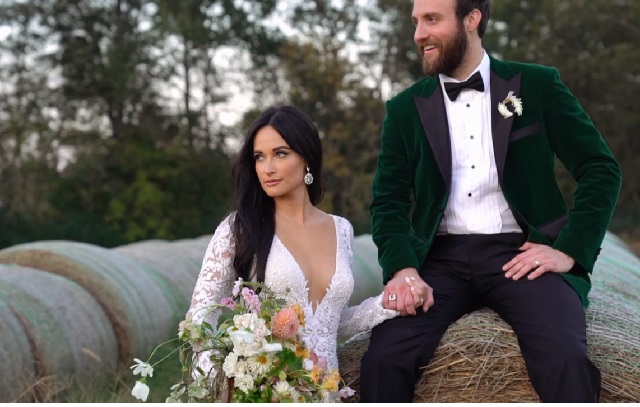 Musgraves is married to a fellow musician, Ruston Kelly. Kelly is a native of South Carolina and is a singer/songwriter. He has written songs for artists such as Tim McGraw. He also has an EP (Halloween) and a studio album (Dying Star) to his credit.
Musgraves and her hubby first met in March 2016 in a café in Nashville. She was there to soak in some music while he was billed to perform. She was mesmerized by his performance and approached him after the show. They exchanged contacts and agreed to go on a song-writing date. Despite making the first move, Musgraves was reluctant to go on the date as she had recently broken up with long-time boyfriend/band member, Misa Arriaga. She finally agreed to go on a date with Kelly and the rest is history.
They started dating in May 2016 and got engaged on Christmas Eve of the same year. Musgraves and her love tied the knot on the 14th of October 2017. The heart-warming ceremony was held in Tennessee.
See Also: Miranda Lambert Dating, Boyfriend, Cheating and Affairs, Age, Height
Height and Other Facts About Kacey
1. The country singer is 5 feet 5 inches tall and weighs a modest 119 lb (54 kg). She has black hair, which she sometimes changes to dark brown depending on her fancy. Musgraves also boasts of a pair of captivating dark brown eyes.
2. Even though the Texas native is a country singer, she holds progressive views which she fearlessly explores in her songs. This trait has won her many fans but has also brought some discontent.
3. Kacey Musgraves started writing songs as early as the age of 8. Her very first song was titled Notice Me. She has penned lyrics for renowned artists such as Miranda Lambert. She co-wrote lambert's 2013 song, Mama's Broken Heart.
4. Musgrave has headlined several tours of her own. She has also opened for popular acts such as Harry Styles, Katy Perry, Lady Antebellum, etc.
5. Kacey Musgrave also has a Christmas-themed album to her credit. She dropped A Very Kacey Christmas in October 2016. The album is a mixture of traditional Christmas carols and original songs.
6. Musgrave is very close to her paternal grandma, Barbara Musgraves. Her granny encouraged her career and personally helped her sell her demo tapes.
7. The Texan has won several awards including an Academy of Country Music Award for Best Album, 4 Country Music Association Awards, and 2 Grammy Awards.