Kacey Musgraves is a popular country music singer and songwriter with a resume laden with achievements. In the course of her successful career, the American songstress has released at least three critically acclaimed albums and these collections have produced hit songs such as Space Cowboy, Follow Your Arrow, Merry Go Round, Biscuits, High Horse, and It Is What It Is.
A phenomenal singer, brilliant songwriter, talented guitarist, with a healthy sense of humour… these words aptly describe the award-winning Kacey Musgraves. She has received several awards for her works, including multiple Grammys. She has also headlined her own sold-out tours and opened for other big artists as well. Additionally, she has earned a reputation as a country music rebel – thanks to her liberal views. With all the fame, fans are always looking into her personal life which is filled with a lot of interesting tidbits.
How Kacey Musgraves Met And Married Ruston Kelly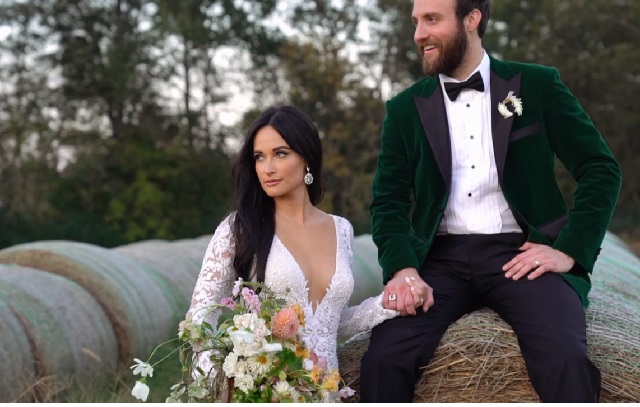 Musgraves was once married to a fellow musician, Ruston Kelly. Kelly is a native of South Carolina who plies his trade as a singer/songwriter. He has written songs for artists such as Tim McGraw and also has an EP (Halloween), as well as a studio album (Dying Star) to his credit.
Musgraves and her hubby first met in March 2016 in a café known as the Bluebird Cafe in Nashville. She was there to soak in some music while he was billed to perform. Subsequently, she was mesmerized by his performance and approached him after the show. They exchanged contacts and agreed to go on a song-writing date. Despite making the first move, Musgraves was reluctant to go on the date as she had recently broken up with a long-time boyfriend/band member, Misa Arriaga. She finally agreed to go on a date with Kelly and the rest is history.
They started dating in May 2016 and got engaged on Christmas Eve of the same year. Musgraves and her love tied the knot on the 14th of October 2017. The heart-warming ceremony was held in Tennessee.
The Two Have Resorted To Divorce
Kacey wrote several songs in honor of their relationship and her album Golden Hour was inspired by their love story. Ruston also released his debut album Dying Star and credited Kacey for helping him find peace and strength.
The couple appeared very much in love, attending most red carpet events hand in hand which made it come as a shock when they released a joint statement on the 3rd of July 2020 to announce their split and imminent divorce.
Details of what actually went wrong are unknown but they claim to have decided to split after a long period of trying and things weren't working. Despite living their separate lives now, they hope to remain true friends for the rest of their days.
Estranged Or Not, Kacey Still Has Respect For Ruston
According to their joint statement released to People after a little over two years of living as husband and wife, Kacey and Dustin believe their marriage was not a mistake. They understand that there's a divine reason for their relationship which has positively impacted their respective lives and career endeavors. For this reason, they have chosen to remain good friends after going their separate ways, holding no grudge whatsoever.
For what it's worth, Ruston is credited as the inspiration behind her career-changing album Golden Hour. The musical piece is her fourth studio album which she dropped in 2018 to rave reviews, winning all four Grammys it was nominated for – the coveted Album of the Year and Best Country Album inclusive.
If her recent birthday wish is anything to go by, Musgraves still gushes over her ex without minding the audience. Four weeks after breaking the news of their divorce, Kacey Musgraves took to her Instagram stories to wish her ex-husband a happy birthday, reminding him how lucky the world is to have him in it.
This is not the first time she is showing support for her ex. The Grammy Award winner had earlier shared a link to Pressure – Ruston Kelly's track which is due to be released in his anticipated album Shape & Destroy.
Pressure https://t.co/7Nnlxm7Opq pic.twitter.com/2zfG14Zv2v

— Crowmaster (@RustonKelly) July 17, 2020
Kacey Musgraves Had Support From Family In Her Budding Days
As a player in a very competitive industry, Kacey has shown that success can be achieved with talent and hard work. She has gone ahead to create a niche for herself in the country music scene by being true to her brand. While this has made her one very controversial artist, she does have her own staunch lovers and followers.
Kacey Lee Musgraves was born on the 21st of August 1988 in Mineola, a town in Wood County, Texas. She comes from a family of four which includes her dad, Craig Musgrave (a business owner), and her mom, Karen Musgraves (an artist). The singer also has a younger sister named Kelly Christine Sutton (nee Musgraves) who now works as a photographer.
She was born six weeks early and weighed five pounds at birth. She attended Mineola High School and during her formative days when her mother would take her to music festivals to allow the young star to sing. She was 14 when her first solo, self-released album was funded by her family.
Also, Musgrave is very close to her paternal grandma, Barbara Musgraves who encouraged her career and personally helped her sell her demo tapes.
She Began Her Career Early, Starting From Elementary School
Musgraves' musical talent manifested at an early age. At 8, she penned a song she titled Notice Me for her graduation from elementary school. She equally learned how to play the guitar and mandolin, performing at various local venues. One of such places was the local theatre where she became very popular. Kacey Musgraves graduated from high school in 2006 and turned her attention squarely to making music.
She produced and marketed her own demo tapes, landing her first deal in 2008. Under Triple Pop Label, she recorded acoustic covers of songs by One Republic (Apologize) and Miley Cyrus (See You Again).
Her covers racked up millions of streams online and propelled her to the spotlight. Kacey Musgraves released her debut album, Same Trailer Different Park, in March 2013. The album featured monster hits such as Merry Go Round and Follow Your Arrow and won her several awards, including the 2014 Grammys for best country song and best country album. Musgraves has released two more successful albums, Pageant Material (in 2015) and Golden Hour (in February 2018).
Even though the Texas native is a country singer, she holds progressive views which she fearlessly explores in her songs. This trait has won her many fans but has also brought some discontent.
Music Is Her Major Source Of Income But There Are Other Avenues That Boost Her Net Worth
For someone who started from the bottom of the ladder, Kacey has definitely made it as an established musician. She has won a total of 6 Grammy Awards, 7 Country Music Association Awards, 4 Academy of Country Music Awards amongst others. All this has contributed one way or the other to her fame and massive net worth that has been pegged at $12 million.
Since her rise to prominence, she has headlined 5 sold-out tours and participated in more than 10 tours which added considerably to her net worth. She has sold millions of copies of her album with some certified gold for selling over 500,000 copies. Musgrave has headlined several tours of her own. She has also opened for popular acts such as Harry Styles, Katy Perry, Lady Antebellum, etc.
Kacey has diversified into fashion and modeling. She has a website where she sells different items ranging from T-shirts, sweatshirts, scented candles, lighters, puzzles, mugs, accessories amongst other random things. She also has an endorsement deal with Oreo, Zodiac Vodka. All these factors and of course, spending wisely, are the major reasons Kacey is still considered wealthy today.
Kacey Musgraves Is No Fan Of Frivolous Spending
Kacey has shown that she remains the simple girl of her youth despite having experienced success. Asides the needed comforts of owning a home and car, Kacey isn't prone to excessive spending to show that she is loaded. Instead, she has picked different environmental and social causes to support. She supports charities like PetSmart Charities, Young Survival Coalition and T.J. Martell Foundation. She has also spoken in support of women and the queer community.
She recently announced an online sales of her stage customs, clothing and accessories to raise money for Urban Forest Preservation but decided to raise the money to support relief efforts after the devastating tornadoes which ripped through Tennessee on the 3rd of March 2020.