Kaitlin Olson is an American actress, comedian, and producer. Since she came on the scene at the turn of the millennium, her career has grown in startling proportions. Not only did she begin her career with the Los Angeles-based improv group, Groundlings, she was also cast in the insanely successful FX comedy series, It's Always Sunny in Philadelphia, where she starred as Deandra "Sweet Dee" Reynolds. Olson has had a fair share of roles in films and TV, including her role in Leap Year (2010) and The Heat (2013). She even voiced the character, Destiny, in the hit animation film Finding Dory (2016). So far, she has appeared in over thirty-two films and TV series. Let's turn the spotlights on her family life, on Kaitlin Olson's kids; does she have any with Rob Mcelhenney?
How Kaitlin Olson Met Rob Mcelhenney
Kaitlin Olson has been married to her sweetheart Rob McElhenney since September 2008. Like most show biz couples, Olson and McElhenney met on the line of duty. We can't tell the date for sure. It is however believed that they started dating between June and August of 2006. It was the same duration for the second series of the sitcom, It's Always Sunny in Philadelphia. Although they were both casts on the show, McElhenney was Olson's boss as he was the show's developer and creator. Although McElhenney himself began his career way back in 1997, It's Always Sunny in Philadelphia was the first show he created, developed and starred in. Thanks to the support of his team. More so, McElhenney played a cameo on an episode (Winterfell) of the widely watched historical fiction series, Game of Thrones. 
Before the kick start of the maiden season of It's Always Sunny in Philadelphia, McElhenney hired Kaitlin Olson to portray the character, Dee Reynolds. However, the two got romantically entangled when season 2 was in full gear. According to him, he found Olson to be the funniest and wittiest woman on the cast of the show. After dating for two years or so, they tied the knot in California on September 27, 2008.  
The ventures they both started together was a huge sign that these were no ordinary couple. Perhaps they've spent those two dating years getting to know each other beyond husband and wife affairs. They also grew to become business partners.
Does Kaitlin Olson Have Kids With Her Husband?
A year after tieing the knot, in 2009, Olson and her husband announced that they had purchased the Philadelphia-based business, Skinner's Bar, located at 226 Market Street. The outfit was quickly renamed Mac's Tavern. Fans say that Mac's Tavern is the first of Kaitlin Olson's kids with Rob.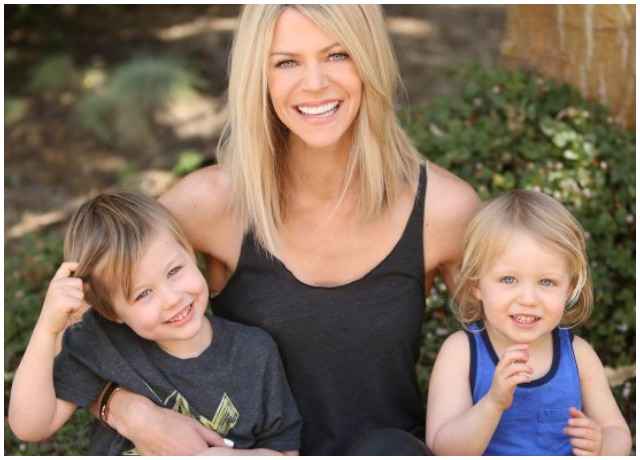 In 2010, the couple welcomed their first child whom they christened Axel Lee McElhenney. Axel was born on Wednesday, September 1, 2010. Although it is not clear at what time of day, sources believe that she'd gone into labor at a Philadelphia Phillies game. Two years later, the couple welcomed their second son whom they named Leo Grey McElhenney. Leo was born on Thursday, April 5, 2012.
As Kaitlin Olson recounts, following the arrival of their first son, her most cringy moment was in 2011 when her husband intentionally added a whopping 50 lb in preparation for the seventh season of It's Always Sunny in Philadelphia. Not only that; McElhenney also left his beard, all to add extra humor to his character and to spice up the show with a new comedic direction. According to sources, the decision didn't go down so well with fellow casts like Charlie Day who described McElhenney's sudden weight gain to be disgusting. On a lighter not that is. 
Besides the other cast members, Olson herself was a bit worried about his health and safety. There was no cause to worry afterward, as McElhenney eventually worked himself back to shape; losing 23 lb in a month after the filming of season 7. Together, Kaitlin Olson, her husband, and two lovely boys live in Los Angeles, California.
See also: Who is Missi Pyle, What's Her Net Worth and Who is She Married to?
Height and Body Measurements
Now in her mid-forties, Kaitlin Olson maintains a graceful slim build. She stands at 5 feet 7.5 inches (1.72 meters) and weighs 55 kg (122 pounds). Olson is blonde and has blue eyes. Her bust, hips and waist measure 33-24-34 inches respectively. She also wears shoes of size 8 (US).