Kanae Miyahara gained celebrity status after her marriage to the popular limbless motivational speaker, evangelist, and best selling author, Nick Vujicic. He is popularly known for his book Inspiration of a Ridiculously Good Life. Although he was born with a rare deformity known as tetra-amelia which left him with under-developed limbs, he has worked so hard to turn his challenge to an enviable and positive testimony.
From the moment Kanae Miyahara overlooked Nick's deformity and accepted him as a husband, she has been super supportive and has even made him a proud father of four kids. Discover more about this beautiful soul below, her bio, family and other facts.
Kanae Miyahara's Bio
Some high profile celebrities today got the status not necessarily by their career achievements or the massive fortune amassed, but some attained that height by association with a celebrity; either in a relationship or marriage. That said, it will not be out of place to include Kanae Miyahara in the list of famous people that got fame by reason of marriage to a celebrated vibrant man.
Although very little is actually known about Kanae Miyahara, such as the actual year of birth though we know she celebrates her birthday every 20th day of December. One known fact, however, is that she was born in Mexico but relocated to Texas. And although the history of her childhood and educational background is not readily available to the public, it seems she must have had a lot of memorable adventures with her family, especially with her sister. The wife of Nick Vujicic is no doubt a smart and lettered woman.
We dug around for details about her career progress prior to her association with the famed speaker and we came upon a source that claimed that she was a model, this assertion has not been ascertained by her.  In all her interviews, she barely talks about past self.
One known fact is that Kanae Miyahara is an extrovert; a fact proven by how she met her husband. It was at a public function where the husband was meant to speak, the rest as we say became history.
Family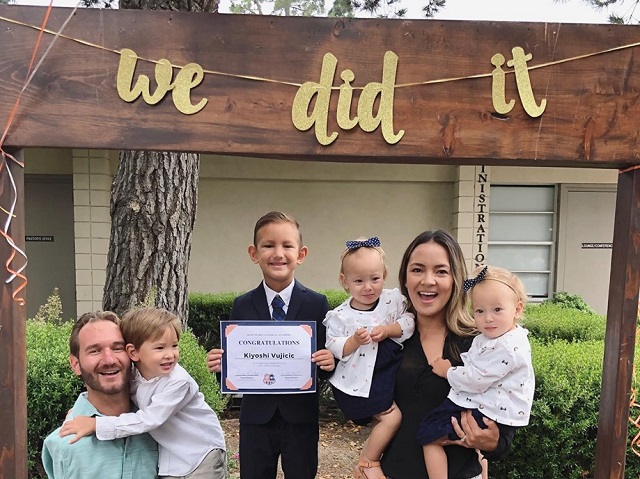 Kanae Miyahara was born in Mexico to a Mexican father and a mother who is a Japanese agricultural engineer. It is also on record that Miyahara has a sister known as Yoshie Miyahara with whom she grew up with, though we do not know if there yet another sibling anywhere. Her family changed locality and residence to Texas when her young age, where they have resided for years.
The Mexican-Japanese woman is the true love of the humorous and spirited Nick Vujicic, an Australian born motivational speaker, evangelist, and renowned author with special needs. They met in one of Nick Vujicic's numerous functions as a public speaker that Kanae attended, after listening to his speech, Kanae Miyahara found him attractive seeing through his disability to his fine soul. They became friends shortly after were engaged.
They were officially man and wife by the 12th of February 2012. The union is blessed with four children; sons – Kiyoshi James, Dejan Levi, and an identical twin daughters Olivia Mei and Ellie Laurel. They live together in Southern California, in the US.
Nicholas James Vujicic, popularly known as Nick Vujicic was born on December 4, 1982, in Melbourne Victori, Australia to Dušanka and Borislav Vujičić. He was a child with special need as he was born with a deformity called tetra-amelia (meaning under-developed limbs with hollow spines). Today, he is one of the best sought-after motivational speakers across the globe with several best selling motivational books to his credit.
Facts About Kanae Miyahara – Nick Vujicic's Wife
Her Net Worth
Kanae Miyahara's career goal is the total care and support of her family and top on that list is being the caring and travel buddy of Nick Vujicic. However, it has not been discovered if she has other side activities that bring in extra income to her and her amazing family but we know that her husband Nick has amassed a net worth of about $500,000.
Read Also: JC Monahan – Biography and Personal Life of The NBC Journalist
She Is Social Upward Individual
The mother of four is active on the picture and video sharing platform Instagram and also on Facebook where she commands well over 96k and 295k followers respectively which is a sharp contrast to the fan base of her husband on Instagram and Facebook – over 1.4 million and 9.2 million respectively. She constantly updates her handle with lovely pictures and video clips.
Kanae Miyahara's Height
Kanae Miyahara's is quite taller than her husband. Regrettably, there is no record of her exact height at the moment, but it presumed that she is some inches taller than 5 feet which have not in any way altered her love for her 3 feet 3 inches heartthrob.