Now famed as a South African-born Canadian actress, Kandyse McClure's rise-to-fame story is better described as a date with destiny. Looking at how far she has come in her career and her attainments thereof, it is difficult to believe that the fine actress never thought of acting as a career choice while growing up. She wanted a career in the medical field.
But as fate would have it, her choice of career changed when her mom convinced her to audition for a play her friend was producing at the Vancouver Fringe Festival. The play was the Valley Song by Athol Fugard. After the play, Lucas Talent Agency received a call from an old client seeking the amateur actress and that singular call became her first step into a successful career as an actress.
A Look at The Actress' Life Before She Became Famous
For an actress who has been active since 1999, it is easy to forget that Kandyse has a story before she became famous. The Canadian actress was born on the 22nd day of March 1980 in Durban, South Africa, and she is of Cape Coloured descent. She lived in South Africa with her parents and grandparents until the age of eleven when she traveled to her North America home for the first time.
She returned to South Africa at the age of fourteen before finally leaving for Canada at the age of seventeen. Kandyse McClure began her secondary education in South Africa but finished in Canada. In 1998, she graduated from the West Vancouver Secondary School.
The first time we will see her beautiful face was In a Class of His Own, a 1999 television film. The actress was able to sustain her relevance in the competitive industry over the years that followed, making it possible for her to feature in many projects meant for both the small and big screens.
Here Are The Works Kandyse McClure Is Most Known For
McClure's performance in her first acting gig as a professional actress paved the way for her to land other lucrative roles that went a long way in popularizing her name in the industry. After she played Brandy in In a Class of His Own, the following year saw her land a small role as Store Clerk in the blockbuster movie titled Romeo Must Die. That same year proved to be a busy one for the Canadian actress as she appeared in various television projects, playing Lily, Megan, Katherine Ann Cabot, Monica, Danielle, and Brandy, respectively in Da Vinci's Inquest, Level 9, Higher Ground, The Spiral Staircase, and 2gether. Of all these, Higher Ground stands out as she portrayed a major character in 22 episodes of the American-Canadian drama series.
Being an actress who has thrived more on television, Kandyse has since then been a part of over 40 television projects made for the small screen. In 2002, she played Elizabeth Munroe in the American-Canadian post-apocalyptic action-drama, Jeremiah. In the same year, she starred as Sue Snell in the TV film adaptation of Stephen King's novel, Carrie. For the next six years (2003-2009), McClure portrayed Anastasia "Dee" Dualla on Battlestar Galactica. In 2009, she appeared in another of King's TV film adaptation, Children of the Corn. The following year, the actress played the recurring role of Erika Taylor in NBC's short-lived Persons Unknown.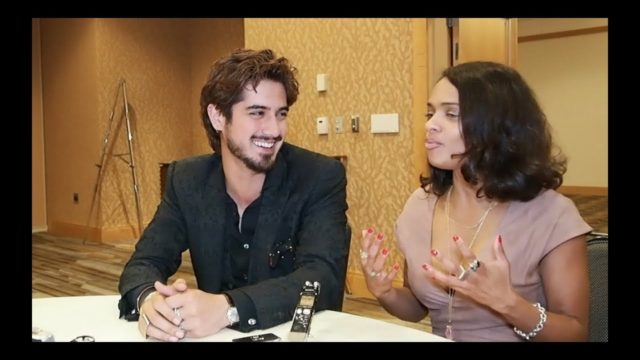 2011 saw her appearing in the Independent short film Just Be Yourself as Stuart Davis' girlfriend. Later that year, she co-hosted the late-night HDNet program Sex, God, Rock 'n' Roll Season II alongside her Just Be Yourself co-star, Stuart Davis. The following year, she would be seen playing Dr. Clementine Chasseur in the Netflix original series Hemlock Grove.
The beautiful actress has also been seen in several other movies, TV programs, and series like Reaper, Andromeda, Smallville, Jake 2.0, and Whistler. In 2016, she played Viola Desmond in Heritage Minute, a series of sixty-second short films produced to mark the beginning of the 82nd edition of the Black History Month. She is a recipient of the 2005 Peabody Award for Excellence in Television. In 2002, she was nominated for Leo Awards as Best Supporting Actress for her outstanding performance in Carrie.
See Also: Who Is Keira Knightley Husband, Daughter, Age, Height,
Yes, Kandyse McClure Is Married
For an actress with a large fan base that keeps up with her career, it is not surprising that a large number of people have tried to follow McClure's personal life. Kandyse has shared a lot of information about her life outside her career with her fans. But for reasons best known to her, she has not been forthcoming with information that relates to her love life. Because of this, there has been a lot of speculations in that regard, with many wondering if she is truly married as reported.
Well, the truth of the matter is that the actress is married. From what we gathered, she is married to a man named Ian Cylenz Lee. As the actress is relentless about keeping this aspect of her life private, it has been hard to figure out how the couple met, for how long they dated, when they tied the knots, and what have you.
Many got to know she was married when she mentioned "my husband" during an interview with News24. Also, hardly can anyone tell if the couple already has children or planning to be parents in the future.
Here's What We Know About Her Husband 
Ian Cylenz Lee has been a mystery about the Canadian actress since it was confirmed that she is married. Being the husband of a popular figure, it is remarkable that he has been able to evade the limelight. So far, we can only tell a few things about him, including the fact that he is a graduate of Ontario College of Art and Design University, otherwise known as OCAD University.
The public university located in Toronto prides itself as the best of its kind in the whole of Canada. Ian reportedly studied Environmental Design at the institution. To the best of our knowledge, he currently works as the Director of BLAKGold Productions as a specialist in songwriting and music production. He has been with the establishment since October 2014. Before he joined BLAKGOLD, Ian served a company in Toronto as an Operations Manager.