With the situation of things in churches today, we must admit that simply knowing the contents of the Bible and quoting them at the earliest convenience, does not make anyone absolutely reliable, trustworthy or even heaven bound. Many Kenyan pastors remain hopelessly out of touch with the challenges of their congregations, proclaiming the Scriptures with a pompous accuracy that touches everyone, in a quest to extort them. The journalists (KTN's Inside Story) Mohamed Ali and John Allan inquired intensively into and exposed the malpractice, and other controversial issues concerning clergymen who are taking advantage of their flock to enrich themselves in Kenya.
See Also: 10 Things You Didn't Know about Prophet Owuor
The expose, nicknamed "Makri ya Injili" in Swahili and "Prayer Predators" in English, showed clearly the complete deceptive methods that Salvation Healing Ministries pastor, Victor Kanyari uses to lure and exploit his over-trusting flock. The two journalists revealed  Kanyari's expert means of exploiting his flock for the past 15 years using the name of God. The illusion was made strong by fake testimonies given by paid members who would joyfully shout that just weeks earlier, AIDS had nearly reduced them to nothing, but that Brother Kanyari and the kindness and mercies of God had restored them to perfect health. Below are the names of his fellow con pastors who exploit their flock using the name of God, just as Kanyari has been doing for so long. We pray God forgives them for misleading his people
Con Pastors Who Exploit People in the Name of God
Pastor Nganga:
Pastor Nganga's name is no longer new in the list of Pastors stealing from their flock in the name of God. He is the first pastor to use potassium permanganate to change water into blood. He is a master in the game of trick. He also visits Koinange Street at later hours of the night. Who knows where else he has visited.
Bishop Allan Kiuna and his wife:
This power couple has been in the business for over 10 years and also reside in opulence, depending completely on tithes and offertory from their credulous flock who look forward to being wowed every Sunday. Bishop Allan Kiuna and his wife had performed a great number of fake miracles to their flock who are mostly young Kenyans. They have changed the church to a public market where all different types of business and activities take place. To make their charade seem even more real, they employ youths who are gullible and can speak very good English. This helps to lure their flock, especially the rich, powerful and the educated ones.
See Also: 10 Shocking Facts About Joseph Kony and His Lord's Resistance Army
Pastor Muriithi:
This is another controversial pastor who uses the phrase "fake it till you make it". Pastor Muriithi of Mavuno Church cruises top range of cars and resides in opulence. In addition to that, his better half spends over sh 50,000 every day on cosmetics, all thanks go to his gullible congregation. He is also regarded as a fake pastor who lures his flock into bringing more money to church rather than solve their own personal problems after all, didn't the Bible say "Bring the whole tithe into the storehouse, so that there may be food in My house?
Bishop Margaret Wanjiru:
The con preacher and politician has been making cool money from her very eager fans… sorry! flock. Recently, she commissioned an on-going project for the construction of a twin tower along Haile Selassie Avenue. She exploits her susceptible flock by performing fake miracles and prayers by laying of hands.
Maina Njenga:
Here is another fake pastor. Everything about him depicts falseness, nothing about him seems real. Pastor Maina of Hope International Ministries who was the former Mungiki (a cult/terrorist group) leader is obviously a fake pastor. After leading a group that terrorized Kenya for quite some time, he found a new hobby in deceiving people with God. Well, i guess even the law knows he is fake.
Pastor Arthur Gitonga: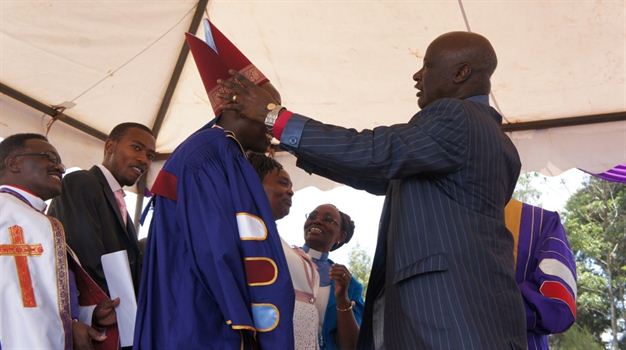 Con Pastor Gitonga heaps and carries out his trade at Redeemed Gospel Church in Huruma. The pastor built his empire using funds gotten from his naive followers. He is another fake pastor that poses a huge worry for the incredibly intelligent people of Kenya, with the exception of his unwary supporters. Obviously, Pastor Arthur Gitonga is one of the people who exploit the widespread trust in churches and religious institutions. He targets the poor and the unsuspecting so beware.
Pastor Pius Muiru:
As a senior Pastor at Maximum Miracle Center, Pastor Pius Muiru is one of the oldest men in the trade of performing miracles at a price. Many poor Kenyans come ready to pay, to obtain pastor Pius' promise that God has remembered them. The most significant way in which he exploits his followers is through his tricks of miracles that appear even more wondrous to his unsuspecting supporters.
Pastor Michael Njoroge:
Pastor Njoroge of Fire Ministries, is popularly called "Pasta Tapeli". His church is known as a prostitution hideout and home for all kinds of women and suspicious looking guys. He has the reputation of laying with every woman who comes to him seeking help, especially for his prayers and counselling.
Pastor Wahome:
Pastor Wahome birthed Helicopter of God Ministries Church located in the City Center. He likes women a lot, especially married women. In his huge affinity for money, it has been rumoured in 2014, that he charges his followers money to check their names in God's book of life. Earlier in 2012, it was equally said that he charged people money to touch his garment and receive healing just like the woman with the issue of blood did with Jesus. Wonders shall not end.
Pastor John Nduati:
He is the pastor of God's Power Church along Thika Road. All he preaches about is money, and he copies pastor Kanyari a lot. He backs his regular begging in church with some verses from the bible luring the gullible followers even more. His preaching is appalling because he is always making anything that has to do with "money" his theme. He tricks his members just like Kanyari and dupes mostly women living in Dandora, Kariobangi, Baba Dogo and Huruma Estates.
These pastors have in no small way impoverished the lives of unsuspecting Kenyans. Whatever they do has to be with money. One begins to wonder whether it is really the same God that wasn't materialistic in the bible that they are leading Kenyans to. Beware of these pastors!