Katelyn Jae is what many would call an early bloomer in the music industry. Her fledgling career has seen her take a promising path that fits the profile of a soon-to-be music star. This beauty in her twenties began writing her own music right from teenhood and has appeared in several talent shows in the United States. Her big moment came when she won the first season of YOBI.TV, as well as Take the Stage contest.
Jae was immediately signed by the celebrated music manager Johnny Wright; the brain behind the Wright Entertainment Group. Asides her fledgling music career, Katelyn Jae is famous for her marriage to country singer and songwriter, Kane Brown.
Tracing Katelyn Jae's Age, Ethnicity, and What to Know About Her Parents
She was born Katelyn Krapf in Philadelphia, Pennsylvania, on June 19, 1992. Although there are hardly any known details about her early childhood, siblings' names, parents or what they did for a living, we know she spent much of her formative years in Chester Spring, Pennsylvania. As regards her ethnicity, Jae is Caucasian. Since her days in Downingtown High School, Chester County, Jae has shown an aptitude for the creative arts, music especially. This continued up to her college days at the West Chester University of Pennsylvania; where she acquired a degree in music management.
Katelyn Jae was raised alongside her two brothers in a middle-class American family. However, her parents got divorced when she was still young. Her mom goes by the name Karen but details about her father have been kept away from the public.
As a teen, Jae made it to the list of top five singers at the 2008 International Model and Talent Association conference. She would later feature among twenty-three female singers who represented the United States at the 2010/2011 of the women-only music contest; Avon Voices. Her emergence at the top-five list earned her a radio play for her original song Skills. But her musical stint began way earlier.
At just three, Katelyn Jae's passion for music got her a Karaoke machine. Her unique talents were discovered by her choir teacher when she was only a sixth grader. Her near-perfect performance of Celine Dion's My Heart Will Go On was all her parents needed to get her enrolled in vocal and piano classes. Those were the earliest stages of the making of another fabulous music star.
Fast forward to 2012, Jae contested in and won the maiden season of the singing competition web series Take the Stage; earning her the prize money of $20,000 plus a management contract with Wright Entertainment Group and YOBI.tv. The big win also got her a training slot at the Florida compound music industry boot camp run by industry bigwig, Johnny Wright. In August of 2014, Jae released what many would call a "blockbuster" music video for 24KT which turned out to be one of her biggest hits.
Katelyn Jae's Salary And Net Worth
As of 2019, sources have put her net worth to be at $500,000, much of which has come from her music career. While that's no trifling amount, it's quickly dwarfed by her husband's $2 million fortune. However, we have no tabs on her annual salary and hardly any details about her investment portfolio or other items that feature on her property list; such as cars, houses, or expensive pieces of jewelry.
Other Details About the Family Of Kane Brown's Wife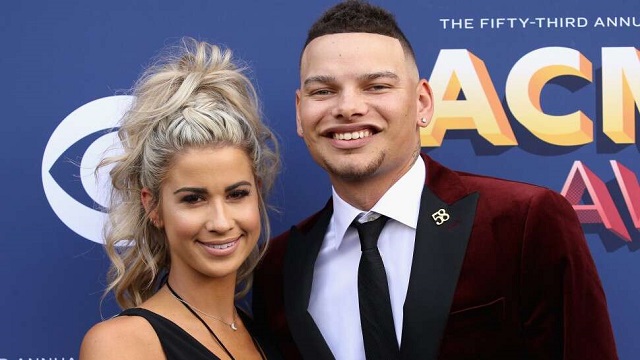 On a personal basis, Katelyn Jae is happily married to award-winning country music singer and songwriter, Kane Brown. Sources reveal that the duo first met through a mutual friend back in 2015. They kept their relationship undercover until January 2017.
In April of that year, on Easter Sunday, Brown popped the big question as the lovebirds sealed their bond with an engagement. Brown went on to announce their engagement while performing for a live audience in Jae's home city; Philadelphia. On October 12, 2018, the music couple exchanged vows at a low-key ceremony — attended by close friends and family, totaling just 200. The event took place at the Mint Springs Farm, Franklin, Tennessee. The couple currently resides in Nashville, Tennessee.
Height And Body Measurements
Katelyn Jae has a graceful slim build. She stands at 5 feet 5 inches (1.65 meters) tall and weighs 110 lbs (52 kg). Jae is blonde and has dark brown eyes. As of the time of this writing, she measures 34-26-34 inches for her bust, waist, and hips. Jae wears bra and shoe sizes of 30B and 7 (US) respectively. However, we have no specifics on her exact dress size, yet. As soon as we get tabs on that, we're sure to put it up.