Katharine Ross is your quintessential Hollywood star. The award-winning actress enjoyed a blossoming career, especially in the '60s and '70s. She also endured four failed unions before ending up with her one true love, Sam Elliot in 1984. The duo has been together since then and is truly one of the most enduring couples in Hollywood.
Ross has been building a tidy nest since she made her debut in the entertainment industry. Her hard work and dedication obviously paid off and today, she is one of the most prolific actresses in both movies and the television series with a huge fortune to show for it.
Earlier In Katharine Ross' Career
Katharine Ross launched her Hollywood career in 1962 with an appearance in the NBC legal drama, Sam Benedict. This came after the actress has had some gigs on stage where she once appeared nude. The entertainer subsequently scored guest appearances in other TV series, including Arrest and Trial, The Alfred Hitchcock Hour, and Mr. Novak.
She equally showed up in The Lieutenant, The Virginian, Ben Casey, The Great Adventure, Wagon Train, Gunsmoke, Run for Your Life, as well as The Big Valley. Katharine Ross got her debut movie role in 1965 in the civil war movie, Shenandoah. She did some guest-starring appearances in The Loner, The Road West, and The Wild Wild West.
She Earned Her Breakout Role On The Set Of The Graduate
Ross went on to land supporting gigs in movies such as The Singing Nun and Mister Buddwing, she equally appeared in TV film The Longest Hundred Miles and co-starred in the psychological thriller, Games. Ross got her well-deserved breakthrough in the 1967 rom-com, The Graduate. The movie follows a young college graduate who has no plans for his life. He is seduced by an older woman but ends up falling for her daughter Elaine (played by Katharine Ross).
The role not only propelled Ross to the limelight but also fetched her a Golden Globe Award for Best Female Newcomer. She was also nominated for Oscar's Best-supporting Actress. Since The Graduate, Katharine Ross has featured in many other movies and TV series. She came in Hellfighters, depicting the role of John Wayne's daughter who is Jim Hutton's love interest. Katharine Ross was also cast in Tell Them Willie Boy Is Here.
Among her most notable productions since The Graduate is the legendary film, Butch Cassidy and The Sundance Kid. The movie follows two American outlaws (Butch and Sundance) who flee to a South-American country to continue their life of crime. Ross plays the role of Sundance's girlfriend, Etta Place, who also escapes with them and her role as Etta brought her a BAFTA Award for Best Supporting Actress in 1970. The American entertainer shared the screen with Jason Robards on the set of the drama Fools in 1970.
Katharine Ross' Marriage To Conrad Hall Prompted Her Semi-retirement
The famed actress' semi-retirement spanned from 1972 to 1979 after she exchanged marriage vows with Conrad Hall. However, she made some sporadic appearances on the sets of Get to Know Your Rabbit and They Only Kill Their Masters, both in 1972. A couple of years later, she showed up in Chance and Violence alongside Yves Montand. It's not as if enough roles were not coming her way, but Katharine Ross turned down most of them.
Her divorce from Hall came through in 1976 after which she showed her preference for stage acting, returning to the small playhouses in LA for much of the 1970s. In 1975, she scored one of her best roles in the movie The Stepford Wives, earning the Saturn Award for Best Actress for her efforts. In 1976, Ross was cast in Wanted: The Sundance Woman which was a sequel to Butch Cassidy and the Sundance Kid, reprising her role of Etta Place. She was also part of the 1977 Voyage of the Damned through which she bagged her second Golden Globe Award for Best Supporting Actress. Her other projects during that time include The Betsy, The Swarm, and The Legacy, all in 1978.
She Made A Full Comeback In 1979
Free from all marriage commitments, Katharine Ross resumed her acting roles fully with several starring performances on TV and the movies. This includes the likes of 1979 Murder by Natural Causes, Rodeo Girl released in 1980, 1981 Murder in Texas, as well as Marian Rose White which was released in 1982. She was part of the cast of The Final Countdown and Wrong Is Right – 1980 and 1982 respectively, but her main focus was in television films like The Shadow Riders and Travis McGee in the same year of 1982, Wait Until Dark (the remake in 1983), as well as Secrets of a Mother and Daughter also in 1983. 1986 saw her on the sets of two movies The Legend of Texas and Red Headed Stranger.
The Colbys – a 1980s TV series cast her as Francesca Scott opposite Charlton Heston and she appeared in Conagher in a starring role in 1991. The same year, she showed up in A Climate for Killing with her 1990s role ending on the set of Home Before Dark in 1997.
Katherine Became An Author During The Latter Part Of Her Career
In 2001, Katharine Ross joined the cast of Donnie Darko as Donnie's therapist. The next year, she appeared in Don't Let Go, and was featured in 2004 Capital City, and in 2006, Ross was cast in Eye of the Dolphin. 2015 saw her on the set of Slip, Tumble & Slide and one of her most recent roles include 2017 The Hero. There is really no indication that the famed actress has called it quits with acting as she went ahead to appear in 2019
Attachments by director Richard Krevolin. She may still grace our screens one more time, only time will tell.
In the meantime, the actress has established herself as an author with the publication of several children's books to her credit. Joining Malibu Playhouse in January 2015, Ross appeared in two of their productions.
Her Major Source Of Wealth Is Her Acting Roles
Katharine Ross has a net worth of $5 million Celebrity Net Worth said. Her source of wealth is mostly her acting career. She has featured in over 28 movies and 31 TV shows to date. One of her most memorable films is the 1975 horror/sci-fi film, The Stepford Wives. The movie focuses on a bunch of women living in the Stepford suburb who are all perfect and submissive wives. The film went on to achieved cult status and the term 'Stepford wives' has become synonymous with seemingly-perfect trophy wives.
Another of her commercially successful movies is the Butch Cassidy and the Sundance Kid starring alongside Hollywood greats like Robert Redford and Paul Newman. For her efforts in the movie, Ross was paid the sum of $175,000. Her annual salary from the movies is not known but if her total net worth is anything to go by, Ross has been earning a hefty payment from the industry.
Katharine Ross Recorded A Lot Of Failed Marriages In The Past
Katharine Ross is one lady who has endured some heartbreaks on the way to finding true love. She has been married on five occasions. Her first marriage was to Joel Fabini in 1960. It lasted for two years and came to an end in 1962. Ross then got married to John Marion in 1964. The union lasted three years and they divorced sometime in 1967.
Next up was Conrad Hall – a three-time Oscar-winning cinematographer whom she married in 1969 after the completion of Butch Cassidy and the Sundance Kid. They stayed together for four years during which she went into semi-retirement from acting; the couple separated in 1973. Ross tied the knot for the fourth time with Gaetano Lisi – a chauffeur and technician on the set of The Stepford Wives. They got married in 1974 but divorced in 1979.
She Finally Found True Love In The Arms Of Sam Elliot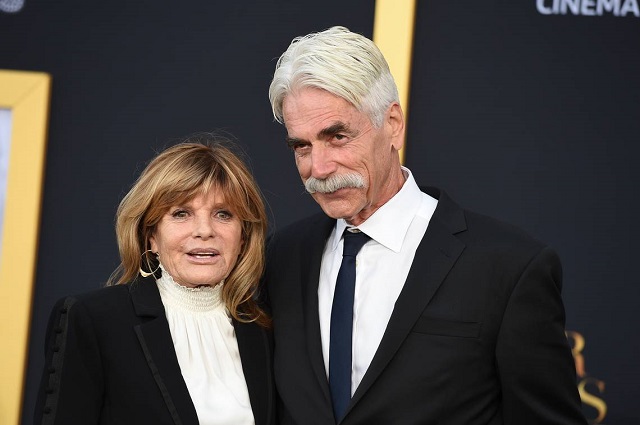 Katharine Ross is now enjoying marital bliss with actor, Sam Elliot. Elliot is renowned for playing western roles, thanks to his moustache and drawl. His popular movies include Tombstone, The Big Lebowski, Mask, and A Star is Born. The couple came across each other on the set of the Butch Cassidy and the Sundance Kid but According to what Elliot told AARP Magazine, he couldn't dare talk to her then as she was the star while he was just a shadow on the wall. The duo later got reacquainted in the 1978 horror film, The Legacy and subsequently began dating which lasted for all of six years before they decided to take their relationship to the ultimate conclusion of a marriage.
When asked about what attracted her to Elliot, Ross told The Mercury News that it was his physical attributes and many more. Taking the forever commitment vow later in 1984, the lovebirds already had their family planed as the only child of their union announced her entrance four months later. The couple's love has endured for 35 solid years and still counting. Besides, there has never been any sign of friction in this celebrity union as they have remained strong since then. Ross and Elliot spend their time shuttling between California and Oregon, and according to what Elliot told AARP, marriage is work, but it's worth it.
Katharine Ross Has A Turbulent Relationship With Her Daughter
Ross and her daughter have had a troubled relationship. Their daughter is named Cleo Rose Elliot who was born in September 1984. Cleo is a musician and model who specialized in classical music, including Italian opera. The singer has an album to her credit known as No More Lies which she dropped in January 2009.
In March 2011, Ross accused Cleo of threatening to kill her, attacking her with scissors. She also disclosed that her daughter had been physically and verbally abusive towards her for a long time and equally obtained a restraining order against her. The exact nature of their relationship now is not known but there have not been any more troubling reports. The family seems to be settled now as they appeared together at the 2019 Oscars.