While most people were becoming famous in the entertainment industry, Katherine Johnson worked behind closed doors and gained prominence as a brainiac and mathematician. Her intriguing and precise calculations resulted in men safely traveling to the moon without facing any obstacles, she contributed in no small measure to many projects of The National Aeronautics and Space Administration (NASA) activities.
Ironically, only a few who are detailed with science facts are familiar with her. However, after her character was portrayed by Taraji P Henson in the movie, Hidden Figures. She became a person of interest and has gone ahead to cause traffic on search engines with a lot wanting to know more about her.
Katherine Johnson's Childhood and Love for Numbers
Katherine Johnson was born as the youngest daughter of Joshua and Joylette Coleman on August 26, 1918, in White Sulphur Springs. She was brought up together with four siblings. Her intellect for maths began when she was a child as she was an exceptional number cruncher. With her stormy brainy performance in class, she attended West Virginia State High School in 1928 and graduated when she was just 14.
Also, during her days in high school, Katherine's interest in astronomy was spurred after she took a walk with her principal pointing out stars and constellations. She graduated from high school in 1932 and chose to attend West Virginia State College running on a full scholarship. As a junior in college, Katherine Johnson majored in maths and French after she was undecided on which of the subjects to major in. The brainiac later graduated summa cum laude with degrees in mathematics and French, at age 18 becoming the first African American to attend and graduate from the college.
Upon graduation from college, she accepted an offer to teach maths and French at an elementary school in West Virginia. However, things didn't turn out as smoothly as she had imagined. Most residents in West Virginia as of that time were white, and being that Katherine is an African-American, she encountered a lot of racist slur on her way to work but that didn't deter her willingness to teach.
She Contributed to Moon Landing by Doing Calculations for NASA Before Computer was Invented
Through the following years, she kept impacting knowledge in a lot of children moving as a teacher from school to school until 1953 when she was employed by the National Advisory Committee for Aeronautics (NACA) now known as The National Aeronautics and Space Administration (NASA). There, she served the organization as a "the computer" (Human-computer ie. someone who performs mathematical calculations prior to the invention of electronic computers), analyzing most subject matters and ensuring accuracy with the work system. Later on, she was moved to a 'supposedly all-male working staff abode' known as Guidance and Control Division of the Langley's Flight Research Division.
Meanwhile, as of that time, black NASA employees were treated differently. They had their separate restroom and the women employees were not allowed to attend briefings and also not allowed to put their names on research reports.
From 1958 until her retirement, Katherine Johnson served NASA as an aerospace technologist. It was with the success of her trajectory calculations that Alan Shepard used to make a space flight and landing on May 5, 1961. She was also one of the brains behind the 1961 Mercury mission. Subsequently, Katherine Johnson became topnotch in Nasa and was always referred to whenever there were mathematical calculations to be resolved. She became known as the human-computer.
In 1961, her work aided in establishing the Alan Shepard's Freedom 7 Mercury Capsule. She also proved immensely valuable in her precise calculations which saw the success of plenty of journies by various astronauts to the moon and back. More so, she was one of the heads who saw to the success of the journey to planet Mars.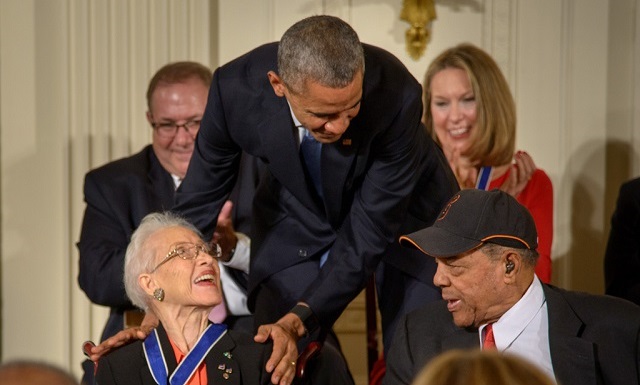 After serving NASA for 33 years, she bowed out in retirement in 1986 as one of the best brains. For all her contributions to the States, the former president of the United States of America, President Barack Obama presented Katherine Johnson with the Presidential Medal of Freedom on November 24, 2015. Also, there is the Katherine G. Johnson Computational Research Facility, a 40,000-square-foot facility, which was constructed by NASA in her honor in 2016. 
Having made so many achievements in her career, Johnson was recognized with more awards including the Congressional Gold Medal in 2019,  Daughters of the American Revolution (DAR) Medal of Honor in 2017, and NASA Group Achievement Award in 1977 among many others. She also has various honorary doctorate degrees from institutions such as  Spelman College, Old Dominion University, and College of William & Mary. In 2016, the biographical drama film, Hidden Figures about her life was released despite many stumbling blocks set on her path by racism.
She was Married to Her Second Husband for Sixty Years
Joshua, Katherine's father worked as a farmer while her mom, Joylette was his support system. Despite the struggles of racism, Joshua and Joylette ensured that their children got the best of education and helped them live through all the bullies and hard times.
Katherine was married more than once. Her first marriage was in 1939 to a man known as James Francis Globe who was a chemistry teacher. After the marriage, she later proceeded to West Virginia University to continue with her studies of advanced mathematics in 1940.
Not long afterward, Globe was down with an illness that would turn to be brain cancer which later claimed his life in 1956, thereby making Katherine a widow at the age of 38. During her husband's illness, she was forced to drop out of school and go back to working as a teacher in order to support the family.
Four years after the death of James Francis Globe, Katherine married James A Johnson – a man she met during her days as a choir member in Carver Memorial Presbyterian. He was a United States Army Lieutenant Colonel popular at the time as Jim. The couple would continue to live together in Virginia until 2019 when he died.
Although her second marriage did not produce any child, Katherine Johnson's marriage to James Francis Goble was blessed with three daughters; Constance Goble Boykin Garcia, Joylette Goble, and Katherine Goble. The three girls were still in high school when their father died. She taught them how to sew and also passed her brains to them as well as her passion for teaching as all her daughters turned out to be teachers.
Tragedy first struck the family on May 4, 2010, when Constance (Connie) died at the age of 67 leaving behind her parents, two sisters, three children, and grandchildren. In 2019, Katherine faced another tragedy with the death of her husband of sixty years, Jim Johnson.
Katherine Johnson Died At 101
#13NewsNow today is the funeral service for @NASA_Langley mathematician, Katherine Johnson, at the @_HamptonU Convocation Center. pic.twitter.com/MxRG7WAfAm

— Megan Shinn 13News Now (@13MeganShinn) March 7, 2020
On February 24, 2020, Katherine Johnson, a woman that was bigger than life in more ways than one died at the age of 101. She passed away at a retirement home in Newport News.
A funeral was held for her at the Hampton University Convocation Center. The service was attended by Congressman Bobby Scott, Former NASA astronaut Yvonne Cagle, family, friends, and the public.
Described by NASA as an American hero, what would remain as her greatest legacy is her role in doing the complex mathematical calculations (trajectory analysis) that helped humans to explore space. Why this is very significant is because a single error in her calculations would not have only led to a failure of the missions to space at the time (including that of Alan Shepard who became the first American to journey into space and John Glenn who was the first American to orbit the earth), but it would have also been the doom of the astronauts that embarked on such journies.