Hollywood is graced with copious amounts of looks and talent. Stars with both are a double treat. They're entertaining to watch thanks to their beauty, and the ability to make their characters come alive. Kathryn Morris, best known for being Detective Lilly Rush, is one of such stars. Her leading role in the CBS series Cold Case pushed her into the limelight, introducing her to new fans and re-establishing herself as an acting force with old fans.
Kathryn Morris Bio
Kathryn Morris is a native of Cincinnati, Ohio, born on the 28th of January, 1969. However, she grew up in Windsor Locks, Connecticut with her parents and siblings. She is the youngest of six children in the family. Her mother Joyce was an insurance agent, and her father Stanley a Bible scholar. The family stayed together until she was six years old, at which point her parents had a divorce. Kathryn's early life was a little nomadic in nature, as from ages six to seventeen she and her family traveled around the Southern United States; an area most commonly referred to as the Bible Belt. They traveled together as The Morris Code, a gospel group made up of her father and three of her siblings. They sang at church functions and weddings.
While in high school, Kathryn got involved in several plays. She studied theatre in high school and got her first acting gig in a Japanese music video based on the 1971 musical Grease. On her way to the set, she was involved in a hit-and-run accident. She still made it in one piece to the set, though, and it was at that point she realized she was going to become an actress. For her tertiary education, she studied in two colleges in Philadelphia; Northeastern Christian College and Temple University.
Career
Kathryn Morris got her open door into the world of acting with her debut role in the 1991 TV Long Road Home. She played the role of Billy Jo Robertson, and even though it was a minor one, it was the start of her career. 1994 saw her appear in three other TV movies; Rise and Walk: The Dennis Byrd Story, Oldest Living Confederate Widow Tells All, and A Friend to Die For. Her movie debut was the 1991 movie Cool as Ice, which she followed up with Sleepstalker in 1995. Kathryn continued to get small parts in series and movies, including the role of a psychiatric patient in the 1997 Oscar-winning movie As Good As It Gets.
She got her big break when she was cast in the main role of Lt. Annalisa 'Stinger' Lindstrom in the syndicated series Pensacola: Wings of Gold in 1997 for the entirety of its first season. Her brief role as the villainess Najara in the series Xena: Warrior Princess won the hearts of several viewers nationwide. Her acting caught the eye of popular director and producer Steven Spielberg, who cast her in the movies A.I.: Artificial Intelligence and Minority Report as the wife of Tom Cruise's character.
See Also: LeeAnn Kreischer – Bio, Family Facts About Bert Kreischer's Wife
Her second big breakthrough in acting was in 2003 when she got the lead role of Detective Lily Rush in the CBS police procedural series Cold Case. The role saw her play the part of the lead detective who picks up cold cases whenever new evidence presents itself, most times several years after the cases were initially investigated. The series ran from 2003 to 2010, with Kathryn Morris showing up as the lead role in 156 episodes. She became a series regular on the NBC sci-fi series Reverie in 2018 before it was canceled later in the same year.
Kathryn has stated that her reason for acting was thanks to the 1982 movie Sophie's Choice; a drama that follows a Holocaust survivor who finds a reason to live again thanks to her American Jewish husband Nathan. She also has a production company called Hot Plate Productions.
Relationship with Johnny Messner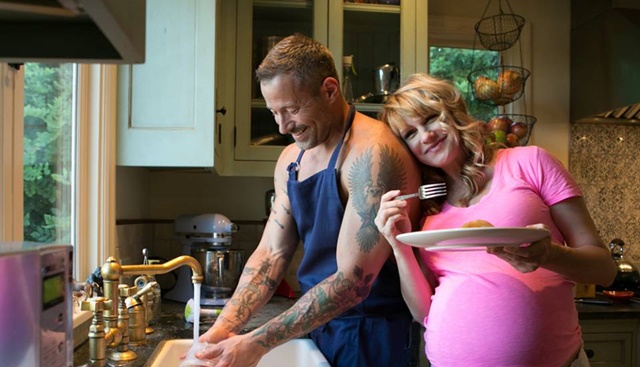 Kathryn was first involved with American actor Randy Hamilton. The two started dating when they met in 2001 and got engaged in 2002. They stayed engaged but didn't tie the knot, and two years later in 2004, they went their separate ways.
She has been in a relationship with American producer and actor Johnny Messner since 2010. He is best known for being in the movies Tears of the Sun, Running Scared, and Anacondas; The Hunt for the Blood Orchid. The couple isn't married, but have remained partners. On the 8th of April, 2013, Kathryn Morris announced that she and her partner were expecting twins and on the 21st of August, 2013 she gave birth to her twin baby boys; Jameson and Rocco.
Net Worth
Kathryn Morris has had a successful run in Hollywood so far with her roles in series and movies. Her career has enabled her to attain a comfortable net worth estimated at $4 million.