If you have ever come across any "Fast and Furious" featuring Barack Obama, it is the handiwork of Katie Pavlich. The book which claims to have exposed "Obama's bloodiest scandal" and the shameless cover-up thereof, has been earning Pavlich much praise and fame ever since it was published in 2012. Nonetheless, Pavlich is more famed as a journalist.
She earned wide recognition for herself with her works as an editor at Townhall.com, an American political conservative online magazine. While she is also known for her works with The Hills, a political journalism newspaper and website, Pavlich's popularity grew thanks to her appearances on numerous media platforms to share her perspective on political issues.
She Started Preparing for Her Career In College
Ask Catherine Merri Pavlich to talk about herself, she will introduce herself as "Katie" and announce she is a "Daughter of the American Revolution". Her knack for making in-depth analysis and offering interesting insight on political matters made her such a speaker people love to listen to. It's known that she is a regular speaker on college campuses across the United States of America.
Born on the 10th of July 1988, almost everything about Pavlich's early life happened in Arizona, her place of birth. From what we know, young Katie was raised in the hilly regions of northern Arizona. This made her fall in love with outdoor activities. Like her dad, she developed a passion for water rafting and hunting.
When it was time for High School, Pavlich got enrolled and eventually graduated from Sinagua High School where she picked interest in playing volley and basketball. Afterward, she got herself a bachelor of arts degree in broadcast journalism. That was in 2010; from the University of Arizona. If anything, it suggests that Katie has always had a thing for journalism and knew she was cut out for building her career in the field.
Katie Pavlich Began Her Career as News Editor for Townhall.com
Over the years, the media personality has proved herself as someone who wouldn't rest on her laurels. Katie has kept up her pace in journalism which has been traced back to when she got her degree in 2010. She moved to Washington, D.C. after getting the degree to become a news editor for Townhall.com.
She wasted no time in proving that she picked the right career. Katie Pavlich was crowned the 2013 Blogger of the year at the Conservative Political Action Conference; she was in the same year, celebrated with the Conservative Leadership Award from the Clare Boothe Luce Policy Institue. The next year, the same Institute honored Pavlich as the Women of the Year.
Her Fame Soared When She Joined FOX News Channel
The foregoing has already hinted that Pavlich is a force that must be acknowledged in political journalism. Sometime in 2013, she joined FOX News Channel (FNC) and this earned her a lot of attention as she has never shied away from sharing her views, no matter how controversial they are.
Although she is admired as a political pundit in some quarters, her comments have earned her the wrath of Americans on several occasions. An instance was when she stated that the United States of America should be acknowledged for being the first country to end slavery. The outrage was massive that a professor of history at Princeton University, Kevin M. Kruse, had to school her on twitter.
Years between independence and abolition of slavery:

Haiti: 0
Costa Rica: 3
El Salvador: 3
Guatemala: 3
Honduras: 3
Chile: 5
Bolivia: 6
Uruguay: 8
Nicaragua: 17
Mexico: 19
Paraguay: 29
Colombia: 41
Venezuela: 43
Argentina: 45
Brazil: 66

USA: 87https://t.co/ARxH1YDBWL

— Kevin M. Kruse (@KevinMKruse) March 19, 2019
She also got on people's nerves when she came for Greta Thunberg who would later be named Time magazine's Person of the Year. She had dismissed the Swedish environmental activist's campaign on climate change in the country.
While she presently provides political analysis and commentary across FNC's programming, she also serves as a panelist on the media outlets' Outnumbered.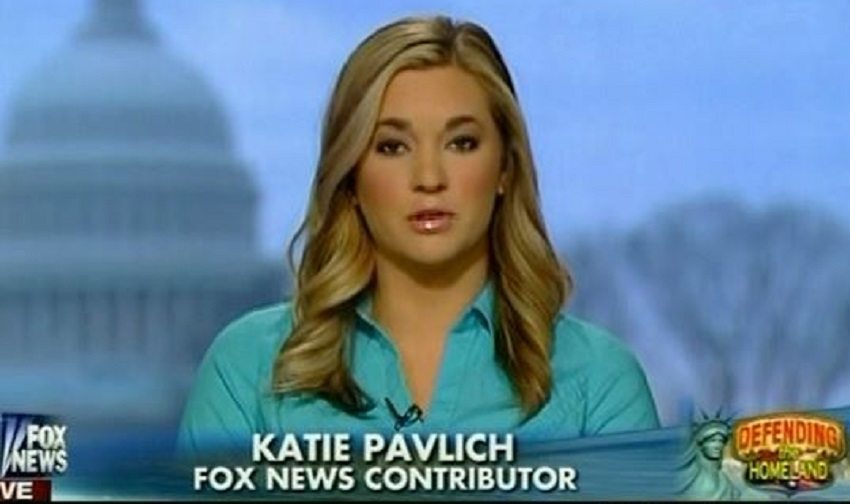 Apart from her role in FNC, Pavlich still works as the news editor for Townhall.com. That's not all, she's equally a contributing editor to Townhall Magazine. Katie Pavlich is a National Review Washington Fellow and, she has received many thumbs up from FNC for covering stories ranging from White House scandals and the 2012 presidential election to the Second Amendment and border issues.
Her Book About Obama's Administration
Undoubtedly, the award-winning author poked Obama where it hurts most with her book "Fast and Furious". The New York Times Best Seller revolves around the "Operation Fast & Furious" program of Obama's administration.
Katie Pavlich contended in the book that the program launched to win the war on drugs moved over two thousand guns to Mexico. According to her, the weapons ended in the hands of the drug lords it was meant to trap, leading to so many deaths.
Pavlich's second book, "Assault & Flattery: The Truth About the Left and Their War on Women", which was published sometime in July 2014, only enlarged her fame. It was no surprise she was honored the same year as The Woman of the Year by the Clare Boothe Luce Policy Institute.
The Journalist Was Once Brandon Darby's Lover
For many people, Katie Pavlich is the ideal definition of beauty. That, in addition to the accomplishment of her career, has left many wondering how she copes with her personal life. For a long time, much was not known about Katie Pavlich's love life and as such, many concluded that she was single until it was rumored that Brandon Darby will be her husband.
Based on what was rumored, Darby (a conservative blogger) had been dating Katie for a long time and had even engaged her. It is hard to tell how things went between the two but we can confirm that they are no longer together.
I almost didn't date @katiepavlich because I was against dating someone in our movement. @andrewbreitbart said "Are you an idiot? Date her."

— Brandon Darby (@brandondarby) December 13, 2012
Apart from Darby, it was also rumored that Pavlich was in love with a childhood friend. Amid all the rumors, the claims that she hopes to get married someday has been validated
Katie Pavlich Got Married In 2017
From what is obvious, Katie Pavlich is not one of those public figures that like keeping their fans updated about their love life. She likes keeping this aspect of her life private but marriage can only be a secret for a while. According to various reports, she is now a married woman and has been so since 2017.
The journalist is married to a fellow that has been identified as Gavy Friedson. Born on the 30th of December 1988 and named Gavriel Friedson, Gavy has a Bachelor's degree in Communications and Media Studies. He would later obtain a Master's degree in Public Health (MPH) in Crisis, Emergency & Disaster Management from Tel Aviv University. It is said that he is the director of International Emergency Management and Global Ambassador at United Hatzalah of Israel
Gavy and Katie reportedly dated for a while before they got married on the 5th of July 2017.