Katrina Bowden is an American actress who has made her mark in Hollywood. She has featured in several movies and TV series such as One Life to Live, Law & Order: Special Victims Unit, Ugly Betty, Framed by My Fiancé, Public Morals, The Bold and The Beautiful, Nurse 3D, Piranha 3DD, American Reunion, Sex Drive, and much more.
Bowden is, however, most popular for her role as the gorgeous but airhead receptionist, Cerie, on the hit NBC satirical sitcom 30 Rock. The award-winning show was created by renowned comedian and actress, Tina Fey. It ran for seven seasons and helped make Bowden a household name.
Katrina Bowden Bio
Katrina Bowden was born on the 19th of September 1988 in the town of Wyckoff, New Jersey. Information about her early life is sketchy. As such, there are no details about her parents and siblings. Bowden began her high school education at Saint Thomas Moore School, Midland Park, New Jersey. She completed it at Immaculate Heart Academy, Washington Township, also in New Jersey. She commenced her journey into showbiz as a model in her teenage years. It was from modeling that she later diversified into acting.
Katrina Bowden scored her first acting role in 2006 when she was just 18. She was given a guest role on the police procedural drama, Law & Order: Special Victims Unit. She gave a good account of herself and was rewarded with a regular role as Britney on the ABC soap opera, One Life to Live. While appearing in One Life to Live, Katrina Bowden was offered the role of Cerie on 30 Rock. She couldn't combine both shows and had to give one up for the other. She settled for 30 Rock and the rest, as they say, is history.
Her character as the beautiful but incompetent secretary is her most memorable role till date and helped propel her to fame. 30 Rock featured distinguished actors such as Tina Fey and Alec Baldwin. It equally won several awards, the most notable is the Emmy Award for outstanding comedy series in 2007, 2008, and 2009. Asides from 30 Rock, Katrina Bowden has also featured in other movies and TV series. The actress has also featured in several music videos like Dance, Dance by the American rock band, Fall Out Boy, Good Day by singer Jewel, After Hours by New York rock band, We Are Scientists and Miss Jackson by rock band Panic! At The Disco.
Net Worth
Katrina Bowden has a net worth estimated at $1.1 million. She made her fortune from the various acting jobs she has done over the years. She has also had a couple of endorsement deals. For instance, in 2011, she headlined a TV Ad for Jordache, a clothing company. In that same year, Bowden was named the sexiest woman alive by Esquire Magazine. She received two million votes online and defeated heavyweights such as actress Megan Fox and reality TV star, Kim Kardashian.
Husband (Ben Jorgensen)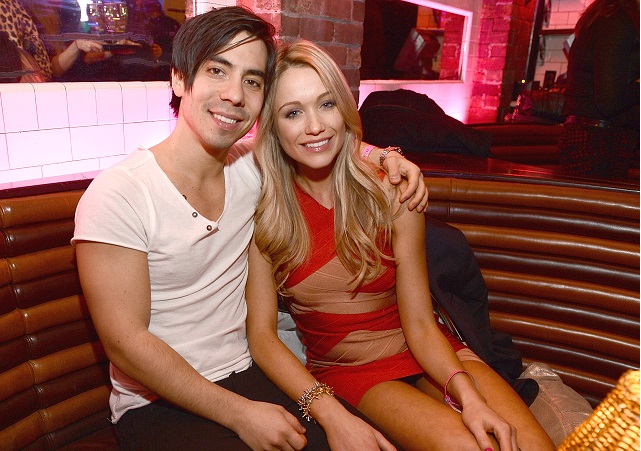 The 30 Rock star is off the market in case there is any poor fella out there still harboring hopes. Katrina Bowden is married to singer/songwriter Ben Jorgensen. Even though there are no details as to how they met, we do know that their relationship commenced in 2010/2011. They got engaged on the 28th of January 2012. Jorgensen popped the question while they were in a suite in Four Seasons Hotel. The actress was so shocked that she forgot to say yes at first. The lovely couple tied the knot on the 19th of May 2013 in New York, precisely at the Brooklyn Botanical Garden.
They planned the wedding by themselves and even got guests to pitch in and help fund their honeymoon. Bowden's husband, Ben Jorgensen, is also a native of New Jersey. He was the frontman of defunct rock band, Armor For Sleep. He formed the band in 2001. They released at least three albums and one EP before disbanding in 2009. Since the disbandment, Jorgensen has pursued a solo career. He released his first solo EP, There Is Nowhere Left To Go, in 2010.
See Also: Natacha Karam Wiki, Age, Height, Husband or Boyfriend and Family Facts
Height and Other Body Stats
Katrina Bowden boasts of a tall, slim build. She is 5 feet 9 inches tall (1.75 m) and her weight is given as 57 kg (126 lb). Other body measurements are bust – 34 inches (86 cm), hips – 24 inches (81 cm), and waist – 34 inches (86 cm). Additionally, she has blond hair and blue eyes. Katrina Bowden is a health and fitness buff. She has a lifestyle blog known as FitKat. The actress uses the blog to share her personal experience on topics such as health, fitness, beauty, fashion, and travel.