If you are a fan of old western movies, then there is one lady you won't forget in a hurry; she is the Femme Fatale queen – Katy Jurado. She is said to be one of the foremost actresses who brought the 'Latino feel' into Hollywood movies. The outstanding actress was famous for her mind-blowing portrayal of female villains in Mexican films and also supporting roles in western films.
In 1951, Katy Jurado earned an Academy Award nomination in the Best Supporting Actress category, and thus, became the first Latino actress to be nominated for an Academy Award. She was also the first to win a Golden Globe Award for her role in the 1952 American Western film High Noon. These are only two of her many achievements in a five-decade career that began out of rebellion.
Katy Jurado's Parents Did Not Want Her To Be An Actress
Katy Jurado was born as Maria Cristina Estela Marcela Jurado Garcia on January 16, 1924, in Guadalajara, Jalisco, Mexico. She was born to Luis Jurado Ochoa and Vincenta Estela Garcia de la Garza. She grew up with two brothers named Luis Raul and Oscar Sergio, and came from a family of great personalities; her godfather was the famous actor Petro Armendariz, and she was the first cousin of the former Mexican president, Emilio Portes Gil.
Jurado acquired her education in a Roman Catholic school in the Guadalupe neighborhood and later studied to become a bilingual secretary. From her early teens, she attracted the attention of film producers and filmmakers who wanted her to star in their projects. Filmmakers like Emilio Fernandez even offered her a role in 1941, which she did not accept because her parents refused to let her into the world of show business. Her godfather, Pedro Armendariz, also offered her roles but her parents continually rejected the offers.
In defiance of her parents' wishes and a resolute desire to become an actress, Katy Jurado went behind their backs and signed a contract to appear in the film, No Matarás. Her parents threatened to be ship her away to a boarding school after learning of her actions. To escape the clutch of her parents, Katy ventured into an early marriage with actor Victor Velazquez. She made her first movie appearance in the film No Matarás (Thou Shall Not Kill) in 1943.
She Was A Prominent Face In The Golden Age Of Mexican Cinema
Her marriage to Velazquez ended just as her career began. Free to pursue her dream as an actress, Katy Jurado went on to star in sixteen films over seven years. Her multiple appearances made her a notable face in the Golden Age of Mexican cinema, which lasted between 1933 and 1964.
At this time, the Mexican film industry had become the commercial mecca of film and TV production in Latin America, and the exposure quickly transformed Katy into an international star. With her exotic beauty at the center of her appeal, Katy Jurado spent years playing seductive female villains and starred alongside some of Mexico's most beloved stars like Sara Montiel, Pedro Infante, and Pedro Armendariz.
One of her best works during this period, El Bruto, where she played Paloma, earned her the Ariel Award for Best Supporting Actress. The award is the Mexican answer for the Academy Award.
Katy Jurado's Turn as a Hollywood Star
Katy Jurado was one of the few stars in the Golden Age of Mexican Cinema that made a successful transition to Hollywood, expanding their body of work beyond Latin America. Jurado ventured into Hollywood in 1951 when she ran into American film producer Budd Boetticher and actor John Wayne. At the time, she was working as a bullfight critic and radio reporter.
Katy then got cast in the 1951 movie Bullfighter and the Lady, directed by Budd Boetticher. She starred alongside Gilbert Rollad as the wife of a rusty bullfighter. Despite her low fluency in the English language, she delivered an impressive performance that later earned her a role in Stanley Kramer's film High Noon as Helen Ramirez, a saloon owner. She appeared alongside Gary Cooper and Grace Kelly in the film.
As Katy Jurado made more progress in Hollywood, she took English language classes to enhance her command of the language.
The legendary Katy Jurado was larger than life, and she made a total of 15 appearances in TV shows, with two theatre stage appearances, and 70 credits in film, across the Mexican film industry and Hollywood.
Katy Jurado Built An Enviable Legacy Over The Course Of Her Career
With over five decades as an actress, Katy Jurado's rebellion from her parents meant more than teenage exuberance. Her accomplishments, across the Mexican and American film industries, became a source of inspiration to stars who have come after her like Salma Hayek.
She Has 15 Awards Nominations to Her Name
Like a lot of Latino actors and actresses still face to date, Katy Jurado faced a significant amount of discrimination in her heyday. But with her talent, she rose above it and wrote her name in the history of two of North America's biggest film industries.
Over the course of her career, Katy received a total of 15 award nominations, for her performances across film and television. She received an Oscar nomination for Best Actress in a Supporting Role for the film, Broken Lance. She also received two nominations from the Golden Globes for High Noon, one of her early works in Hollywood.
In her home country, she received five Ariel Award nominations, winning four of them. Others include the ALMA Awards, Silver Goddess Award, and Premio ACE award.
Katy Jurado's Legacy Includes A Star On Hollywood Boulevard
In 1994, with her career winding down, Katy Jurado received a star on the Hollywood Walk of Fame for her contributions to motion pictures, particularly Western films. Her star is at 7065 Hollywood Boulevard.
Two years before that, she won the Golden Boot Award, for her contributions to the Western genre. She has also won the Eduardo Arozamena Medal and the Special Silver Goddess, recognizing her career as an actress.
Other parts of Katy Jurado's legacy includes a song, Que re'chula es Katy (What a beauty is Katy), by the Mexican composer, Juan Gabriel. There is also a portrait of her, drawn by the iconic Mexican artist, Diego Rivera.
She Was Worth $10 Million At The Time Of Her Death
Katy Jurado came from a family of affluence and means, and she also lived a life of wealth and luxury. Her decades of impressive screen performance as a leading actress in Hollywood and Mexican movies added to the financial comfortability of the late actress.
At the time of her death, Katy Jurado had an estimated net worth of $7 million, which is $10 million in 2020 valuation. Her surviving daughter, Sandra, inherited her wealth after she passed.
Read Also:  Rob Schneider Wife, Daughter, Net Worth, Height, Age, Kids, Ethnicity
Katy Jurado's Personal Life Had Doleful Moments
Katy Jurado's personal life was just as exciting as her career. Her exotic beauty was admired by many people, many of whom were icons of the entertainment industry too. From Budd Boetticher, John Wayne, to Marlon Brando and the French novelist Luis L'Amour, there was not a shortage of affairs and tryst in the actress's past. However, she only got married twice and had two children.
Her Marriages To Victor Velazquez And Ernest Borgnine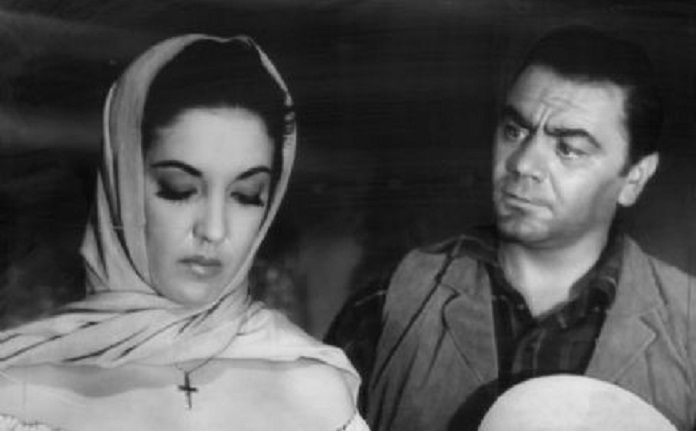 Her first marriage was to Mexican actor, Victor Velazquez. It was a short marriage, lasting for four years from 1939 to 1943. Katy married the actor to defy her parents' restrictions and kickstart her acting career. During their short time together, they had two children, Victor Hugo Velazquez and Sandra Velazquez.
Katy Jurado's second marriage was to American actor, Ernest Borgnine. They were married between 1959 and 1963 and did not have any children. Although they started on a happy note, their respective egos and tempers led to several incidents of domestic abuse, with Katy mostly on the receiving end. After four years of a widely reported turbulent marriage, they got divorced, and Katy remained single until her death.
She Lost Her Son In An Accident
Katy's son, Victor Hugo, however, did not get a chance to write his name in history. He died in 1981 in an accident on a highway near Monterrey. The loss of her son sent Katy into a deep depression that ended her career, albeit temporarily. She returned to acting after three years in 1984.
Katy Jurado Died At The Age Of 78
After 59 years as an actress, with an established legacy, Katy Jurado passed away in her Cuernavaca, Morelos home on the 5th of July, 2002. She died from kidney failure and pulmonary disease, caused by years of suffering from heart and lung ailments.
Fans of the actress mourned her death, and so did the people of Mexico. She was later buried at the Panteon de la Paz cemetery in Cuernavaca. Since her death, Katy has been honoured in different ways, including a Google Doodle on January 16, 2018.