Kavan Smith is a Canadian actor best known for his role as Major Evan Lorne in Stargate Atlantis and Stargate SG-1. Since 1993, Smith has built an impressive career on the screens appearing in several films and famous TV shows. He has been part of blockbusters like the 1996 CBS miniseries, Titanic, where he played the role of Fifth Officer. Between 2000 and 2002, Smith appeared in three feature films – See Spot Run (2000), Stark Raving Mad and Mission To Mars (2000) where he featured as Nicholas Willis.
Smith also appeared on Sci-Fi Channel's series, Stargate-SG1 and Stargate Atlantis as Major Evan Lorne. Despite so many appearances on screen, what most viewers remember Smith for is his role as Leland "Lee" Coulter in Hallmark Channel's most watched and longest-running TV series, When Calls The Heart. Let's take a peek into the life of this brilliant actor.
Kavan Smith's Biography & Age
Kavan Joel Smith (a.k.a Kavan Smith) was born on May 6, 1970, in Edmonton, Alberta, Canada. Himself and his brother were raised in Alberta by their father, following the separation of their parents when he was barely five. He attended the University of Calgary for about eighteen months before proceeding to join the performing arts program at Mount Royal University.
While in high school, Smith participated in football and martial arts. But according to sources, his greatest interests were theater performances. Stories have it that Smith occasionally skipped classes in order to record and rehearse his performances; which he and his friend would then perform at bus stops and shopping malls.
After high school, Smith went on to study Economics at the University of Calgary. He lasted only a year and a half, dropping out to pursue an arts training in Mount Royal University's performing arts program. While there, Smith developed a passion for books and writing as well. His drop out from Calgary, although controversial at the time later proved to be the decision of a lifetime. Smith would go on to become the famous actor that we know him to be today.
Kavan Smith Is Married to Corrine Clark
Although it is clear that Smith has a woman in his life, what has remained undercover, however, is her identity. In a tweet dated February 11, 2017, Smith mentioned his abrupt change of plans to attend an interview that day; citing that he has to go pick up his wife from the airport and that his children were in revolt. Besides that, the media-shy actor is reluctant to share details of his marital life. But the Supernatural star actor is reluctant to share details about his marital life on media.
However, on the side, fans also suspect a possible relationship between Smith and his on-screen partner, Pascale Hutton, due to their roles in When Calls The Heart. Kavan Smith and Pascale Hutton have widely been considered 'the best couple on TV' by devoted fans of the show, fueling the rumor that they are either married or at least, romantically entwined. How accurate is that?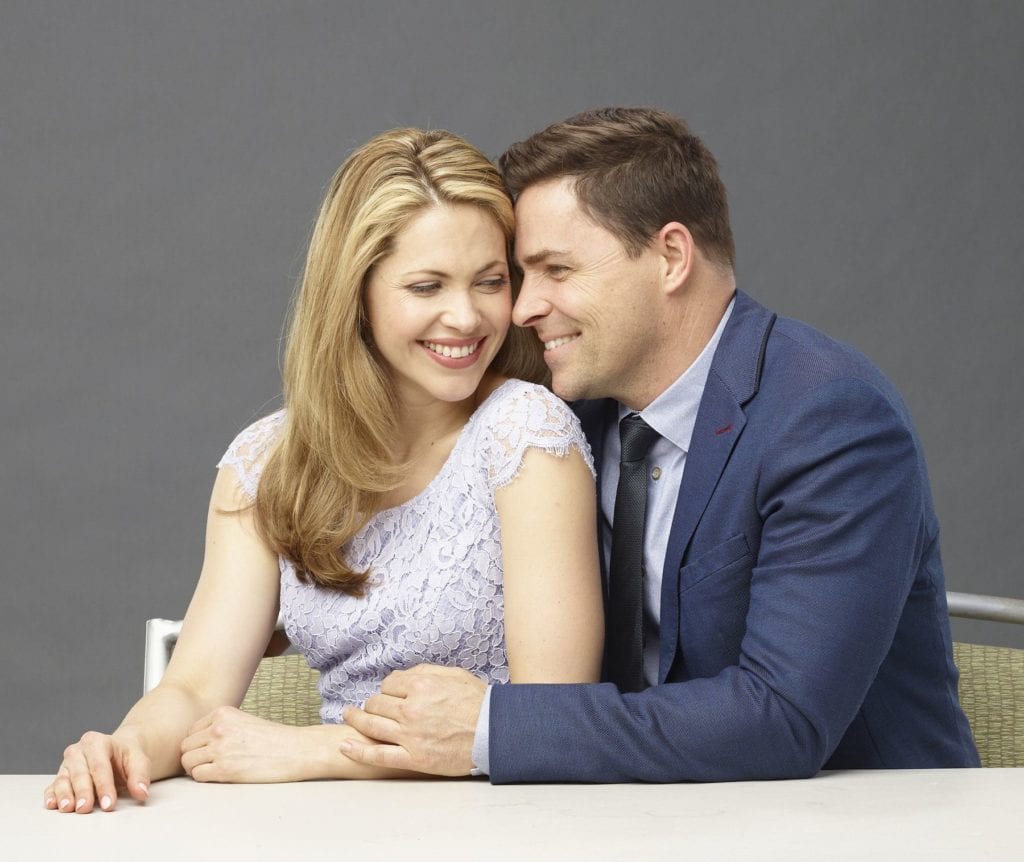 First off, it's no longer news that Hutton has been in a thriving marriage to fellow actor, Danny Dorosh, since 2002 and that their union has produced two lovely kids, that we know of. And in the absence of any divorce saga since that time, it's safe to conclude that Pascale Hutton and Kavan Smith will continue to remain, husband and wife, only on screen.
For Smith himself, it's pretty hard to identify his spouse by name or by photo since he hasn't shared any details in that regard. But thanks to the paparazzi, nothing can be hidden for too long. Details have since emerged that Smith is in fact happily married to Corrine Clar, the casting director for Stargate Atlantis. A TV series in which Smith had appeared in from 2005 till 2009.
Net Worth
Kvan Smith has recorded hundreds of hours of appearance on screen, both in films and TV series. Much of his income has come from this. According to recent calculations, his net worth stands at an estimated sum of $800,000.
Height and Body Stats
Kavan Smith is not the average height guy. To put it straight, the guy seems to be favored with length. He stands at 1.75m and weighs 175 lbs. He keeps a healthily built frame which is no surprise since the actor is a dedicated Martial Artist and 'non-professional' footballer. He has dark-brown eyes and wears black hair.