When you hear the phrase "sports enthusiast," women are hardly the first group that comes to mind. Well, that's changing pretty fast. Especially with the rise of female sports analysts and broadcasters like Kay Adams who is famed for knowing more about sports than most men do. And why not, she's paid handsomely for it so it is only to be expected. Delve in for more on how Amy made it to the big leagues to become a respected sports analyst in her own rights.
Kay Adams' Biography
Born on April 6, 1986, Kay Adams, the youngest of three siblings, spent a major part of her formative years in Chicago Illinois. Her polish descent explains her fluency in the polish language, a language she possibly acquired from her parents. Kay Adams' passion for sports has propelled her into popularity rankings like NFL stars such as Tom Brady, Antonio Brown, Von Miller, and many others even though she doesn't get into the pitch and play it dirty like the NFL stars.
Kay Adams began her career serving as an in-game host for the Missouri based baseball team, St. Louis Cardinals, during home games. However, her first journey into professional football began with fantasy football shows like SiriusXM's Livin' the Fantasy and SiriusXM Fantasy Drive. In October of 2012, she was guest on the 2012 edition of the late-night talk show, The Late Late Show with Craig Ferguson.
Since 2016, Kay Adams began hosting NFL network's Good Morning Football, alongside Peter Schrager, Nate Burleson, and Kyle Brandt. Good Morning Football is a year-round morning show which airs Monday to Friday from 7 AM ET to 10 AM ET. The show discusses upbeat issues in American football and sometimes hosts football coaches and players.
Adams has also served as host for special events for the Chigaco based football team, The Chicago Bears. But before hosting on the NFL Network, she had taken a good number of hosting roles, including NBC Sports Network's Fantasy Football Live. In the Fall of 2018, Kay returned for her fourth season as the host of the DirecTV "Fantasy Zone" channel.
Salary and Net Worth
With a soaring career in sportscasting and hosting, a recent estimate puts Kay Adam's take home at over $40,000. Higher than the reviewed annual income of a sportscaster in the United States estimated to be about $32,450. Despite the above knowledge, however, her current net worth is unknown. Being a topnotch TV personality, there are speculations that Adams might be earning way more than the estimated sums.
Who is Her Husband or Boyfriend? 
Although Kay hasn't revealed so much about the happenings in her love or personal life, fans finally had a peek from a tweet she made in March 2011 about having a boyfriend. In a 2012 interview with TV host Craig Ferguson, Kay Adams admitted to not having a boyfriend, adding that men get so intimidated by her as some find it hard to keep up with a woman who knows so much about sports than they do. She also recounts how intimidated and insecure men often feel around her, even though it could've been the other way round.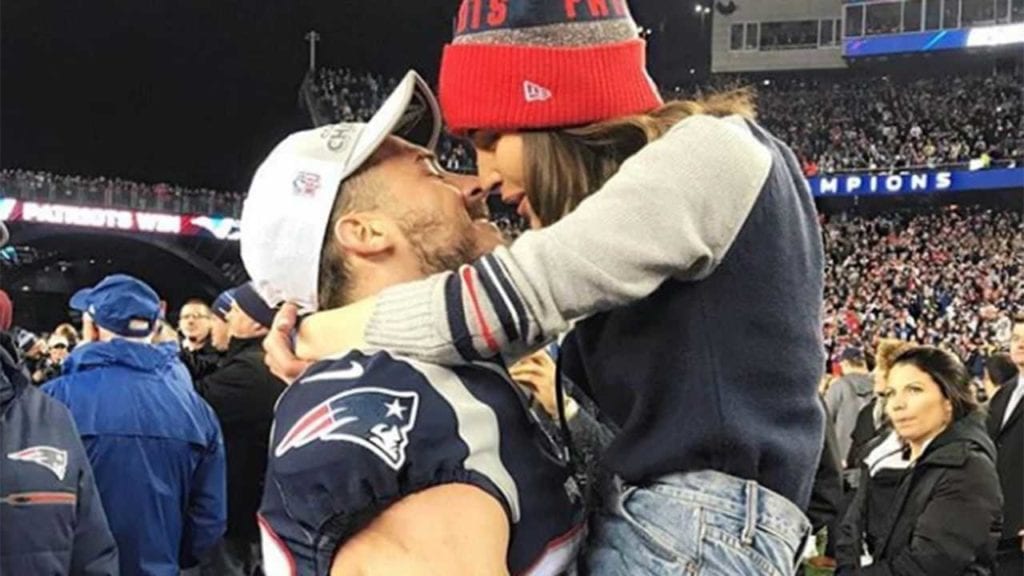 Three years later, fans were greeted to a "couple entrance" and public display of affection between Kay and New England Patriots' wide receiver, Danny Amendola at the 2015 ESPY Awards. This sparked widespread rumor that Amendola is actually the man in Kay's life. However, the silence that trailed the display left little hopes that the two are still together. Finally, doubts were cleared when Amendola was spotted with former Miss Universe 2012, Olivia Culpo, at Coachella in the spring of 2016, as a couple.
As of late 2018, Kay Adams is still single and hasn't been rumored to be in a relationship.
Height, Body Measurement & Other Facts

With a  height of 5 feet 5 inches—the equivalent of 1.65m—and a weight of 53kg, The Illinois-born sportscaster has no challenge doubling as a model for major designer brands. Kay's slim-built physique, brunette hair color, and green eyes fit the description of an ideal model. Who knows, the stunner might be considering a career in the fashion industry, too. Her shoe size, bra size, dress size, chest, biceps, and hips ratio are not available yet.
Did I mention her tweeting about her relationship back in March 2011? Oh Yes! Kay Adams has a strong fan base on social media. With over 194k followers on Twitter, 128k followers on Instagram, and 44k followers on Facebook, a single message could spread like wildfire.