Keanu Reeves has had an amazing career as an actor. His acting has spread his fame around but he also has a charitable disposition that is well known and has made numerous people quite fond of his person.
Despite the criticism that the actor gets sometimes for being deadpan and flat while delivering on his roles, he has still been able to get some massive parts over the course of his career and we will certainly discover more about him in the course of this article.
Keanu Reeves Bio
The actor was born on the 2nd of September 1964. He was actually given birth to in Beruit, Lebanon but was raised mostly in Toronto, Canada. The fact that his mother who worked as an entertainer, and later, as a costume designer, is English, entitles Keanu Reeves to British citizenship.
He has Canadian citizenship by naturalization and also possesses an American green card which could not come to him automatically as it was only his father that was birthed in the United States; Keanu himself was born abroad. His father, who was a geologist, is actually of Chinese-Hawaiian heritage. Despite the mixed heritage and citizenship that the actor has, courtesy of his parents, he most identifies as a Canadian since he grew up there.
Keanu Reeves' parents split up when he was younger and he moved with his mother and sister to New York before ending up in Toronto. Initially, the actor seemed to turn his energies to hockey but soon his calling to be an actor was undeniable. He began getting TV roles and made a film debut in the Canadian feature One Step Away (1985). Keanu was soon featured in teen movies made for a United States audience like Youngblood (1986) and River's Edge (1986). It was, however, in 1989 that the film Bill & Ted's Excellent Adventure, a comedy film, which the actor is most often remembered for in his earlier career was shot. It generated so much buzz that in 1990 an animated TV series came out based on it and in 1991 it had a sequel known as Bill & Ted's Bogus Journey.
In 1999, Keanu Reeves took up the role of prophetic figure Neo in the game-changing sci-fi film The Matrix. The Matrix needs practically no introduction to anyone as its fight sequences and special effects made it an international hit. The film had two sequels which were filmed together and released in 2003. Keanu Reeves continued to star in many different genres and types of films over the years, criticisms of his deadpan delivery and lack of range as an actor notwithstanding. In 2013, the actor made his directorial debut with a film called Man of Tai Chi.
Keanu Reeves also co-founded a band named Dogstar in the early 90s. The band enjoyed some success and released two albums. He was the bass player, a part which he again took up in another band Becky for about a year. Mr. Reeves is also a motorcycle enthusiast, he went into the business with Gard Hollinger after he asked the designer to make him a custom-built bike. Their company is called Arch Motorcycle Company LLC.
The actor is also considered to be very generous, he helped with his sister's care while she fought a long battle with leukemia. He also supports organizations like PETA and Stand Up To Cancer.
Net Worth
The actor's eclectic roster of acting roles has paid off in a massive bank balance. He reportedly has a net worth of about $350 million. Despite this truckload of money, Keanu Reeves tends to live a quiet and understated life, but he certainly still knows how to spoil himself as can be seen by his order of the custom-made motorcycle from Gard Hollinger.
See Also: Hugh Jackman Biography, Cancer Treatment, Wife, Net Worth, Kids, Is He Gay?
Wife Or Girlfriend, Is He Married?
Keanu Reeves is an exceedingly private person. It is not known if he is dating anyone now, but he once came quite close to being married. In 1999, he was in a relationship with a lady known as Jennifer Syme who was pregnant for him. In December 1999, she went into an early labor that resulted in a stillborn daughter they named Ava Archer Syme-Reeves. It was a devastating blow that strained their relationship and they soon broke up.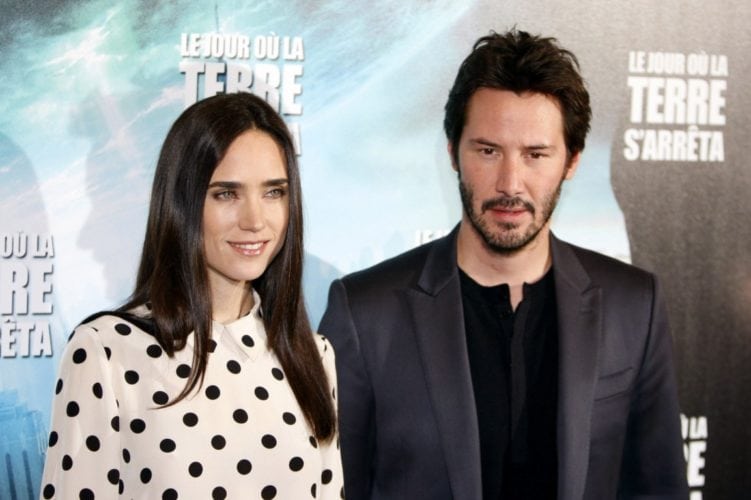 Jennifer Symes was driving alone on April 2, 2001, along the Los Angeles' Cahuenga Boulevard when she had a ghastly accident that resulted in her death. Keanu Reeves took some time to deal with the incident and it is hard to imagine the extent of pain that the actor must have gone through in that period.
Is He Gay?
Rumors about Keanu Reeves' sexuality started to circulate after he starred in the film My Own Private Idaho. The film had homosexual undertones and it caused people who have always been curious about the actor's private life to make speculations about his sexual preference.
In a 1990 interview, he sort of addressed the issue when he was asked directly by the interviewer. He initially said "no" but then added, "ya never know".