Kehlani is an American singer and songwriter who has received wide acclaim for her work. The Oakland, California native has two Grammy Award nominations, three BET Award nominations, and one from the American Music Awards to her name. She started her singing career in 2009 at age 14 as a member of the teen singing group, Poplyfe. She later earned her big break in 2014 following the release of her debut mixtape, Cloud 19. The next year, her second mixtape titled You Should Be Here was released and it also received a lot of widespread praise and acclaim. She currently has two studio albums and three mixtapes under her belt.
Apart from being known for her exploits on the microphone, Kehlani has endeared herself to fans across the world for her very open-mindedness. Some of her opinions and actions have gone ahead to spark controversy, thereby causing an inquiry into her personal life.
The Singer's Early Years Were Spent With Her Drug Addict Parents
Kehlani was born on the 24th of April, 1995, in Oakland, California. She was christened Kehlani Ashley Parrish at birth by her parents. She is ethnically diverse with a mix of Native American, Black, White, and Mexican ancestry.
It has been revealed that the singer's parents were drug addicts who cared more about satisfying their cravings than caring for her while she was growing up. After losing her father while she was still a toddler and her mother was incarcerated, Kehlani was adopted and raised by her aunt. She would go on to attend the Oakland School for the Arts where she practiced dance, with particular attention given to ballet and modern dance.
Kehlani had a dream of training as a dancer at the legendary Julliard School but a knee injury, while she was a junior in high school, halted that dream and made her divert her energy towards music. It was also reported that living with her aunt exposed her to musical genres like neo-soul and RnB.
Kehlani's Singing Career Started After She Joined a Local Pop Cover Band in Her Early Teens
At the age of 14, Kehlani joined a local pop group that acted as a cover band and went by the name Poplyfe. The group earned a lot of recognition at the time with electrifying performances throughout San Francisco and other Bay Area cities.
In 2011, the pop band participated in the 6th season of America's Got Talent and finished fourth. Shortly after the end of the competition, the young girl opted to quit the group due to some disputes with management. In a bid to avoid a legal dispute with her former bosses, she steered clear of anything music-related for a six-month period. This decision ultimately left her broke and homeless in the following years as she lived a life of crime in order to make ends meet.
Her Breakthrough Came With The Release of Cloud 19
After having struggled for a long time, Kehlani was able to get herself together to record and release a song titled "ANTISUMMERLUV" on SoundCloud. Nick Cannon, who was the host of America's Got Talent during PopLyfe's run and had previously offered her an opportunity to join a rap group, heard the song and offered to buy her an apartment in Los Angeles as well as give her studio time. What resulted from this was the mixtape called Cloud 19 which was released in 2014.
The next year, she released a second mixtape titled You Should Be Here which debuted at number 5 on the US Billboard's Top R&B/Hip-Hop Albums chart. The project's popularity earned her wide acclaim and a deal with Atlantic Records. She would later receive her first Grammy Award nomination in 2016 in the Best Urban Contemporary Album category.
On the back of that success, Kehlani released her debut studio album titled SweetSexySavage through Atlantic Records in 2017. It debuted at number three on the US Billboard 200 and sold 58,000 album-equivalent units in its first week.
Thanks to her fame, the singer has found herself to be linked to quite a number of celebrities, including fellow musicians and athletes. She has gone ahead to date quite a few of them although she has openly identified as Queer and Pansexual.
The Truth About Her Sexuality
Kehlani at one point said she was attracted to any gender. This led many to the conclusion that she was bisexual as speculations about her sexuality started in 2017 when she was rumored to have dated artist Shaina Negron. This claim was confirmed when the singer posted pictures of Shaina while on the SweetSexySavage World Tour.
In April 2018, the singer then tweeted that she was queer, which ultimately put an end to the speculation regarding her sexuality. But due to the uproar she received from fans who were still not clear about her sexual stance, Kehlani had to retract the tweet.
In a subsequent tweet she made, she mentioned that she didn't draw any line on the type of human being to be attracted to. She reiterated that she was open to men, women, trans people, intersex, queer men, non-binary people, and pansexual people.
See Also: Rita Ora Ethnicity, Parents, Boyfriend, Sister, Height, Measurements
Kehlani Nearly Committed Suicide Before Meeting Her Baby Daddy Javaughn Young – White
In 2016, Kehlani was in a relationship with NBA player Kyrie Irving. Sometime in March of that same year, Canadian musician Jahron Brathwaite, who is professionally known as PartyNextDoor, posted a controversial picture on Instagram which insinuated that he was involved with the American singer.
The events that followed after the incident included Irving breaking up with the singer as she received a lot of backlash from fans. The controversy further garnered media attention which led her to attempt to commit suicide. Thankfully, she survived and lived to tell the tale.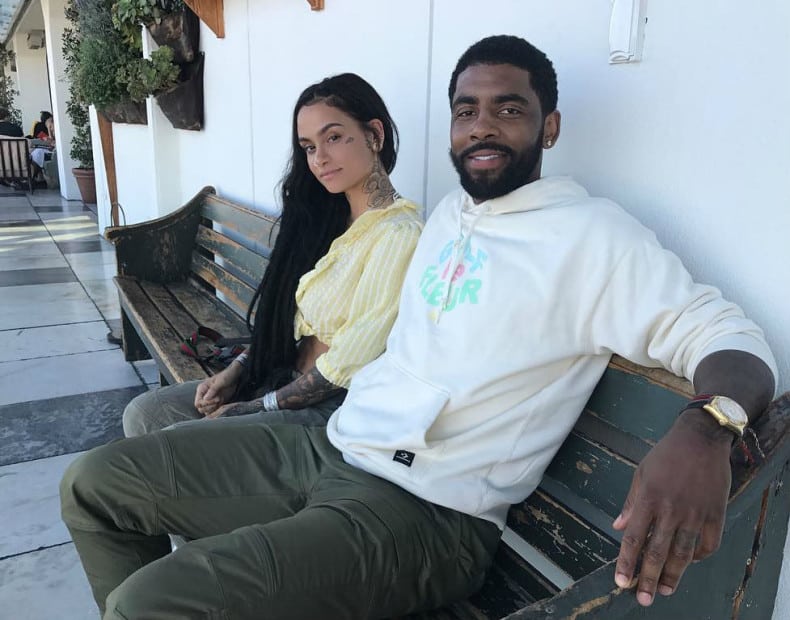 Following that ordeal, Kehlani opted to keep a low profile on social media for a couple of years. However, in October 2018, the songwriter announced on Instagram that she was expecting a child. She went further to reveal the identity of the father as Javaughn Young-White, her guitarist who is also the brother of popular stand-up comedian Jaboukie Young-White.
On March 23, 2019, Kehlani gave birth to a lovely baby girl whom she named Adeya Nomi Parrish Young-White. One of the highlights of her daughter's birth was that it happened at home.
https://www.instagram.com/p/B1WrdGKHn4h/?utm_source=ig_web_copy_link
Kehlani's relationship with her baby daddy did not eventually work out and so she quickly moved on to date West Coast rapper YG. The pair, who started dating on September 6, 2019, lasted together for only three months before they broke up. In May 2020, the singer revealed during an interview that the acclaimed rapper had been unfaithful to her and that was why she decided to end the relationship.