When it comes to the movie business, actors and actresses who fit a certain kind of character and can portray it well are often in danger of being typecast. They, therefore, have to stand on guard against such situations, and one of those who have successfully managed this is British actress, Keira Knightley.
Blessed with undeniable aristocratic good looks, Knightley's career has been defined by period and historical dramas that have fetched her many accolades, including two Oscar nominations. The London-born actress has however proven that she is more than a one-trick pony by appearing in comedies and musicals such as Love Actually and Begin Again.
All these have made her a screen darling but the fiercely-private Keira couldn't care less as she has a darling of her own in the shape of husband – James Righton. However, before they got together, the actress had to go through several proverbial frogs before finding her prince.
Debuting At The Tender Age Of Seven
Keira Knightley was born in London, England, on the 26th of March 1985. Her family was all about show business with her father being an actor named Will Knightley and her mother a playwright named Sharman Macdonald. She also has an older brother Caleb Knightley with whom she grew up in the suburb of London.
Knightley has referenced her childhood as a big part of the reason for her eventual career choice, noting that she was fond of playing with dollhouses and would stay at it for hours. She also spent much of her time making up stories and the joy of never wanting to stop playing influenced her decision to go into acting.
It was in this vein that the little girl requested her own agent when she was only three years old. She, however, got one when she was six and at the age of seven, landed her first professional acting job on a British television series.
Her first major role, however, came in her teens in the film, Star Wars: Episode 1-The Phantom Menace, in 1999. That same year, she also had a supporting role in Oliver Twist, a television mini-series that had Julie Walters, Robert Lindsay, and Sam Smith on it.
The Unlikely Breakthrough On Bend It Like Beckham And Pirates Of The Caribbean
It is commonly known that the movies that launched Keira Knightley to stardom are Bend It Like Beckham and Pirates of the Caribbean. What is, however, lesser-known is the fact that the actress herself doubted that these projects would be any good. Back in the year 2001, a 16-year-old Knightley was struggling to breakthrough when she learned of a proposed sports comedy about two girls who defy societal limitations to play football. Being someone who had always believed in women empowerment, she promptly auditioned and beat out about 30 other hopefuls to land the role of Jules Paxton.
Keira subsequently underwent three months of football training and filming eventually began. The young lady excitably shared the news with her friends but most of them laughed it off. Nobody believed that a film named Bend It Like Beckham would be any good and Keira soon developed a similar mindset. She, however, had no choice but to complete the project and she gave it her best shot. The film was eventually released in 2002 and it went on to surprise all and sundry. It grossed $76.6 million on a budget of just $6 million. It also scored a Golden Globe nomination for best picture (comedy or musical).
Keira also received awards for her superb performance and a year later, she scored another big hit in Pirates of the Caribbean: The Curse of the Black Pearl. In the film, she acted the part of Elizabeth Swann, who, along with Will Turner (Orlando Bloom), gets caught up in the adventures of Captain Jack Sparrow, the notorious 18th-century pirate played by Johnny Depp. Just like before, Keira doubted the viability of the project and it once more surprised her by becoming a box office hit. The film has since churned out more sequels, most of which Knightley has featured in, and the entire franchise has grossed about $4.5 billion at the theatres.
Period Dramas Made Keira Knightley A Recognised Star
Since her breakthrough, Keira Knightley has played Guinevere in King Arthur (2004), starred in Jane Austen's Pride and Prejudice (2005) and also in The Duchess (2008), which is a biopic of an 18th-century royal. This shows that Knightley's classic good looks make her the ideal candidate for period dramas. She herself enjoys acting in these period dramas as they are mostly done in Europe, a place that she loves so much.
Knightley equally received her first Oscar nomination for a period drama, Pride & Prejudice. Her second came after she acted the part of a code-breaking whiz in The Imitation Game (2014) which was a WWII drama. For that part, she also earned both Golden Globe and BAFTA nominations for the supporting actress category. The talented actress made her Broadway debut in Thérèse Raquin play, based on the 1867 Émile Zola novel, which played at the Roundabout Theatre Company, in New York City.
All The Men Keira Knightley Has Dated
Keira has a penchant for dating fellow creative minds and particularly her co-stars. This Pattern has manifested on several occasions and dates back to the early 2000s when she gained her breakthrough. Most of these romances have ended up in splits but the one good thing about them is that the breakup is always amicable. Meet the men Keira has dated so far.
Del Synnott
Keira's penchant for dating co-stars first manifested when she commenced a romance with Irish actor, Del Synnott. The pair met while filming the Disney project, Princess of Thieves, and subsequently commenced a relationship in 2001. Their romance lasted for two good years during which they featured together in some other films such as Deflation and Thunder Pants. They later called it quits in 2003 but remained good friends. Synnott even visited his ex during the filming of Pirates of the Caribbean: Curse of the Black Pearl.
Jamie Dornan
Following the end of her relationship with Del Synnott, Keira found love with a Northern Irish actor, model, and musician, Jamie Dornan. Dornan has featured in several movies but is most famous for his leading role in Fifty Shades of Gray. This particular relationship also lasted for two years before the actress broke things off.
The whole thing left Dornan heartbroken for several months but he later pulled himself together and moved on. The actor has since revealed that he was grateful for the relationship as it prepared him for the intensity of the spotlight.
Did She Date Adrien Brody?
Following the end of her romance with Dornan, there were speculations that Keira had left him for her The Jacket (2005) co-star, Adrien Brody. It, however, turned out that she had left him not for Brody but another co-star, from Pride and Prejudice, Rupert Friend.
Rupert Friend
Keira and Rupert began their romance in 2005 and remained together for about five years during which they were notoriously private. They avoided public appearances and rarely spoke about each other in interviews. They rather did ordinary stuff like reading and having friends over for dinner.
All these were an attempt to be like a normal couple but the paparazzi wouldn't let them. The spotlight was just too much and in 2010, the couple called it quits. Sources close to them later revealed that it was the pressure of being in the public eye that disturbed the harmony of the relationship and led to its eventual demise.
See Also:  Who is Rachel Weisz? Her Age, Husband (Daniel Craig), and Children
Meet Her Rockstar Husband – James Righton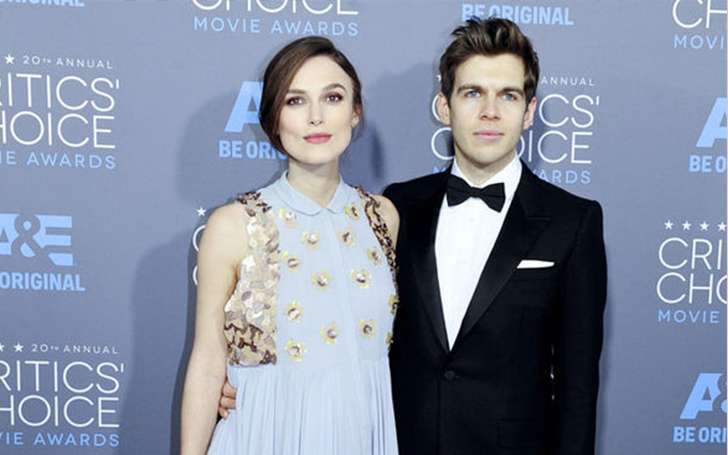 Keira Knightley is currently married to a British musician named James Righton. Righton formerly played keyboard for a defunct band known as Klaxons. He now pursues a solo music career, using the moniker – Shock Machine, and has an album to his name. Asides making his own music, Righton has penned lyrics for acts such as The Chemical Brothers, Hinds, and Honeybloods. He has also written original music for several films, including the 2018 British comedy-drama, Benjamin.
Keira and Righton first met through a mutual friend named Alexa Chung. The two began dating in 2011 and in May 2012, got engaged. The pair later tied the knot on the 4th of May 2015; they were married in Mazan, Vaucluse, South of France. The couple now has two daughters. Their first, Edie, was born in May 2015, while the second, Delilah, followed in September 2019. Keira has been open about the challenges of combining work and motherhood and says that it is quite daunting. The actress, however, counts herself lucky as she is able to afford quality childcare.