African American actress, Keke Palmer, who is also a singer, songwriter and talk show host, is best known for her roles in 'Akeelah and the Bee' (2006), 'True Jackson, VP' (2008–2011), and 'Scream Queens' (2015–2016).
Palmer, who is an advocate for children to learn, does a lot of philanthropy through her work with the Cool To Be Smart program of the Boys and Girls Clubs of America among many other charities.
Keke Palmer's Bio & Age
Keke Palmer was born Lauren Keyana Palmer in Harvey, Illinois on August 26, 1993, to her parents; Sharon and Larry Palmer. Her father works for a polyurethane/plastics manufacturing company while her mother was a middle and high school teacher for autistic students. However, before settling into their respective full-time jobs, Mr. and Mrs. Palmer worked as professional actors who in fact, met in drama school.
It was, therefore, no surprise to them when their daughter chose to pursue a career in acting which they fully supported. At around the age of 5, Keke Palmer began performing at her local church where she reportedly wowed audiences. She soon moved on to a larger audience and a proper stage when she began performing at a popular Chicago tourist destination.
In 2002, she unsuccessfully auditioned for a stage production of The Lion King. Two years later, she went on to make her film debut in 'Barbershop 2: Back in Business' (2004). Her performance in the film gave her leverage in convincing her parents, who probably did not need much convincing [since their daughter might have the chance to have a career that they didn't get], to move to Los Angeles, California in order to get better opportunities.
In California, while attending various auditions to catch a big break, Palmer began flirting around with music. Her voice and songs impressed a few music executives and led to her signing a record deal with Atlantic Records in 2005. She had also landed a few minor roles in tv series' like 'Cold Case', 'Strong Medicine', 'ER', and 'Law & Order: SVU'.
In 2006, Palmer landed what turned out to be her breakthrough role in 'Akeelah and the Bee' which also had her debut single, "All My Girlz" as its soundtrack. She went on to appear alongside Samuel L. Jackson in 'Cleaner' (2007) and the Disney movie 'Jump In!' (2007) before releasing her debut album, 'So Uncool' that same year.
In recent years, Keke Palmer can be seen hosting her own talk show on the BET Network titled 'Just Keke.' She has also released her memoir 'I Don't Belong to You: Quiet the Noise and Find Your Voice' as she stars in Lee Daniels' 'Star' as Gigi Nixon and in 'Scream' as Kym.
Keke Palmer's Twin Sisters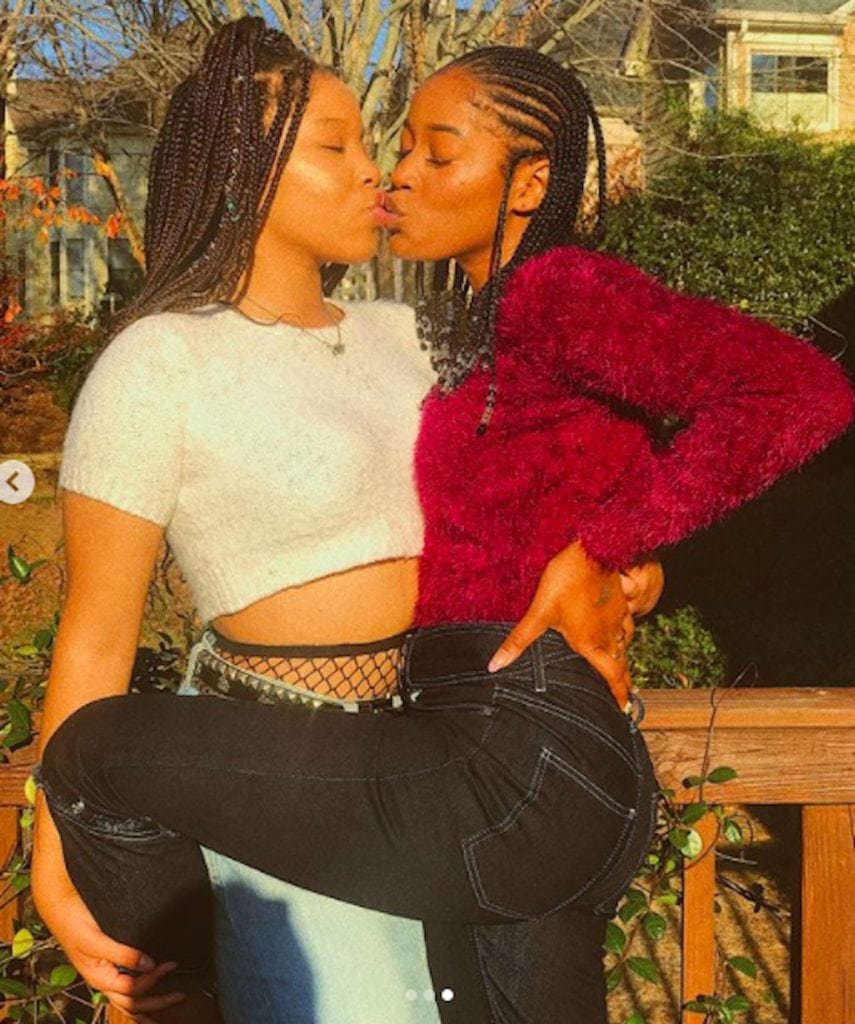 In addition to an older sister, Keke Palmer has younger twin siblings; Lawrencia and Lawrence Palmer who were born on March 3, 2001.
Lawrencia, who is famously called Rennie by her family and friends, was in the news after her famous older sister posted pictures on Instagram of the both of them being very close and kissing during the Thanksgiving holiday. What many publications called weird was simply just an older sister showing so much love to her younger sibling who was growing into a young lady.
What Is Her Net Worth?
The multiple NAACP Image Award winner is said to have an estimated net worth of around $7.5 million thanks to her singing and acting career. Miss Palmer was notably paid about $20,000 per episode of the Nickelodeon sitcom 'True Jackson, VP' in which she was cast in the lead role. This made her the fourth highest-paid child actor on television.
Read Also: Who Is Yaya DaCosta? Her Husband (Joshua Bee Alafia), Body, Age, Bio
Does She Have a Boyfriend or Is She Gay?
Keke Palmer has in the past said that she only dates for fun and is not looking to get into anything serious due to her commitment to her career. It is, however, unclear if the Akeelah and the Bee actress is currently dating anyone at the moment even though she has in the past been linked to some of the entertainment industry's most eligible bachelors. They include singer August Alsina and actor Quincy Brown, who starred alongside her in 'Brotherly Love' where they shared a sensational kiss.
Miss Palmer has also revealed that she has not been restricting herself to having relationships with men only. She stated that she was open to a same-sex relationship as long as it is about love and the two parties care for each other.