Kelly Clarkson is a versatile American female singer and songwriter who became prominent after she won the inaugural season of American Idol in 2002. Her victory paved the way and earned her a record deal with RCA Records on which her music career took off. Since her career began, she has kept her teaming fans stunned with her impressive skills and vocal prowess which in return has earned her three Grammy awards and several other awards and nominations that her female counterparts in the industry can only wish for. She does not just sing and write, she is also an actress, record producer, television personality and book author.
Quick Biography of Kelly Clarkson
April 24, 1982, saw the birth of Kelly Brianne Clarkson to a first grade English teacher mother, Jeanne Ann and engineer father, Stephen Michael Clarkson in Fort Worth, Texas in the United States.
She schooled in Pauline Hughes Middle School where her school music teacher asked her to audition for the school choir, but she gave excuses not to have received any professional vocal training. She graduated from Burleson High School, where she performed in several musicals, such as Annie Get Your Gun, and so on. Her performance at a high school talent show encouraged her to devote more effort to developing her singing career. She was offered admission on scholarship to 3 universities but she refused because of her music career.
Kelly Clarkson's career started after she won the first season of American Idol in 2002. She won the show after getting past rounds of televised exclusions, and serious assessments by judges Paula Abdul, Simon Cowell, and Randy Jackson.
She triumphed against Justin Guarini, clinching the winning prize of the contest which was a million-dollar RCA record contract deal. Her debut single A Moment Like This peaked at the No. 1 spot of the Billboard charts and it was also a best selling country song. Her second album Breakaway in 2004 earned two Grammy Awards.
Clarkson followed those albums with numerous hit singles and other albums like Thankful (2003), Breakaway (2004), Stronger (2011), Piece by Piece (2015). Her fourth album All I Ever Wanted hit the Billboard Hot 100 and  moved from No. 97 to No. 1 in January 2009. The leap broke the record of the largest leap to the top and was the second time Clarkson would break the record.
Read Also: Rick Ross Wiki, Net Worth, Weight Loss, Wife, Is He Dead or Alive?
Is Kelly Clarkson Married?
Kelly Clarkson is a married woman who has managed her career, marriage, and family so well that she brought about a balance in the triangular lifestyle. Though celebrities are being hunted by the media for their private lives and personal activities, information about Clarkson's personal live have actually been closely guarded by her. She was formerly in a romantic relationship with Graham Colton from 2005 to 2006 and she also dated Ryan Key before she finally settled down with her current husband.
Who is Her Husband – Brandon Blackstock?
Kelly Clarkson is married to Brandon Blackstock and they were said to have met in a rehearsal for the Academy of Country Music Awards in 2006 but didn't talk much after exchanging pleasantries. This may be attributed to the fact that Brandon was married to his former wife, Melissa Ashworth, at the time.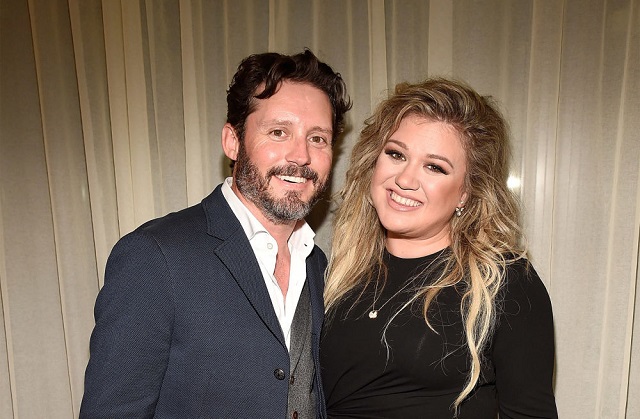 Subsequently, they met again at the Super Bowl in 2012 after Brandon had parted ways with his former wif and they officially started dating around February of 2012; and 10 months after, in December 2012, Kelly Clarkson announced her engagement to Brandon Blackstock on Twitter.
Brandon Blackstock is the son of Clarkson's manager, Narvel Blackstock, and stepson of singer Reba McEntire. Clarkson also celebrated her engagement with a performance of her song Catch My Breath on VH1 Divas. This was followed by their marriage on October 20, 2013, at Blackberry Farm in Walland, Tennessee.
Blackstock was born on the16th of December 1976. He is a pilot by profession and also a talent manager and the CEO of Starstruck Management Company. Since the two became a couple, Brandon became Kelly's manager. Their union has brought forth two children, their first child, (daughter) named River Rose was born on June 12, 2014, and the second child (son) named Remington Alexander was born on April 12, 2016. Kelly and Brandon are happily living together in Encino, Los Angeles, California.