National Football League superstar for the Detroit Lions Matthew Stafford has been in the public eye since the start of his career in football and we see no reasons why his wife Kelly Hall should not enjoy the limelight with him. Kelly is not your typical mainstream celebrity but the popularity of her husband has rubbed off on her, however, she has some good skills at both golf and basketball which she played during her days in college.
The blue-eyed blonde has made an appearance in a commercial for Dish Network alongside her husband. She has also participated in a Dancing with the Stars event for the benefit of Jack's Place for Autism Foundation. Kelly Hall is active on Instagram with a following that has exceeded 100k, she is an outgoing type that likes to party and loves to share her good moments with fans on Instagram. She has an outspoken nature and takes to her social media account to reply to people who criticize her spouse. Kelly once used her social network account to make clarifications to a Detroit Radio station that she was the one who funded her implants and not her husband.
Kelly Hall's Bio
Kelly Hall was born in Georgia, Atlanta on the 29th of May 1989; she was raised by her parents in her place of birth alongside two siblings. She is an alumnus of the University of Georgia where she began dating her husband. In 2017, she went to study nursing with plans to join the nursing profession in the future. Her first year as a nursing student was wrapped up in December of 2018 and was commemorated by her then-fiancée who later became her husband.
Kelly Hall's Family
She was born as the last child of Leslie and Jack Hall who also have other children – a daughter named Jennifer Hall and a son Chad Hall – a football player with Kansas City Chiefs and San Francisco 49ers.
Kelly Hall often takes to Instagram on Mother's Day to express her gratitude to her mum for dropping everything just to be by her side during her harrowing experience with a brain tumor. She stated that she is only half the mum that her mother is and hopes that she could be that selfless one day.
How She Met And Became Matthew Stafford's Wife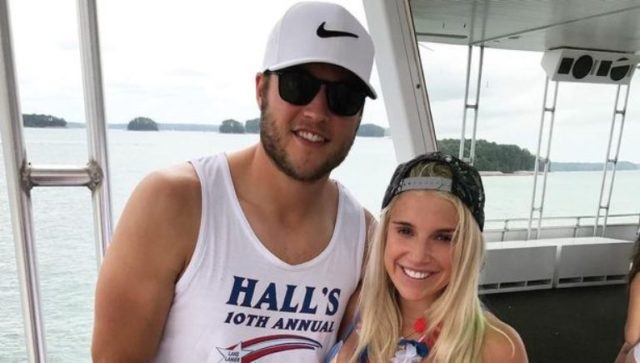 Kelly Hall's relationship with Matthew Stafford dates back to their college days when both were students at the University of Georgia where Matthew played for the college football team and Kelly was a cheerleader. Their romance lasted for eight years before they advanced to an official engagement in 2014 which culminated in a lavish wedding ceremony in her native Georgia on the 4th of April 2015. Their wedding was graced by many of her husband's teammates and according to reports; each guest went home with a pair of Nike shoes as a gift.
The couple's marriage has endured for years and is still going strong, more so with the birth of their beautiful twin daughters Chandler and Sawyer who announced their entrance in March 2017. The twins soon became sisters to Hunter Hope born on the 16th of August 2018.
Health Issues
Matthew Stafford's wife passed through a 12-hour surgery on the 21st of April for acoustic neuroma which in explanation is a slow-growing tumor located on the major nerve leading from the inner ears through to the brain. Prior to the surgery, Kelly Hall revealed that she started getting dizzy spells from January, the vertigo spells refused to stop and eventually pushed her into the ER. It was a few days after her appointment at ER that the ugly results hit them.
Kelly Hall was diagnosed with vestibule schwannoma or acoustic neuroma and she needed brain surgery to take it out as it was a threat to her motor and facial functions. Luckily for her, they were able to find the best doctor for the Job – Dr. Thompson from Michigan State University, According to Kelly; she had to put her trust in the doctor because when he spoke to her, he sounded just like her dad. The surgeon was so caring that when she landed back in the hospital because of the pains, he was right by her side.
After the ordeal, Kelly took to Instagram to share a photo with her husband Matthew, and the doctor who saved her life.
Net Worth
Kelly Hall's net worth has never been listed but the wife of the Detroit quarterback has no financial worries as her husband earns money in millions of dollars. Matthew in 2017 became the highest-paid player in the NFL after he inked a deal worth $135.0 million; his $17.0 million annual income prior to the deal skyrocketed to $27.0 million. His net worth estimated at $60 million.