Kelly LeBrock is an American-born British model and actress. She first gained fame as a supermodel in the 80s, appearing on the covers of several magazines including Vogue. From modeling, LeBrock diversified to acting and featured in several movies. They include The Woman in Red, Weird Science, Hard to Kill, Wrongfully Accused and The Sorcerer's Apprentice. 
The model-turned-actress has been described as one of the biggest sex symbols of her time. LeBrock got married to fellow actor, Steven Seagal in 1987. The union produced three kids and they divorced in 1996. Following the end of the marriage, the beauty retreated from public life and not much was heard about her.
Bio – Who Is Kelly LeBrock?
If you check her records, you will find that Kelly LeBrock was born on the 24th of March 1960. Her father, Harold Arthur LeBrock was French-Canadian while her mother, Mary Cecilia Traynor was Irish. She also had a brother named Harold. The young LeBrock grew up in Kensington, an affluent area of London.
Kelly LeBrock got into modeling at the age of 16. She was scouted while attending a party in her native New York. Her first modeling gig was a British Airways Ad. Following the success of the gig, LeBrock decided to make a career out of modeling. The New York native tasted success just a few years into her career. She graced the cover of several magazines including the coveted Vogue. She also featured in commercials for several companies such as Pantene and Christine Dior. LeBrock's line in a Pantene ad, "Don't hate me cause I'm beautiful" remains evergreen and a pop culture catchphrase till date.
From modeling, LeBrock progressed to acting and featured in several movies. They include The Woman in Red (1984), Weird Science (1985), Hard to Kill (1990), Betrayal of the Dove (1993), Hard Bounty (1995), Wrongfully Accused (1998), and much more.
Net Worth 
Kelly LeBrock has a modest net worth estimated at $2 million. She made her money from the many movies she featured in. She also earned a handsome sum from the various modeling gigs she embarked upon at the height of her career.
LeBrock is also a philanthropist; she has worked with organizations dedicated to helping people suffering from cancer. This may not be unconnected to her personal experience. Her brother, Harold, died of cancer in 2008.
Her Daughter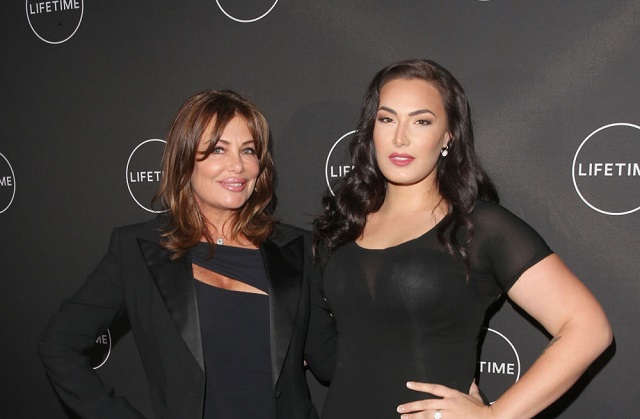 The former supermodel has been married thrice and has three children. Her first marriage was to film producer, Victor Drai in 1984. They parted ways in 1986. Next, she got married to action film star, Steven Seagal, in 1987. The marriage produced three children – Annaliza (born in 1987), Dominic (born in 1990), and Arissa (born in 1993). Lebrock and Seagal divorced in 1996. The Woman in Red star then got married to a former banker, Fred Steck. They tied the knot in 2007 and divorced in 2008.
Lebrock's daughter, Arissa has followed her mother's footsteps into modeling. Blessed with her father's stature and her mother's curves, Arissa is a fast-rising plus-size model. She has walked the runway for the fashion brand, Mac Duggal. She has also done photo shoots for plus size retailer, Ashley Stewart. Arissa and her mom took part in the 2017 reality TV series, Growing Up Supermodel. The show chronicles the lives of celebrity kids who aspire to become models. Other participants include Atiana De La Hoya (daughter of the boxer, Oscar De La Hoya) and Cairo Peele (daughter of model Beverly Peele).
See Also:  Steven Seagal Spouse, Children, Sister, Net Worth, Height, Weight
Where Is She Now?
Kelly Lebrock made a conscious decision to retreat from the spotlight. This was so that her children would not be affected by the negative aspects of fame. According to her, she wanted to shield her kids away from news reports of her acrimonious divorce from Seagal. Additionally, she also wanted to give her children a normal childhood filled with real people. As such, she relocated to a remote part of L.A.
Kelly LeBrock has a ranch in Santa Ynez Valley, California, where she resides till this date. She has made a comeback to the spotlight in recent years. This is most probably due to the fact that her kids are now grown and can take care of themselves. In 2013, she featured in a thriller titled Hidden affairs. In 2015, she also appeared in the TV movie, A Prince for Christmas. LeBrock and her youngest daughter, Arissa participated in the 2017 Lifetime reality series, Growing Up Supermodel. The show chronicled the struggles and trials that mother and daughter have gone through.