Small forward Kelly Oubre Jnr of the National Basketball Association (NBA) was originally selected in the 2015 NBA draft with the 15th overall pick by the Atlanta Hawks but was quickly sold off to the Washington Wizards. He has played in the NBA for 3 years now though he missed some games due to back to back suspensions. Below are facts you didn't know about the young baller.
Kelly Oubre Jnr
Kelly Oubre Jnr was born as Kelly Paul Oubre Jnr on the 9th of December 1995 to Tonya Coleman Oubre and Kelly Oubre Snr in New Orleans, Louisiana, USA. He is an African-American.
He has two siblings; an elder sister, Amber Coleman and a younger brother, Gared Washington. His younger brother has also taken to basketball as well and plays the tight end position in De La Salle High School basketball team, in New Orleans, Los Angeles. Kelly Oubre Jnr grew up with his family in the government housing quarters of Magnolia before they eventually moved out to Richmond, Texas, because of the destructive Hurricane Katrina in 2005.
His father was his early influence and coach in the game of basketball. His dad placed him on his pathway to basketball career in the NBA by procuring past NBA tapes which he encouraged his son to watch and model the stars he saw on the videos.
Kelly Oubre Jnr had his elementary education in Edward Hynes, which is now known as Hynes Charter School. He then proceeded to George Bush High School, in Fort Bend, Texas, where his skills in basketball, came to the fore but he later transferred to Findlay Prep, in Henderson, Nevada, Las Vegas, where he finished up his high school education.
His outstanding and impressive performance in the game of basketball got him recognition and awards like; The Parade All-American in 2014, and Mc Donald's all-American (2014). He also participated in the Jordan Brand Classic Game. He further sharpened his skills, by playing for the New Orleans Recreational Development Commission which was formerly referred to as the three Milne Boys Home.
Upon his graduation from high school, he proceeded to the University of Kansas, where he started to play for their basketball team; the Jayhawks in 2014. In his freshman season with the collegiate team, he played in 36 games, 27 of which he started, he racked home an average score of 9.3 points, 1.1 steals in 21.0 minutes per game, 5.0 rebounds per game, this result was good enough to earn him yet another set of college awards and recognition as he took the Big 12 New Comer Awards and All-Newcomers Team Honors all in 2015.
He finally made known his intentions to forego his 3 remaining years of eligibility in order to appear at the 2015 draft, just like LeBron James, Kobe Bryant, Dwight Howard, to mention but a few who are doing very well in their respective franchise today.
His Career Stats
The baller was originally drafted, on 25th June 2015, by the Atlanta Hawks, 15th overall. The management of the franchise quickly sold him off to the Washington Wizards in order to obtain Jerian Grant.
On the 9th July 2015, after the dust had settled in, he inked his first NBA contract with the Wizards worth $9.2 million. He went on to record his first scores for the team during the Las Vegas Summer Leagues, he earned 5.7 rebounds and an average of 16.8 points in just 6 games played.
He later played against the Boston Celtics, recording 2 rebounds and assists respectively in 14 minutes of play and 7 points on the 16th of December 2015. He then scored his first career-high point of 18 points in the game against the Spur although his team lost the game. By November 2016 his production increased as he earned his first double-double 10 rebounds against the Sacramento Kings.
He later scored his second career-high score of 19 points in the game against Milwaukee Bucks which his team won with just a difference of 5 in December 2016. Kelly's playtime on the court reduced drastically after he was found wanting by the NBA body which handed him a 4-game ban and suspension in 2017.
After serving out his 4-game ban, he returned to the court and tied his 19 points career high point, although, the Wizards lost the game in 120-117 score to the Golden State Warriors. He heightened his game more, resulting in another career-high score of 26 points in the game they won against the Detroit Pistons with a total score of 122-112.
Summarily, the talented player has started about 25 games out of 223 games played so far, he holds a record of 7.6 average points per game, 3.4 rebounds per game and 0.7 steals and assists respectively of 20.2 minutes per game, in all his regular seasons, since he was drafted.
In his 2018 season, he played a total of 35 games and was traded once again to the Phoenix Suns on December 17, 2018. He joined the Suns with Austin Rivers in exchange for Trevor Ariza.
Why Was He Suspended?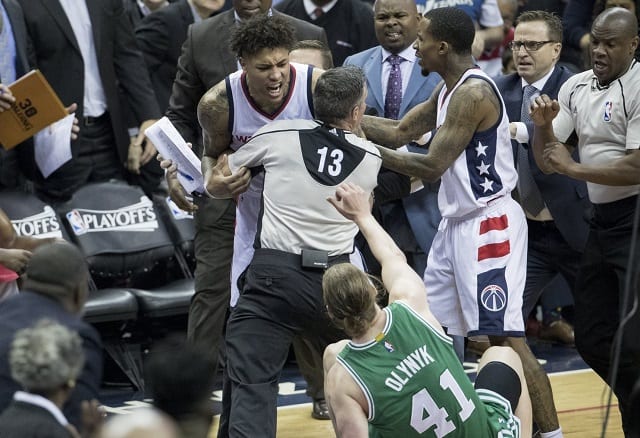 The small forward is probably dealing with youthful exuberance and anger problems, as he has been in quite a few controversies since 2015. Kelly Oubre Jnr had his first brush with the NBA authorities on the 6th of November, 2015, after he made an offensive gesture on the sidelines. This was during the game against the San Antonio Spurs, he eventually bagged, a fine of  $15,000.
He landed himself in yet another trouble with the NBA, this time around for kicking the ball into the stands during a playoff against Atlanta Hawks, of course, he did not go scot free, as he got fined  $25,000 for this deed on the 21st April 2017.
As though his April fine was not enough, Kelly Oubre Jnr earned for himself – a 4-game ban for unruly behaviour. His temper got the better of him again in the game against the Boston Celtics when he pushed down his namesake Kelly Olynk which resulted in a brawl on the court, leading to the former's forceful removal from the court.
He was suspended again, 6th-8th of May, 2017, after he had on a coat with a stitched inscription of 'F–k' on it in the game against the Cleveland Cavaliers.
Height and Weight
The young athlete is well built with an athletic body, he is 6 feet, 7 inches on standing, and has a weight of 93 kilograms. His Wingspan is estimated to be within the range of 2.2 meters (7 ft 21/4 inches).