Kelly Reilly's movies have helped distinguish the English Actress bringing her to the spotlight. She became popular after being nominated for the Laurence Olivier Theatre Award in 2009 as the Best Actress from a stage production titled After Miss Julie. Kelly, armed with her love for acting, began to climb her way to the mainstream in 1995 through the theatre.
The British actress broke into the movie industry with her role in Prime Suspect 4. From there she featured in the rerun of Sarah Kane's Blasted, a role that earned her the title "theatrical Viagra" (by the Times). In two decades and counting of being in Hollywood, she has delighted many with her fine acting skills in over 25 shows and about 28 films; featuring alongside some big names in the movie industry like Denzel Washington among others.
In 2005, she won the Best Newcomer award at the Cannes Film Festival and was nominated for the César Award for Best Supporting Actress for her role in the Russian Dolls, the list goes on. Below is a ranking of some of her popular movies and television shows based on critical reviews and box office returns.
Kelly Reilly Movies and TV Shows Ranked From Best To Worst
1. Calvary (2014)
Tomatometer 90%, IMDb 7.4/10
Production Budget: N/A
Box Office: $16.9 million
First on our list of best Kelly Reilly movies is Calvary written and directed by John Michael McDonagh. It stars Isaach de Bankole, Brendan Gleeson, Kelly Reilly, M. Emmet Walsh, Chris O'Dowd, and Aidan Gillen. The 2014 black drama film grossed $16.8 million at the box office after its release in April 2014 in Ireland and the United Kingdom. It was voted as one of the most successful Irish movies that year. It won Best Actor, Best Director, Best Screen Film, Best Film from British Independent Film Awards and Irish Film and Television awards.
2. Pride and Prejudice (2005)
Tomatometer 86%, IMDb 8.9/10
Production Budget: $39 million
Box Office: $121.1 million
This is a romantic comedy movie adapted from a novel written by Jane Austen. Its setting is the Gregorian era and the plot was carved around an English family with five daughters who were hardly alike. This Kelly Reilly movie made $121.1 million at the box office against a budget of $39 million. It got over 32 accolades winning 5 of them like the British Academy Film Award, Empire Award, London Film Critics Circle.
3. Me and Orson Wells (2009)
Rotten Tomatoes 85%, IMDb 6.7/10
Production Budget: $25 million
Box Office: $2.3 million
Me and Orson Wells is a movie based on a Robert Kaplow novel. This movie tells the tale of a teenage boy who got attracted to a Production assistant when he was hired to perform in Orson Wells' stage adaptation of Julius Caesar (by Williams Shakespeare). Despite its high rating by critics; it failed to make its worth at the box office with an income of $2.3 million against the sum of $25 million vested on it. However, many accolades came its way such as the San Francisco Film Critics Circle awards, BAFTA, Austin Film Critics Association awards among others.
4. Eden Lake (2008)
Rotten Tomatoes 79%, IMDb 6.8/10
Production Budget: N/A
Box Office: $3.9 million
Eden Lake is a British horror movie released in 2008. It starred Kelly Reilly, Michael Fassbender, Jack O'Connel and was written and directed by James Watkins. This horror movie tells the story of what two lovebirds Jenny Greengrass and her boyfriend Steve Taylor faced in the hands of teenage gang members whilst on a picnic at an English lakeside. It was so good it got a nomination for the Empire Awards in the Best British film category.
5. Last Orders (2002)
Tomatometer 79%, IMDb 6.9/10
Production Budget: N/A
Box Office: $6.8 million
Next on our list is a movie based on a prize-winning novel by Graham Swift – Last Orders. As perceived from the title, it is about a dying man's final wishes. This British/German movie was well received by critics having been rated 79% by Rotten Tomatoes. It won the National Board of Review Award for Best Acting by an Ensemble.
6. Yellow Stone (2018)
Tomatometer 75%, IMDb: 8.4/10
This show was graded 75% by the rotten tomatoes meter while the viewers voted it 83% successful. Reilly plays Beth Dutton in the tale of a ranching family based at Montana. The series shows how the family goes against people who wish to take part of their large lands.
7. Russian Dolls (2006)
Rotten Tomatoes 72%, IMDb 7/10
Production Budget: $10.7 million
Box Office: $23.7 million
Sequel to L'Auberge Espagnole (2002), Russian Dolls (Les Poupées Russes) is a French-British comedy-drama film. Cedrick Klapisch wrote and directed the film in 2005. This is one of Kelly Reilly's sensational movies, she acted as Wendy a love interest of a romantic novelist, Xavier (Romain Duris). The pair after several issues finally stayed together as one.
8. Mrs. Henderson Presents (2006)
Rotten Tomatoes 68%, IMDb 7/10
Production Budget: $20 million
Box Office: $27. 8 million
This is a comic drama musical show written by Martin Sherman and directed by Stephen Frears in 2005. Based on the true-life story of an extraordinary British high society woman – Laura Henderson who opened the Windmill Theatre in 1931. Kelly played Maureen, a theatre performer who gets romantically involved with a solider. The drama rated 68% fared badly at the box office with $27.8 million against the budget of $20 million. The movie had over 26 nominations including Golden Globe and BAFTA.
9. Joe's Palace (2007)
Rotten Tomatoes N/A, IMDb 6.9/10
This TV drama was written, directed by Stephen Poliakoff and co-produced by BBC and HBO. It revolves around the main character Joe who manages a house owned by a rich Londoner who takes Charlotte (Reilly) as a mistress. It was received with mixed feelings by moviegoers and critics.
10. Puffball: The Devil's Eyeball (2008)
Rotten Tomatoes 0%, IMDb 4.2/10
Budget: £7 million
Box Office: N/A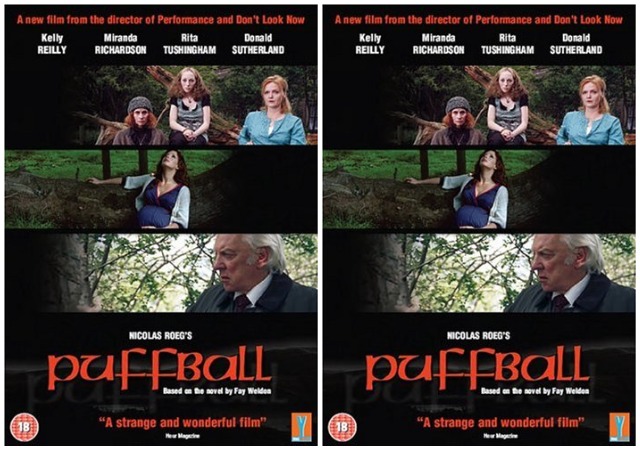 This is a horror supernatural story of a young architect who gets pregnant after moving into a small cottage in an Irish village. With many supernatural activities going on in the village, she manages to live and deliver her child among the residents. Kelly Reilly played as Liffey. Unfortunately, critics and movie viewers felt it was a poorly executed movie.