If you ever thought medicine and humor can't go together, then think again. Ken Jeong is an American comedian, actor, and physician who is best known for playing the role of Ben Chang on the situation comedy Community and the insufferable gangster Leslie Chow in film series, The Hangover. Jeong also played the lead role in the ABC situation comedy Dr. Ken; a series which he created, wrote, and executive produced.
Additionally, Jeong is actually a licensed physician but has stopped practicing to pursue his acting career full time. More than that, Ken Jeong is more proud of being a husband and a father.
Ken Jeong's Age and Background
Ken Jeong was born Kendrick Kang-Joh Jeong in Detroit, Michigan, on July 13, 1969, to South Korean immigrant parents. His father, D.K. Jeong, worked as a college professor but moved with his family to North Carolina soon after Ken was born; to pursue another opportunity as a professor in another university. So, Jeong alongside his two elder twin sisters was raised in Greensboro, North Carolina.
Growing up, he attended Walter Hines Page High School where he so excelled as a student. Little wonder he participated in the Quiz Bowl team. He was involved in a host of extracurricular activities like playing the violin in the school orchestra and also played football in his 10th, 11th, and 12th grades; where he eventually won the state 4a championship. He was even elected to the student council and later graduated with a Greensboro's Youth of the Month award.
After graduating high school at 16, Jeong proceeded to Duke University where he graduated in 1990. He then attended the UNC School of Medicine where he obtained his M.D. in 1995. Jeong then moved to the Ochsner Baptist Medical Center in New Orleans, Louisiana, where he completed his residency in internal medicine. Armed with an M.D., he was ready for a long successful medical career, but life had other plans.
Career
Ken Jeong began his professional career as a resident at the Ochsner Medical Center at New Orleans, and while he did that, he also ran stand-up comedy routines, on the side. In 1995, Ken performed in the Big Easy Laff-off where he did incredibly well that the judges which included then NBC president Brandon Tartikoff and The Improv founder Budd Friedman advised that he move to Los Angeles. Following his win, Jeong became a regular face at the Improv and the Laugh Factory comedy clubs. He soon moved to California and obtained a license to practice medicine at the Kaiser Permanente hospital, Woodland Hills; with an eye on comedy.
Only two years later, he debuted with a guest appearance in the 1997 crime drama series The Big Easy. What followed were several other roles in the series such as The Downer Channel,  Girls Behaving Badly, Significant Others and Crossing Jordan. Ken's performance in the hit comedy series, Two and a Half Men and Entourage further cemented his growing popularity. However, the big break was a corner away – it came in his film debut in the 2007 movie Knocked Up; where he played the role of Dr. Kuni. It was around this time that he left professional practice to pursue an acting career full time.
Only two years later, his career success went over the roof with a humorous bad guy role in the 2009 film The Hangover. Ken played the role of a gay Chinese gangster, Leslie Chow. Since that time, Ken Jeong has appeared in several movies and TV shows such as Role Models, The Goods: Live Hard, Sell Hard, Burning Love, Zookeeper and more.
In 2015, Ken Jeong starred, wrote, and executive produced his new ABC medical comedy, Dr. Ken. The series was premiered on ABC the 2015–16 TV season starring Jeong, Suzy Nakamura, Dave Foley, Tisha Campbell-Martin and Jonathan Slavin. His first Netflix comedy special, You Complete Me, Ho, was released in 2019.
He played a cameo role as a security guard in the 2019 film, Avengers: Endgame. So far, Ken Jeong has won a Streamy Award for "Best Guest Appearance" for Burning Love. He was also nominated for the community's "Male Breakout Star" at the 2010 Teen Choice Awards. In the same year, he was nominated for two 2010 MTV Movie Awards and won the award for Best WTF Moment and an MTV Movie Award for Best Villain in The Hangover.
Net Worth
Ken Jeong's extensive comedy career has earned him loads of popularity and a sizeable fortune too. As a physician, comedian, and actor, his net worth is estimated to be over $12 million, much of which have come from his career as a comedian and actor.
What To Know About His Wife, Kids and Why Fans Think He Is Gay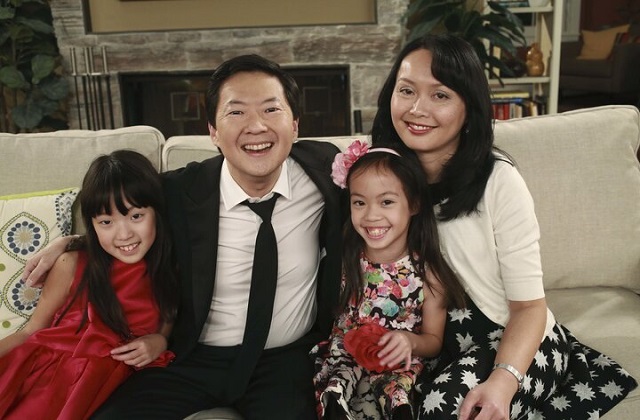 Kim Jeong is currently married to, Tran Ho; a Vietnamese American family physician, and a breast cancer survivor. Tran Ho was born on February 24, 1972. Unlike her husband, she has stayed in the medical profession. After they first met in 2002, they began a romantic relationship that eventually led to "I do" in 2004. Together, they have twin daughters, Zooey, and Alexa (b. 2007).
As obvious from his family life, Ken Jeong isn't gay. Speculations about his sexuality were stirred due to his gay role as Chinese gangster, Leslie Chow in 2009's The Hangover.
Height and Body Measurements
Ken Jeong is of slim build. He stands, 5 feet 5 inches (1.65 meters) tall and weighs 141 lbs (64 kg). He has black hair and dark brown eyes.