Kenan Thompson is an American actor and comedian most notable for his teenage role in the Nickelodeon series Kenan & Kel. Prior to that, he was an original cast member of the Nick series All That. Kenan is currently the longest-tenured cast member of NBC's Saturday Night Live, being with the show since 2003. He has also had roles in movies such as Barbershop 2, Fat Albert, Good Burger, Snakes on a Plane, and a host of other works.
His fame has soared over the years, leaving a lot of people with the desire to know as much as possible about him. If you are one of those, here's your treat.
Kenan Thompson Age and Background Details
Kenan was born on the 10th of May 1978 in Atlanta, Georgia. He is the middle child of three born to Fletcher and Elizabeth Ann; his siblings being an older brother and a younger sister. Kenan started acting when he appeared in the school play The Gingerbread Duck at the age of 15. One of his earliest roles on TV was as a reporter on CNN's Real News for Kids. Following that, he joined the cast of Nickelodeon's series All That. He began filming his debut movie D2: The Mighty Ducks while attending Tri-Cities High School in East Point, Georgia.
Kenan Thompson had a start in his professional acting career right from his teenage years. After getting his entertainment reporter role on CNN's Real News for Kids, his next role was in the 1994 movie D2: The Mighty Ducks directed by Sam Weisman. The same year had Kenan join the cast of Nickelodeon's All That. In 1996, he joined co-star Kel Mitchell to star in the successful spin-off Kenan & Kel. The series lasted for four seasons and earned Kenan Thompson a Kids' Choice Award in 1998.
Following his departure from Nickelodeon, he appeared in movies such as Rocky and Bullwinkle (2000), Love Don't Cost a Thing (2003), Barbershop 2 (2004), Fat Albert (2004) and Snakes on a Plane (2006). The 2004 movie Fat Albert had Thompson take on the role of the titular character, giving him the opportunity to work with longtime idol Bill Cosby. 2003 was also a big year for him, as that was the year he got a role as a regular cast member of NBC's Saturday Night Live. He has pulled off several successful impressions of Whoopi Goldberg and Bill Cosby while on the show.
The movie ticketing company Fandango announced in 2015 that they would be using Thompson to play the role of their fictional brand character Miles Mouvay. His roles included 18 videos, eight 30-second commercials, and a few comedy skits.
He appeared on The Tonight Show Starring Jimmy Fallon on the 23rf of September 2015 with his former co-star Kel Mitchell. They also competed on an episode of Nickelodeon's Double Dare in November 2018.
In 2018, it was announced that Kenan Thompson would star as the lead character in an NBC series, Saving Larry. The show will center on a widowed father of two, who's father-in-law decides to help raise his kids with or without his approval. The series is the creation of Saturday Night Live creator and executive producer Lorne Michaels. The announcement meant that Thompson may have to step down from being a regular cast member of SNL, something he says he is genuinely scared of doing.
Family – Wife and Kids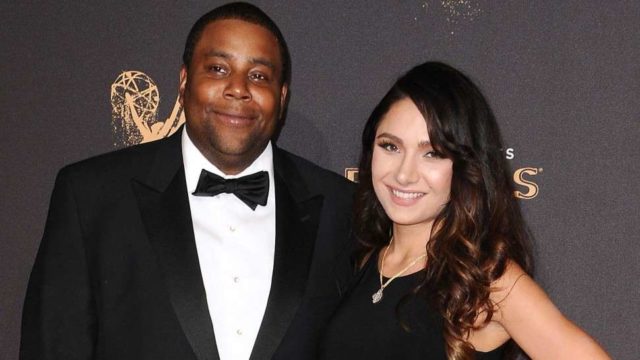 Kenan Thompson is married to Christina Evangeline, who was born on the 24th of March, 1989. Before their marriage, speculation arose that she was once a professional escort, a job she combined with her modeling. However, after the two of them got married there have been no controversies trailing behind her. Thanks to her marriage to Kenan Thompson, her popularity has risen over the years.
They got married on the 11th of November, 2011. The reception was held in the Arctic Room of the Georgia Aquarium with Thompson's close friend Nick Cannon acting as the disc jockey for the event. The couple has been blessed with two daughters born in June 2014, and August 2018.
Kenan Thompson's Net Worth
Kenan's extensive acting career and a long stint on Saturday Night Live has allowed him to garner a substantial net worth. His wealth is estimated to be in the tune of $9 million.
Height and Weight
Kenan Thompson possesses an average body build. He stands at a height of 5 feet 8 inches (173 cm) and has a body weight of 170 lb (77 kg).