Kenan Thompson is an American actor and comedian most notable for his teenage role in the Nickelodeon series Kenan & Kel. Prior to that, he was an original cast member of the series All That. Kenan is currently the longest-tenured cast member of NBC's Saturday Night Live, being with the show since 2003. He has also had roles in movies such as Barbershop 2, Fat Albert, Good Burger, Snakes on a Plane, among a host of other works. His fame has soared over the years, leaving a lot of people with the desire to know more about him.
An Overview of His Career Before Saturday Night Live
Kenan was born on the 10th of May 1978 in Atlanta, Georgia. He is the middle child of three born to Fletcher and Elizabeth Ann; his siblings being an older brother and a younger sister. Kenan started acting when he appeared in the school play The Gingerbread Duck at the age of 15.
One of his earliest roles on TV was as a reporter on CNN's Real News for Kids. Following that, he joined the cast of Nickelodeon's series All That. He began filming his debut movie D2: The Mighty Ducks while attending Tri-Cities High School in East Point, Georgia; it was directed by Sam Weisman. In 1996, he joined co-star Kel Mitchell to star in Kenan & Kel. The series lasted for four seasons and earned Kenan Thompson a Kids' Choice Award in 1998.
He would go on to portray various characters in the small and big screen before becoming a cast member of SNL which defined the next phase of his career. Some of his popular television roles before SNL are Off Center, Felicity, and The Steve Harvey Show. For the big screen, he was seen in Heavyweights, D3: The Mighty Ducks, The Master of Disguise, Good Burger, The Adventures of Rocky and Bullwinkle, and Big Fat Liar.
Kenan Thompson Became a Highly Sought Actor After His SNL Debut
In years to come, Kenan would appear in many popular films like Barbershop 2 (2004), Fat Albert (2004), and Snakes on a Plane (2006). Fat Albert had Thompson take on the role of the titular character, giving him the opportunity to work with his longtime idol Bill Cosby.
There is no doubt he landed most of the roles because of the attention he gained from SNL. Indeed, 2003 was a big year for the actor, as that was the year he got a role as a regular cast member of NBC's Saturday Night Live. He has pulled off several successful impressions of Whoopi Goldberg and Bill Cosby on the show.
He would go on to voice various characters in films like Trolls World Tour, Rok Dog, The Smurfs, and Space Chimps. In TV, his major works since SNL include The Mighty B!, Sit Down, Shut Up, Mata & Marty, and Unbreakable Kimmy Schmidt. Kenan Thompson appeared on The Tonight Show Starring Jimmy Fallon on the 23rd of September 2015 with his former co-star Kel Mitchell. They also competed on an episode of Nickelodeon's Double Dare in November 2018.
That same year, it was announced that Kenan Thompson would star as the lead character in an NBC series, Saving Kenan, formerly titled Saving Larry. The show will center on a widowed father of two, who's father-in-law decides to help raise his kids with or without his approval. The series is the creation of Saturday Night Live creator and executive producer Lorne Michaels. The announcement meant that Thompson may have to step down from being a regular cast member of SNL, something he says he is genuinely scared of doing.
How Much Has Kenan Thompson Made from SNL?
It is said that the salaries of SNL regular cast members depend on how long they have been on the show and how important the actor is to the show. According to Forbes, it is likely that a regular cast member doesn't make more than $500,000 from the show for one season which often has 21 episodes.
Going by that and the fact that Kenan has been a part of the show since 2003, longer than anyone in SNL's history, it is fair to conclude that his salary isn't lesser than the $500,000 per season mark.
Now, he has been on the show since its 29th season and SNL is currently in its 45th season. Thus, it is okay to assert that the actor has earned at least $8.5 million from the late-night live television sketch comedy and variety show.
Acting Isn't His Sole Source of Wealth 
Kenan's extensive acting career and a long stint on Saturday Night Live has allowed him to garner a substantial net worth. His wealth is estimated to be in the tune of $11 million.
Apart from mainstream acting, the actor has other sources of income. For example, his gig with the movie ticketing company Fandango, the company announced in 2015 that Thompson would play the role of their fictional brand character Miles Mouvay. His roles included 18 videos, eight 30-second commercials, and a few comedy skits.
He has also earned from serving as a judge in TV shows like The Masked Singer and Bring the Funny.
The Actor Has Been Married Since 2011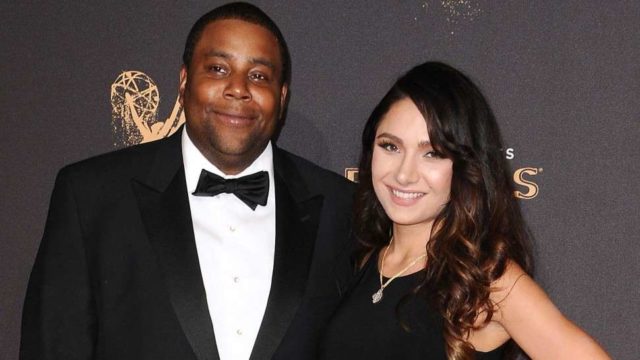 Kenan Thompson is married to Christina Evangeline, who was born on the 24th of March, 1989. Before their marriage, speculation arose that she was once a professional escort, a job she combined with her modeling. However, after they got married there have been no controversies trailing her. Thanks to her marriage to Kenan Thompson, her popularity has risen over the years.
They got married on the 11th of November, 2011. The reception was held in the Arctic Room of the Georgia Aquarium with Thompson's close friend Nick Cannon serving as the disc jockey at the event.
The couple has been blessed with two daughters; their first named Georgia Marie Thompson was born on the 20th of June 2014 and her younger sister Gianna Michelle Thompson joined the family on the 31st of July 2018.
Christina Evangeline Is Also an Actress
Even though she must accomplish more to be taken seriously as an actress, Kenan Thompson's wife is regarded as such in some quarters as she appeared in Mini Supreme, a 2015 comedy written and directed by Michael Phillis.
Evangeline devotes a great deal of her time to charity as she supports establishments like the Cristian Rivera Foundation, Save The Children Federation, and a few other non-profit organizations. It is in that spirit that she founded Evermore with her therapist friends; an establishment that brands itself as a dinner party for anyone who is trying to cope and move on after the death of a loved one. When she is not contributing to selfless causes, you will find Kenan's wife keeping up with her interests in interior design, photography, and videography.