Kendrick Perkins is an American former professional basketball player with an estimated net worth of $13,156. He got married to Vanity Alpough in 2009 and they've remained together to date. They are parents to two sons.
Kendrick Perkins is a Texas-born, 6 feet 10 inches tall, retired basketball player who most notably played for the Boston Celtics where he won an NBA Championship in 2008. The 2003 Texas Mr. Basketball, an honor that goes to the best high school basketball player in a state, currently plays for the Cleveland Cavaliers having previously contemplated retirement following a stint with NBA G League team, the Canton Charge.
Early Life and Basketball Success
Kendrick Perkins was born on the 10th of November 1984, in Nederland, Texas. His love for basketball was spotted at a young age as he would usually dominate his peers with his size and skill. He attended Clifton J. Ozen High School in Beaumont, Texas, where he graduated in 2003.
While at Ozen High, Perkins led his school to four consecutive district championships, and one state championship. In his senior year, he was selected to the McDonald's All-American Game, an all-star basketball game for American and Canadian high school graduates, thanks to his 27.5 points, 16.4 rebounds and 7.8 blocks per game average.
Having initially committed to attend the University of Memphis, where he would play for the Memphis Tigers men's basketball team, Perkins changed his mind and opted to go straight to the league from high school. He was selected by the Memphis Grizzlies with the 27th pick in the first round of the 2003 NBA draft but was subsequently traded to the Boston Celtics.
Kendrick Perkins' first year in the league did not go as planned as the rookie made only 10 appearances, playing an average of 3.5 minutes per game. In total, his stats were 2.2 points per game, 1.4 rebounds per game, and 0.2 assists per game. The following season was much better as his playing time increased to an average of 9.1 minutes per game in 60 appearances. He also built a reputation for himself as a tough player which made the team use him as an enforcer.
Following some offseason improvements that came through workouts, training sessions and practice, Perkins was beginning to grow into the player everyone thought he would be. In the 2005-06 season, Perkins' game time increased as the coach began to trust him more and more. He repeatedly reached double figures in points and rebounds and then when Mark Blount was traded to the Minnesota Timberwolves, Perkins became a starter.
In 2008, he played a pivotal role in the Celtics' playoff run as he featured in 25 playoff games, averaging 25 minutes per game with 6.6 points and 6.1 rebounds. He helped his side beat the Los Angeles Lakers in six games to win his first NBA title. Two years later, he missed out on helping his team secure another title after he suffered a knee injury in Game 6 of the 2010 NBA Finals. The Lakers exerted revenge and won the championship in Game 7.
In 2011, Kendrick Perkins was traded to the Oklahoma City Thunder. The following year, he and the Thunder reached the NBA FInals where they lost to the Miami Heat. Perkins played in Oklahoma for three more years before being traded to the Utah Jazz, who waived him two days later.
His release gave room for the brash center to sign for the Cleveland Cavaliers who made it to the 2015 NBA Finals but lost to the Golden State Warriors. Perkins went on the move again that summer, joining the New Orleans Pelicans. His injury woes, however, continued to follow him as he spent several months on the sidelines.
In September 2017, Perkins rejoined the Cavaliers but was waived after a few weeks, prompting him to join its NBA G League affiliate, the Canton Charge. In February 2018, Kendrick Perkins opted to retire. He, however, made a comback in April 2018 by joining the Cavaliers for the remainder of the season.
Kendrick Perkins' Salary and Net Worth
Following a long basketball career that saw him win the NBA Championship once, while playing for four NBA teams, and reaching the Finals five times, Kendrick Perkins has managed to secure a net worth reported to be around $18 million.
His current salary with the Cleveland Cavaliers after signing on in April 2018 is said to be $13,156.
Details of His Wife and Son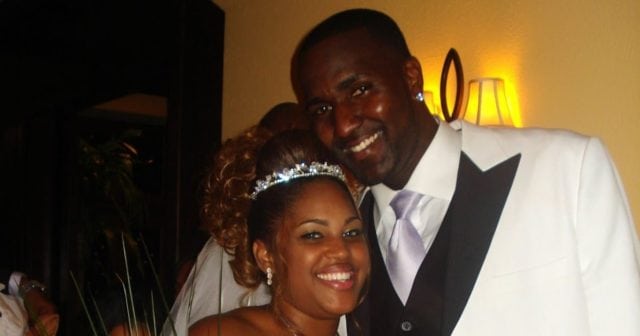 Kendrick Perkins is married to his longtime girlfriend, Vanity Alpough. The couple got married on July 25, 2009, at the Carlton Woods Country Club in Woodlands, Texas. Together, they have two sons; Kendrick Perkins II, born on the 10th of September 2007 and Kenxton Perkins, born on October 10, 2011.
Height, Weight and Other Facts
Birth Name: Kendrick Perkins
Date Of Birth: November 10, 1984
Place Of Birth: Nederland, Texas, USA
Height: 6 feet 10 inches (208 cm)
Weight: 122 kg (270 lbs)
Profession: Professional Basketball Player
Nationality: American
Wife: Vanity Alpough (m. 2009)
Net Worth: $18 Million