Contemporary country singer Kenny Chesney is a star who gradually rose to success through creativity and hard work. The singer, songwriter, record producer and one of the top country crooners has wooed many hearts with his guitar, voice, and charm.
Often described as a free spirit, the star wears his fame very lightly and is somewhat a private person. With over 30 million albums sold worldwide, discover interesting facts about the double-platinum singer who grew from the boy that found solace in the ocean to a multiple chart-climber.
Biography
Born Kenneth Arnold Chesney on March 26, 1968, in Knoxville, Tennesse, Kenny is the son of David Chesney a schoolteacher and Karen Chandler a hairdresser. Raised in Luttrell, he attended Gibbs High School and later studied marketing at East Tennessee State University in Johnson City. Kenny's passion for music began when he was a kid, but he didn't start practising and performing until college. Though making music has always deeply resonated with him, Chesney grew up wanting to play baseball and football for his favourite teams, the Cincinnati Reds or the Boston Red Sox. He eventually gave up on his dreams of being an athlete, a decision that has paid off.
Career Success
After graduating from college in 1991, Kenny Chesney moved to Nashville where he began performing at the Turf. His debut album, In My Wildest Dreams, was released in 1993 after signing a record deal with Capricorn while his sophomore album All I Need to Know was released in 1995. His other successful albums include the gold-certified Me and You (1996) and I Will Stand (1997). His breakthrough album Everywhere We Go was released in 1999.
Next was the Greatest Hits compilation in 2000 which was certified double-platinum, No Shirt, No Shoes, No Problem (2002), the holiday album All I Want for Christmas is a Real Good Tan (2003), When the Sun Goes Down (2004), which won the Country Music Award Album of the Year, the 2005 introspective album Be as You Are (Songs from an Old Blue Chair), The Road and the Radio (2005), Hemingway's Whiskey (2010), Welcome to the Fishbowl (2012), among others.
What Is His Net Worth
Kenny is a country star who has achieved amazing heights but never rests on his laurels. Though he had a rough road to fame, Chesney has risen to become a perennial favourite and one of the highest-paid country acts. With more than 30 million albums sold worldwide, Kenny is also one of the most successful crossover country artists of his time. He has so far released 16 albums out of which 14 have been certified gold or higher by the Recording Industry Association of America (RIAA).
See Also: Lionel Richie Net Worth, Age, Height, Wife, Daughters, and Son
Asides his earnings from music, Kenny also makes money from deals with brands like Apple and Corona. More so, he is an entrepreneur who has his own rum company, Blue Chair Bay. His current net worth is estimated at $42.5 million. Being a rich celebrity, Kenny spends part of his wealth on philanthropy and gives back to society.
Is Kenny Chesney Gay, Who Is The Wife
Kenny Chesney's love life hasn't been one of the smoothest, as it has faced many ups and downs. The country star has had only one experience with marriage, and it was an unusual one with actress Renee Zellweger. The couple who met in January and tied the knot back in May 2005, in the Virgin Islands, had a union that was truly short. The marriage which many thoughts was a whirlwind romance sadly was over after just four months when Renee filed for an annulment in September.
When the pair split, Renee cited "fraud" as the reason, which resulted in speculations that Chesney was gay or that he had lied to his former wife about his sexuality. But Renee later clarified that it was "simply legal language and not a reflection of Kenny's character." Plagued with the 'fraud' decision and speculations about his sexuality for years, Kenny later tried to put the rumors to rest by stressing that he is NOT gay. The former lovebirds have never really opened up about their time together, but have attributed their split to a 'miscommunication of the objective of their marriage' and 'irreconcilable differences'.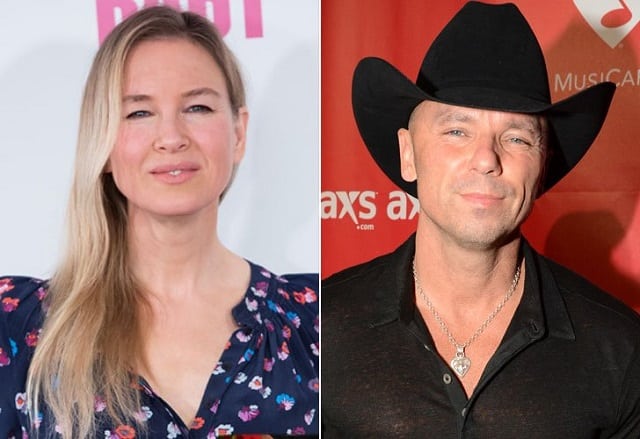 The singer has always tried his best to keep his love life pretty private, and given how his short marriage was ridiculed by the media, he tries to avoid talking about it. Their union was so short that his ex-wife Renee once embarrassingly remarked that she literally forgot about parts of it.
Since his split from Renee, the country crooner has been linked to several other women. While there has not been much publicity surrounding Kenny's dating life, some of the women he has dated include Amy Colley, a model, and former Miss Tennessee, Mary Nolan, Jean Brown an ESPN reporter and singer Naomi Cooke. He was also rumoured to have dated Miranda Lambert, Vanessa Millon, and Adrianna Costa, at various points but these relationships are unconfirmed.
Here Are All The Facts
1. Neither Kenny nor Renee have remarried ever since their short union, but they have each been in the headlines for both rumoured and real relationships.
2. After his short marriage, the country crooner wrote songs to express his sadness. He is known to have revealed layers of his personal life through his music. According to Chesney, his passion for music keeps him focused on the important things and has helped him pull through stormy times.
3. Though Kenny Chesney feels content as a single man, without a mistress, he someday hopes to have kids of his own. Nonetheless, he doesn't wake up every day missing that part of his life.
4. The singer loves free spirits and stands against music that tends to objectify women. In one of his songs Wild Child, Kenny described the personality of his ideal type of girl, a free spirit as smart, carefree and hippyish.
5. He wrote his first song to get a girl, but his persuasion trick sadly didn't work as she refused his advances.
6. Chesney is a self-described 'clean freak', who loves a three-shower routine per day. Interestingly, the singer who detests the feeling of being sticky doesn't use soap but the body wash.