Every celebrity has his or her own way of drawing attention through different means including engaging in fights, tongue lashing, and things like that. Some Kenyan celebrities particularly love to fight not just to draw attention, but probably because it is part of their many hobbies. A handful of them have engaged in several fights, and more often than not, over petty issues. So why do they always have to fight? Well, sometimes fans enjoy watching the videos or reading about the stories of fights, and that may be part of the reasons they keep doing what they do best. Read on to see some of the most regular Kenyan celebrity fighters.
1. Vannessa Chettle
A year ago, when the Naxvegas Party was taking place, socialite Vanessa Chettle, Ann Mbaru and DJ Exclusive got involved in a fight that got Vanessa's head hit with a bottle. According to report, the party literally came to an abrupt end when Vanessa Chettle, her friend who's the Head Of Sales & Advertising at Mdundo.com; Sandra Akinyi Bartonjo and some random fat guys began throwing bottles all over the place. One bottle landed on Vanessa's head and she was immediately rushed to the hospital as she was bleeding profusely. Vannessa Chettle went off the entertainment radar for some time shortly after the fight at Nairobi Diaries. While her fans were wondering what's up with her, she disclosed via her Instagram page, that she was serving time in jail for a crime she didn't commit.
2. Shappa Man
Shappa Man is always at it. He is without doubt, one of the greatest Kenyan celebrity fighters. He was captured in a club fight in 2013, with Ian Mugoya, and Nick Mutuma at a Jameson Live Event, after former Capital FM's marketing executive, Eddie Tash was accused of stealing a phone. On another occasion, Shappa Man and his fellow Camp Mulla members fought with one William Oyando and a friend, when the latter approached them to ask if they were the ones smoking 'weed' whose fumes were being smelt metres away. The rapper chose to throw punches rather than answer the question, but not without sustaining head injuries that required medical assistance.
Shappa Man still made a fist comeback at the Carnivore Simba Saloon restaurant where he reportedly assaulted a party-lover before police arrested him.
Read Also: 6 Types of Men That Will Make The Best Husbands, Boyfriends
3. Yvonne Darcq & Kush Tracey
This is the latest celebrity fight. According to reports, the two celebrities fought over Mluhya wa Busia, famously known as Kristoff at the famous K1 Club. It was said that Darcq threw a bottle at Kush Tracey for daring to talk to Kristoff.
Kush Tracey later confirmed the story in an interview with Kiss100 radio presenter, Adelle Onyango, saying she met with Kristoff and Yvonne Darcq at K1, and Kristoff was so overprotective and didn't want her to dance with any guy at the club, which did not augur well with Darq.
After she decided to leave the club, Yvonne Darcq followed her outside and threw a bottle at her forcing bouncers to intervene. Tracey said she never want anything to do with Darcq.
4. Jerry Jo
Jerry Jo is another fighter on our list of Kenyan celebrity fighters. The dancehall artiste has been seen engaging in a wild brawl a good number of times along Nairobi's Luthuli Avenue.
5. Chipukeezy & Prezzo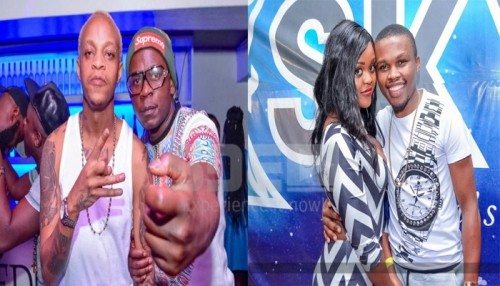 The fight between this two happened 4 months ago during a party at Skylux. Chipukeezy and his girl were heading to their reserved table at the VIP. He happened to push one of Prezzo's boys and that is when the drama began. Prezzo attempted to touch Chipukeezy's girlfriend's butt to annoy him and Chipukeezy reportedly hit one of Prezzo's friend with a whiskey bottle. The bouncers came and calmed things down while both parties were separated; each moved to different corners of the party hall.
6. Dennis Oliech & Ian Mugoya

Dennis Oliech went for a night out with a hot lady during the 50th edition of Blankets and Wine. He and his date ran into former Str8up TV show host, Ian Mugoya and his boys. Oliech's miss according to Ian, approached and flirted with him, without him knowing she was already taken. When Dennis Oliech, the Harrambee Stars striker noticed what was happening, he reportedly walked up to Ian and pulled out a gun on the lad and said, "stealing mali ya watu".
Attaining fame can have a psycho effect, giving the recipient a sense of importance and then a frenzy of pride and arrogance begins. But like they say, a full vessel doesn't make a lot of noise. Successful celebrities therefore, always avoid scandals that can put a dent on their career or reputation.