There is no doubt about it, she is a great wife and mother; b ut there is a lot more to Keri Shaw than a mere role in a nuclear family. Her fulfilled family life is just the tip of the iceberg, she is also quite accomplished as an individual. The world certainly knows a whole lot about her husband, the renowned four-time winner of the 'Strongest Man in the World' award. With him constantly in the spotlight, curiosity has peaked concerning his significant other. In that vein, here is all the information that could be dug up on his interesting wife.
Keri Shaw's Age and Bio
Although Keri Shaw is married to a public figure, there is not much information out there surrounding her childhood and upbringing. In general, there is not a whole lot of information about her. Though her past poses a mystery, her present is a bit more open to the general public. She has been married to Brian Shaw since the year 2015 and together they have built a brand. What no one would guess is that she teaches math while running her fitness empire, Fit Mommy Academy.
Since she became a mother, Keri Shaw expressed on her business website that she realized the entirety of her strength. Based on this and many other factors, the mother of two admitted that running her academy has been made easier. In addition to having an accomplished background in fitness, she engaged in collegiate soccer and a range of bikini competitions. Additionally, she owns a string of CrossFit facilities. Her most recent venture, Fit Mommy Academy, is not just about losing that postpartum fat; she also shares her experiences as a mother to help and encourage others out there.
Height
Compared to her husband's stats, Keri Shaw's body specifications are quite complimentary. She stands at an impressive height of 5 feet 11 inches. Her weight is not available to the public, but the fact that she owns a fitness company spells it all out. For a mother of two, she has an exquisite body and helps other women achieve the same.
Keri Shaw's Family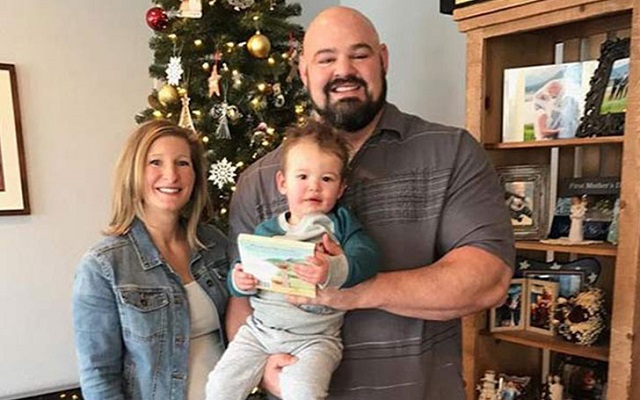 It is evident that her family is at the core of her being. First, there is her husband who is already well-known thanks to his 4-time victory as the world's strongest man. Brian Shaw hails from Fort Lupton, Colorado, and maintained a private love life till he met his other half. The two met through mutual friends and their relationship kicked right off. It must have been a really great relationship because he got engaged to Keri Shaw after a mere four months of dating.
Less than a year later, in 2015, the two were hitched and set on a road to marital bliss. They now have two kids named Braxton and Kellen who are an integral part of her mother's brand. She often posts pictures of them and also features them on her Fit Mommy Academy website.
Facts About Brian Shaw's Wife
She is Married to 4X World's Strongest Man
It is no secret that she is married to the world-renown weightlifter, Brian Shaw. The two have been going strong for about four years. He bagged the title in the years 2011, 2013, 2015 as well as 2016. Additionally, he is the only person who achieved the feat of being named both the Strongest man and Arnold Strongman Classic in the same year. His glory days are in no way behind him as he plans to bag more awards in the years to come.
She Has an Extensive Background in Fitness
Her fitness journey did not start at motherhood or even when she met her husband. Keri Shaw was in the industry for quite some time and even competed back in the day. She played soccer while she was in college and also engaged in a series of bikini competitions. Even more, she owned a string of CrossFit facilities and competed in Strongman before Fit Mommy Academy became a reality.
She is the Founder and Owner of Fit Mommy Academy
Since she became a mother, Keri Shaw has been on a mission to share fitness tips and regimens with mothers and individuals everywhere. For this reason, she opened the Fit Mommy Academy and equally sells merchandise and shares experiences with users.