The very mighty face of ABC drama series Scandal and the very beautiful diva, Kerry Washington has contributed a significant quota capable of sustaining her prominence and relevance in the industry for a lifetime. Like most of her counterparts, the powerful Hollywood figure started out very small and gradually worked her way to success in the movie industry. She may have had a quiet life growing up, but Kerry's role in Scandal drew her lots of fans as well as lots of attention. Many now quiz into the career and personal life of the star; with more concentration on the latter. Starting with the most frequently asked question:
Who Is Kerry Washington?
The talented actress was born on January 31, 1977, in Bronx, New York City. The daughter of Valerie and Earl Washington had no idea she would end up on the big screens when she took up ballet dancing as an interest. Even farther from her line of business, her father was a real estate broker and her mother a professor, meaning that young Kerry had an independent interest in arts and thus, her unparalleled prowess was not hereditary. She was an extrovert who so much loved to entertain despite her parents' disapproval of the noisy life of arts and entertainment. Young Kerry attended the Spence School in Manhattan where she continued to sing aloud her interest in arts as she joined the TADA! Youth Theater teen group at the time.
She kept on taking dance lessons as a young girl under her instructor Larry Maldonado, who was occasionally substituted with pop star Jennifer Lopez. From dancing, she gradually moved to TV, featuring in commercials. Her film debut was in 1994 when she featured in a television film, Magical Make-Over. Washington also played a role in the feature film Our Song in 2000 before starring in the movie Save the Last Dance (2001), and many other movies. She soon got a significant break in 2002 with the movie Bad Company, a big hit that earned her lots of money. More movie roles kept rolling in for the actress in the 2000s; and Washington soon landed a role in a Spike Lee movie She Hate Me in 2004, before landing another in the popular Mr and Mrs Smith (2005). More movies immediately followed. Some of them include Little Man (2006), I Think I Love My Wife (2007), and The Last King of Scotland (2006) where she played the wife of Ugandan dictator Idi Amin. She also paired her movie roles with that of series when she starred as Chelina Hall on ABC series Boston Legal, as well as American drama series 100 Centre Street. She became a hot cake and went further to feature in many TV commercials before making her Broadway debut in Race pLaying alongside her Boston legal colleague James Spader in 2010. Other movies like Tyler Perry's For Coloured Girls (2010), and Django Unchained (2012) also followed and Washington soon earned a slot at the Academy of Motion Picture Arts and Sciences in 2012.
Also in 2012, Kerry Washington got the huge role of renowned political crisis manager Olivia Pope in the Shonda Rhimes TV series Scandal which she played for 6 years. The series which was a massive success grossed millions of dollars, exceeded expectations and earned the actress lots of accolades.
What Are Her Net Worth and Career Earnings?
Olivia Pope or should we say Kerry Washington, enjoys a gigantic net worth of an estimated $18 million, which is quite deserving for a woman of her calibre. Before her enormous Scandal success, the actress was already counting her millions earned from a handful of other engagements ranging from her TV commercials to other movies and series. Washington earned as high as $200, 000 per episode for her role in the Shonda Rhimes series.
In 2013 she was ranked at number 20 on Forbes' highest-paid actors in television. Washington also bagged an endorsement deal with Neutrogena that same year and became the new face of the skincare brand.
See ALso: Who Is Renée Felice Smith? Is She Married, Who Is Her Husband?
Not only did the Scandal series earn her lots of money, but Kerry Washington also won the award for 'Outstanding Actress in a Drama Series' at the 44th NAACP Image Awards in 2013. She got two Emmy nods for the category of 'Outstanding Lead Actress in a Drama Series' and was the first African-American woman to be nominated for that category. She also got a Golden Globe nomination for 'Best Actress in a Television Drama Series' and also at the Screen Actors Guild Award for 'Outstanding Performance by a Female Actor in a Drama Series'.
Who Are Her Husband and Kids?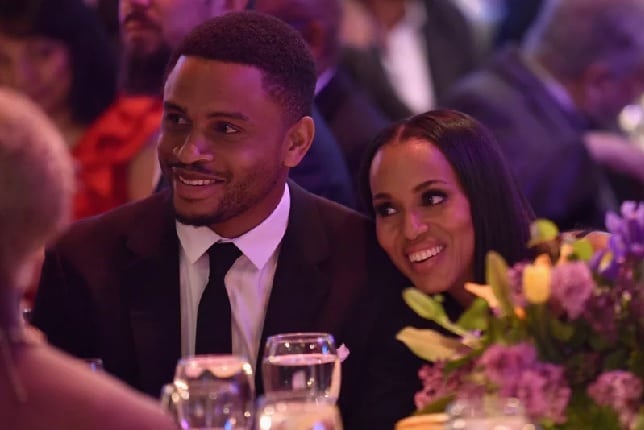 Kerry Washington has left the media as well as the public drooling about her enviable but private marriage with her husband of Nigerian descent Nnamdi Asomugha. The cute pair has been very private about their marriage which has become a centre of attraction in Hollywood. Although they make most appearances together, it seems that the inquisitive media is not still satisfied, as questions about their love keep popping up. These questions intensified two years ago following rumours of their separation. But the couple seems loved up than ever before and have kept on waxing stronger.
Kerry and Nnamdi, a former NFL star met in 2009 while she was on Broadway. It was during David Mamet's play Race that they both met, felt the connection between them, and remained lovebirds since then. After years of dating, the couple secretly tied the knot in 2013 in a private wedding ceremony in Hailey, Idaho. News of their wedding came as a huge surprise to the public as the parties involved made no noise about their union. They have two children together, Isabelle Amarachi (daughter) and, Caleb Kelechi (son).