Kesha Ward forced her way to public reckoning just by being the partner of popular hip-hop rapper, Tauheed Epps. As a result of her husband's popularity, fans' interest in her has spiked since they became a couple. Ward's husband whose professional name is 2 Chainz, is also a songwriter and media personality. His other nicknames are Titi Boi and Drenchgod.
Meanwhile, Kesha Ward is not only the wife of a celebrity, but she is also a businesswoman and philanthropist. She is the owner and director of the pre-school education center, A Gift From Heaven. She co-founded TRU Foundation With 2 Chainz and is equally the founder and CEO of Bouncing with Harmony LLC., a recreation and entertainment outfit.
Kesha Ward And 2 Chainz Met In 2006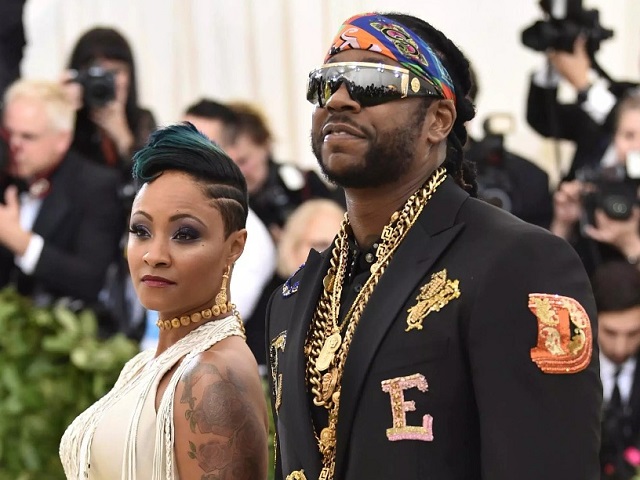 Kesha Ward met 2 Chainz in 2006. At the time they met, 2 Chainz had not earned anything close to the popularity he enjoys today. He was rather struggling to find his feet, performing in the underground rapping circuit. However, this did not deter Kesha who stuck to the artist, giving him all the support he needed.
Even when the hip-hop rapper became addicted to cocaine and marijuana, she was a pillar, lending her care and support. Ward's influence has been life-changing for 2 Chainz and the rap artist can never forget and as he began to make his mark on the entertainment scene, Kesha Ward's life became the center of massive public attention. However, the mother of three managed to surround herself in a veil of secrecy in a bid to maintain a normal life away from the prying eyes of media.
2 Chainz Proposed to Kesha Ward Twice
Following his career breakthrough, 2 Chainz on October 15, 2013, popped the big question to Kesha Ward at the BET Hip Hop awards gala, with the latter beaming with a "yes". Howbeit, a long silence followed the proposal, with their relationship not taken to the next level as expected. Rumors even had it that the couple had tied the knot in a secret wedding ceremony. With the passage of time, however, it became clear that no such thing happened.
A #MetGala propsal from @2chainz. She said "yes"! #MetHeavenlyBodies pic.twitter.com/RXOMxd4a2a

— The Metropolitan Museum of Art (@metmuseum) May 7, 2018
After five long years from the engagement, precisely on the 7th of May 2018 at Met Gala Awards events, 2 Chainz once again proposed to Ward. With his right knee on the ground, the hip hop rapper popped the big question, and Kesha, looking shocked and excited, with eyes full of tears of joy, once again said yes.
Ward And Her Spouse Exchanged Marriage Vows Three Months Later
Three months after his second proposal, 2 Chainz made an honest woman of Kesha Ward as the couple officially tied the knot. The wedding which came off on 18th August 2018, was a very showy affair held at Miami's Villa Casa Casuarina in Florida. It was also star-studded, with Lil Wayne, Kanye West, and his wife Kim Kardashian, Swizz Beatz, Alicia Keys, Gucci Mane, among many other celebrities in attendance.
Ward's apparel was the last word in glamour as the mother of three walked down the aisle kitted in a mermaid wedding dress. All of Me by John Legend was heard over the speakers as she took her wedding march. For the reception, 2 Chainz showed up in a gold blazer and his bride a scarlet gown. As the protocols were observed, the newlyweds were introduced as "the handsome, debonair Tauheed and his gorgeous diva of a wife, Kesha."
After having their first dance to Sade's No Ordinary Love, the beautiful couple cut into their "most expensivest" wedding cake by Cake Boss. They partied all night surrounded by family and friends. According to Kesha Ward, seeing their entire family in one room, from all over the country was truly a blessing. The bride hinted at her plans to surprise her new husband on their honeymoon which was planned for when they recover from the wedding weekend.
The Wedding Was a Showy Affair with A-list Celebs Showcasing the Best Of Their Wardrobe
Kim Kardashian was spotted looking gorgeous in a neon dress, while her husband Kanye was equally eye-catching in his outlook: a green Louis Vuitton blazer revealing his shirtless chest, matching pants, alongside a pair of Yeezy slides. Photos of Kim and Kanye congratulating the newlyweds were captured and shared on social media. In the photos, the bride had changed into a sparkly nude and metallic dress, while her husband had opted for a luxurious all-white suit.
Kim also documented a silly moment between Kanye and rapper Lil Wayne as they enjoyed the ceremony. In a sweet nod, during the ceremony, the groom took a moment away from his wife to share a dance with his mother.
"First dance with moms," the hip hop rapper wrote alongside a video that showcased their best dance moves. To embellish the post more, Kesha Ward's husband added a prayer hands emoji as well as a flame emoji.
Kesha Ward and 2 Chainz have three children together – daughters Heaven Epps and Harmony Epps, and son Halo Epps. The couple had all of their three kids before they officially married.
Ward Has Created A Thriving Career Away From Being The Wife Of A Celeb
Being the spouse of a famous rap artist is not the only claim to fame for Kesha Ward. After her college qualification, she devoted herself to inspiring and influencing lives in and outside her community. Meanwhile, Ward who has a burning passion for teaching and imparting knowledge had always ruminated over the unavailability of a creative and sound education for younger children in the Atlanta communities and beyond.
Consequently, she established an education center in Atlanta targeted at children of pre-high school age. She named the school, A Gift From Heaven. The main purpose of the education center is to provide young kids with affordable education in a more holistic and creative manner. This is in a bid to prepare the younger generation with all it takes to face the challenges ahead in high school. In the next few years, Kesha as the CEO and director was able to move the learning center to a point where it emerged the best preschool in Georgia.
Kesha Ward Co-Founded TRU Foundation With 2 Chainz
In addition to that, Kesha Ward also came to the realization that the communities in the Southside of Atlanta, Georgia, and its environs, were in high need of assistance to survive and build a better future. And being committed to relieving her community and the entire world of hardship and poverty through sound and holistic education, she went into collaboration with her celebrity husband to established TRU Foundation.
TRU Foundation is an organization that offers educational opportunities to African-American families in Atlanta. Since its inception, the foundation has assisted thousands of people to better their lives, created better educational opportunities, and has made aid available to struggling African-American families in the neighborhood. Kesha Ward is equally the founder and CEO of Bouncing with Harmony LLC., a recreation and entertainment outfit. With a more famous spouse, who is forever in the media spotlight, people often don't know about Kesha's extraordinary career achievements – and she prefers to keep it that way.
The Family Lives In Luxury, Funded By 2 Chainz's $6 Million Fortune
Kesha Ward and her family have been living a lavish life since 2 Chainz hit it big in 2013. They obviously have a few luxurious properties to their name. In addition to their Palmetto Home, the rapper bought the former recording studio of rock guitarist Steve Vai in Hollywood Hills at $ 2.45 million.
As for their car collection, the couple can boast of quite a good number. The latest among them is a monstrous Rhino GX which her rapper husband acquired in 2017 for $500,000. The family also owns a Rolls Royce Phantom Drophea worth $262,000, Rolls Royce Cullinan, Porsche Panamera Turbo S bought at $200,000, an Audi Q7, an Aston Martin Rapide, and a self-driving Tesla which is his favorite autopilot vehicle. Not only can 2 Chainz operate the car without any input from his hands, but the hip hop star also doesn't even have to look at the road for it to function!
Chainz shared a video of himself in the driver's seat of his self-driving Tesla not doing much at all. Rather, the rapper dances jams out, eating a snack while the car does the hard work for him and if that is not luxury, we honestly don't know what is! All these are funded by Kesha Ward's husband from a net worth of $6 million.