American professional basketball player Kevin Durant has an NBA Most Valuable Player Award to his name. He has also won an NBA championship, four NBA scoring titles, two Olympic gold medals, an NBA Rookie of the Year Award, and two other Most Valuable Player Awards in the form of the Bill Russell NBA Finals' Most Valuable Player Award and the NBA All-Star Game Most Valuable Player Award. Kevin Durant has such an impressive career record that he has been selected to nine NBA All-Star teams and eight All-NBA teams.
Kevin Durant was born in Washington D.C on September 29, 1988, to parents Wanda Durant and Wayne Pratt. Wayne Pratt deserted his family when Kevin was still an infant and Wanda Durant later got divorced from her husband. Kevin Durant was therefore raised by his mother and maternal grandmother, Barbara Davis. Kevin later got reacquainted with his father at the age of 13 and the two bonded over basketball as his father travelled the country with his son to go to basketball tournaments.
Kevin Durant and his siblings, sister Brianna and two brothers Rayvonne and Tony grew up in Prince George's County. He was a gangly youth, exceptionally tall for his age. By middle school, he was already standing at 6 ft 0 in (1.83 m). He was enamoured with basketball from an early age and dreamt of playing for the Toronto Raptors where his favourite player, Vince Carter played. He began playing Amateur Athletic Union (AAU) basketball for different teams in the Maryland area.
He had become a heavily courted prospect by high school and he was considered as the second-best player in his class. He was selected in 2007 by the Seattle Supersonics as the second overall pick in the NBA draft. Since then, Kevin Durant has had a career that just keeps on getting better and better. He is one of the most valuable players in American professional basketball right now and below you can find out more about his life and family.
Who Is Kevin Durant's Wife/ Girlfriend?
Kevin Durant has never been married. What he has had are a number of relationships, one even ending up in engagement, that has been quite robustly covered by the media. The woman that he was engaged to is also a basketball player – Monica Wright. Monica Wright was a point guard in the WNBA and according to her, she did not end up as Durant's wife because of her strong Christian beliefs. She told Risen Magazine that there was a lot of criticism over her break up but she believed that God had her back in it.
In March 2018, Kevin Durant started to be paired with a new love interest named Cass Anderson. Anderson apparently sits in the wives section at a game and a gossip site also published a photo that allegedly showed her waiting for him after a game. Cass Anderson's Instagram shows her to be a realtor.
Kevin Durant Brother
Kevin Durant has two brothers Rayvonne Pratt and Anthony Durant. Rayvonne is not much of a public person, however, Tony Durant often attends his brother's games and is a successful businessman in his own right. Tony Durant actually played college basketball when the two were younger. He went to Suitland High School in Forestville, Maryland, and St. John's Military School in Salina, Kansas. He posts regularly on Instagram about his life and family.
What is Kevin Durant's Real Height?
Kevin Durant has always been quite tall as we mentioned earlier. His height is often written as 6 ft 9 in (2.06 m) but Kevin Durant himself has said that he is actually 6 ft 10 3⁄4 in (2.10 m) barefoot and with shoes; 7 ft 0 in (2.13 m). When he first started out in professional basketball he was criticized for his slim build, passing, and defence. Those days are long past. His main position is now small forward and has impressive career averages of 27.2 points, 7.2 rebounds, and 3.8 assists per game.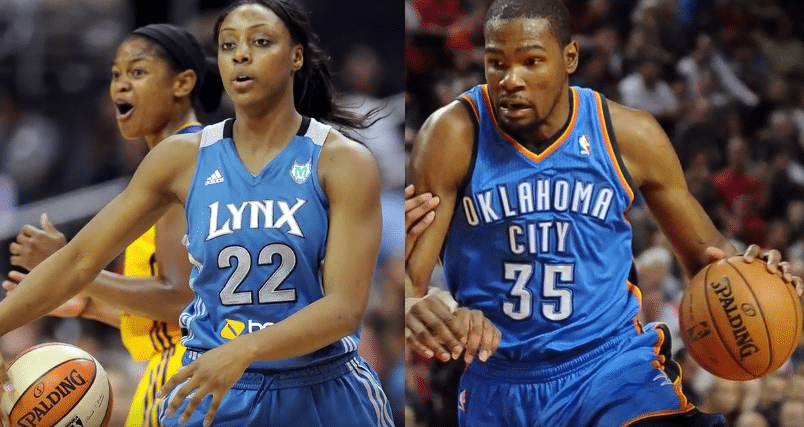 Kevin Durant's Mom and Dad
Kevin Durant's close relationship with his mother is an open reality. Wanda Durant who is sometimes known as Mama Durant or "The Real MVP" raised her sons practically as a single mother and built such a close relationship with them as a result. She is the creator of Hope, Dream Believe and Achieve (HDBA, LLC) and is considered a strong leader and philanthropist. She is president and CEO at HDBA where she shares her experience parenting two men that are without a doubt the definition of successful adults. She also gives her time and support to The Kevin Durant Charity Foundation as well as other non-profits like Single Parents Support Network, The Boys & Girls Club of America and Mothers of Professional Basketball Players. Wanda Durant's story was shared in the movie "The Real MVP: The Wanda Durant Story" which was produced by Queen Latifah (Dana Owens).
See Also: All You Need to Know About LeBron James
Wayne Pratt, Kevin Durant's father is a police officer and though the two had a rough start, Kevin was able to lean on his father as considered free-agent options before finally choosing to sign with the Golden State Warriors. Wayne Pratt also serves as an assistant basketball coach at Friendship Collegiate School.