Kevin Gates story revolves around the typical street teenager who found himself in a wild and volatile environment filled with all sorts of social vices including the use of guns, drugs, and gangster-ism which has somehow not deterred his inert desire to make the best of his situation in his musical career.
However, he was saved by his then-girlfriend who eventually became his wife. His songs are reflections of his street survival experiences, which most black Americans seem to relate with. This rap personality has over the years despite his on and off movements from jailhouses to the studio managed to get his songs to charts in US music charts. Read on to learn more about Kevin Gates' bio, age, wife, divorce among other interesting facts.
Kevin Gates Bio (Age)
Kevin Jerome Gilyard was born on 5th January 1986 in Louisiana, in the United States of America. He is an African-American by ethnicity and an American national. Kevin is reported to have 2 siblings both of whom he is older than.
He attended Baton Rouge Community College where he was noted for his academic brilliance. Although Along the line, his knee interest in rap and involvement in music, saw his grades in school drop tremendously. He later obtained his master's in psychology whilst he was in the stock house (Jail) between 2008 and 2011.
Kevin Gates started his musical career in 2005 by signing in a local label named Dead Game Records. He recorded his first songs in 2007 alongside 2 others from Baton Rouge. Sadly, his budding career paused due to numerous criminal cases leveled against him which took him back and forth the prison for many months ranging from 18 to 30 months. His last call at the prison was in 2015 after he was caught on camera kicking a female fan on her chest for pulling on his shorts, however, he was released in January 2018 after serving 1 year, 6 months behind bars on the basis of exhibited good behavior.
Pick Up Da Litter was Kevin's work, a mixtape which he worked on along with his town's native Webbie and Boosie Badazz. The tape was released in 2007 which was immediately followed by another mixtape in 2008 titled All or Nuthin. He went on to release his personal mixtapes starting in the year 2013 and this has seen him drop about 16 mixtapes and 2 extended plays, a total of 21 singles and a studio album inspired by his daughter Islah.
Some of his songs that made it to the US charts include, Stranger Than Fiction (2013) ranked 7 on US rap charts, 2 Phones (2016) occupied No. 2 on US rap and also became twice certified platinum by RIAA. Really Really (2016) also enjoyed the same fate as 2 Phones although it ranked No. 9 on US Rap Charts, while his studio album Islah was not only certified platinum but also No. 1 spot of the US Rap chart. His 2018 songs did not fare badly as Luca Brasi 3 found its way as the No. 3 song on US Rap chart. His various collaborative and feature efforts with other artists like Moneybagg Yo, Ty Dolla Sign, Doe B, Plies, Lil Wayne, Starlito, Rico Love, Chris Brown, among others have also enjoyed good rating on the music charts over the years.
It is noteworthy that Kevin Gates founded his own record label named Bread Winners' Association where he releases most of his songs having left his previous record labels.
His Net Worth
Kevin Gates' net worth as of 2017 was estimated to be $1.5 million, a sum that has since then seen a tangible increase with his chart-topping songs. He made his money through record sales, online streaming of his works, proceeds from concerts or shows which are charged between $15,000 to $30,000 per show/event, and proceeds from his energy drink – I Don't Get Tired.
How Tall Is He?
Kevin Gates' height is about 6 ft and 2 inches (1.88 m) tall while he weighs about 80 kg (176 lbs). Details of his other body measurements are currently unavailable but we know his upper body and his wife's upper body are well designed with different tattoos.
Details of his mom, wife and kids
Kevin Gates' Mother is Martha Green Gates, he connected with his father while he was in 8th grade but his father sadly passed away from an illness when Kevin Gates was about 17 years. He did not spend much time with his mom as he went into the street to hustle. But one fact we know is that his mum remarried after his father's death.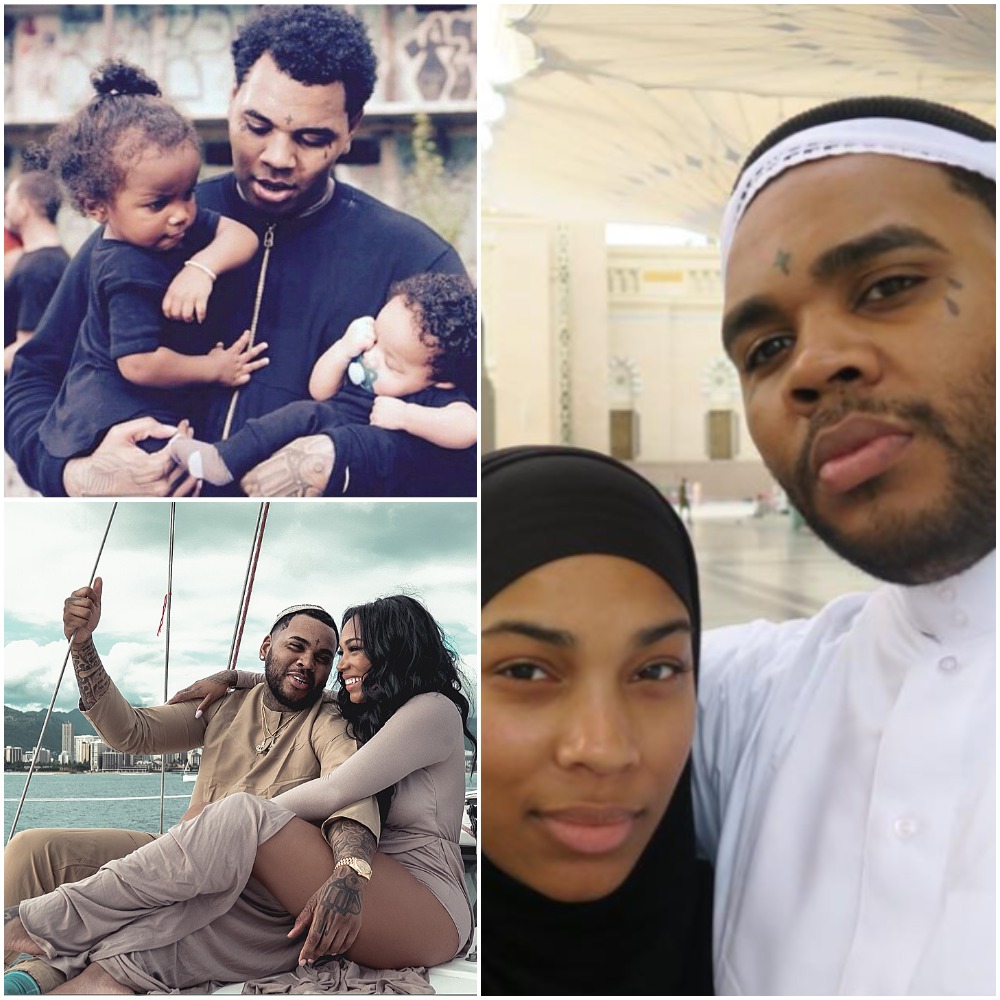 The rapper is married to his longtime girlfriend named Shadreka Centauri Haynes Gates who is popularly called 'Dreka. They met when Dreka was in high school but started dating when she was in college. Things were extremely difficult for them at the time. Dreka's parents were financially well off and wanted her to study in order to become a medical doctor, but after her admission into medical school, she found out her passion was tilted to fashion which led to her dropping out of the university. This act irked her parents who in turn, limited their financial support to her. Subsequently, she began fending for herself.
Her love for Kevin Gates led her out every night to clubs where she tipped DJs to play Kevin Gates' song. Dreka worked for a real estate firm before taking up the establishment and management of Bread Winners Association Record Label along with her husband Kevin Gates and her husband music career. In fact, Dreka is attributed as the key to Kevin Gates career success. The beautiful couple has 2 kids whom they named Islah Koren Gates and Khaza Kamil Gates. Both Kevin and his wife are both practicing Muslims.
In 2013, in an interview with a New York-based Magazine, Kevin Gates admitted to having more children with other women. He, however, did not reveal who they are. There has not been any case of divorce between the couple despite his revelation.