Kevin Jonas is an American musician and actor who rose to fame as a member of the famous pop band, the Jonas Brothers, that made waves starting from the late 2000s. The band members are Kevin and his two brothers, Joe and Nick.
Over the years, the brothers have collectively found success with their band and have individually embarked on separate projects including raking in acting credits. Kevin has proven he is more than just a member of the Jonas Brothers band; that he is a very talented man who is entirely capable of finding solo success.
Kevin Jonas Is Worth an Amazing $40 Million
Kevin Jonas is a wealthy man, having had quite a successful career as a musician, this is expected. Trusted sources have revealed Kevin Jonas' net worth to be a whopping $40 million. A bulk of this money comes from his musical career by which he is better known around the world.
His career kicked when he and his brothers Joe and Nick Jonas formed a singing group called the Jonas Brothers and made quite some waves from the late 2000s. The story of how the Jonas Brothers group was formed basically started in 2005 when Steve Greenberg, the president of Columbia Records, heard a recording made by Nick Jonas. That led to him hearing a track with the three brothers on it and he decided to sign the three of them as a unit. Thus, the Jonas Brothers group was born.
By 2007, they were at the height of their popularity thanks to the Disney Channel. Shows such as Hannah Montana and Camp Rock catapulted them to new heights of fame. The three, including their youngest brother Frankie, starred in their own Disney original, Jonas. It was not until 2013 that the group split and the brothers went on to do their own things. They eventually reunited in 2019.
He Did Not Make All His Money From Music Alone
Apart from his time as one-third of the Jonas Brothers, Kevin Jonas has been doing quite well for himself. Based on all his dealings, it is evident that he has quite a bulky net worth. In August 2012, alongside his wife, Danielle, he appeared in his own E! reality TV show. It was called Married to Jonas and it followed the life of the newlyweds as well as the group's efforts to put together their fifth studio album.
He went on to appear in season 7 of Celebrity Apprentice back in 2014. It was shortlived since he was eliminated by the second episode. That same year, he also made an appearance in an episode of the Real Housewives of New Jersey.
In 2013, the Jonas Brothers trio was officially on a break and Kevin seized the opportunity. He used that opening to co-found a construction company named JonasWerner. In addition to that, he became a co-CEO of The Blu Market. This happens to be an organization that handles communications for social-media influencers. As a husband and father of two daughters, there is no doubt that Kevin needs to seriously provide for his family.
Thanks to all his business ventures and all-around success, he comfortably has a net worth of about $40 million. Back in 2018, Kevin Jonas listed his New Jersey Mansion for about $2.5 million. In no time, the home was swooped up and it went for a whopping $2.25 million.
Kevin Jonas' Net Worth Is Tied With Joe Jonas' at $40 Million
The Jonas Brothers are all wealthy. This does not come as a surprise at all especially because of the hard work they have put into their craft. The surprising thing, however, is that both Kevin Jonas and one of his brothers, Joe Jonas, have the same net worth – $40 million.
Joe Jonas has been able to rake in that amount of money over the years by doing several things. He raked in a considerable amount of money while with the Jonas Brothers. But aside from what he did with the group, he has also done a number of things personally to boost his net worth. When the Jonas Brothers broke up, he went on to form a solo career and also founded the pop band, DNCE, releasing a hit titled 'Cake by the Ocean' with the band in September 2015.
Joe Jonas has served as a coach on the Australian version of The Voice. He has also starred in TV series; all these ventures have raised his worth to $40 million.
Nick Jonas Is the Richest of the Brothers
Kevin Jonas and Joe Jonas both have $40 million as their current net worths. Apparently, they are very rich, however, their wealth does not compare with Nick Jonas' who has managed to rake in more money than they have. At the moment, Nick Jonas is worth a whopping $50 million.
Just like his brothers, Nick Jonas first found fame with the Jonas Brothers group before proceeding on a solo career. He has made considerable progress as a musician, selling so many albums and has even received the Hal David Starlight Award in the Songwriters Hall of Fame, in recognition of his contributions as a songwriter.
He has also starred in movies and TV series and has become a businessman who owns his own shoe collection called 1410. All these have helped to build his net worth to $50 million.
Kevin Jonas Is Married to a Beautiful Former Hairdresser
Apart from making music and raking in money, Kevin Jonas is also a family man who is married to a beautiful woman called Danielle Deleasa. The couple has been married for more than a decade and their love is still going strong.
Deleasa is a former hairdresser and a businesswoman who is the founder of the jewelry company called Moments. She is also known for her appearances on the reality TV show, Married to Jonas, alongside her husband.
The Musician Met His Wife During a Vacation
Kevin Jonas and Danielle Deleasa first met way back in May 2007 when they were vacationing with their respective families in the Bahamas. Jonas recalled in an interview with PR that when he first saw her, he was smitten by her looks and the way her hair was very neatly done.
The couple struck up a conversation and eventually began a relationship; quickly finding out they have a lot of things in common. Their romance progressed quickly with the couple making their relationship public.
After dating for about two years, the lovers tied the knot on December 19, 2009. The wedding ceremony held at Oheka Castle, New York, and his brothers Joe and Nick served as his best men.
They Are Now Parents to Two Adorable Daughters 
The marriage between Kevin Jonas and his wife, Danielle Deleasa, has produced children. The two are parents to two beautiful daughters called Alena Rose Jonas and Valentina Angelina Jonas. Alena Rose Jonas was born on February 2, 2014, and Valentina Angelina Jonas was born on October 27, 2016.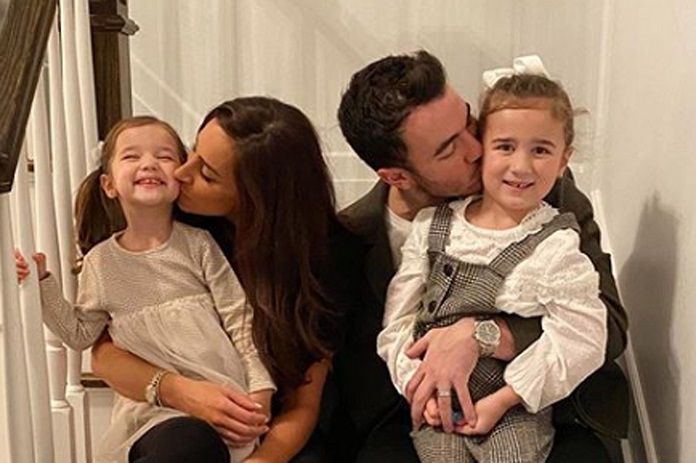 The couple is very proud of their kids and often show them off online. Kevin Jonas is known for occasionally sharing photos and videos of his daughters on his Instagram page, showering them with loving words.