Kevin Knox stood out as a basketball star to watch out for while he was in high school, the lad continued same in college after which he entered the National Basketball Association (NBA) in an aura that has got a lot of people talking. Despite his impressive B-ball skills, not much is known about who the player is being that he is quite young and is just starting off his career.
Well, we have got it all covered with all we have written that will satiate your quest for information on the young and talented NBA star. More to him is what we learned about his father who also had a career as a sportsman. These and more are presented in the paragraphs below as we introduce Kevin Knox to you.
Who Exactly is Kevin Knox?
Kevin Knox was born in Phoneix, Arizona on the on the 11th August 1999 to Kevin DeVon Knox Snr. and Michelle. He grew up in Riverview with his three younger siblings; Ashley, Karter, and Kobe. His father was once an NFL player while his mother Michelle was a social worker who worked with the Hillsborough County Public Schools.
He had his high school education in Tampa Catholic High School, in Flordia, where he performed excellently in their basketball team; recording an average 30.1 points, 11.2 rebounds and 2.4 assists in all the games he played in his junior season. The young basketball player led the team to the regional and district championships where they emerged as the runner-up of Class 4A in the semifinals of the 2016 Florida championship. He later in 2016 scored his career high point of 28 points in a win over Ohio Red; in the EYBL circuit, Kevin averaged 19.6 points, 7.6 rebounds per game.
In his senior year, Knox recorded an average of 28.5 points per game and rebound of 11.3. He participated in the McDonald's All-American Game and Jordan Brand Classic. His outstanding performances earned him a 5-star rating from all of Scout Media, Rivals.com, 247Sports and ESPN. This set him apart as one of the top-rated players in the class of 2017.
Kevin Knox later went to the University of Kentucky and continued playing with the Wildcats. There, he recorded 15.9 points per game in his rookie season and for his other numerous impressive performances, he won the All-Rookie and First Team All-SEC as his team won the SEC tournament.
Feeling poised to make a career out of basketball despite playing just one season in college, Knox opted to be drafted in the 2018 NBA draft as he decided to forego the remaining years of his college eligibility. This his decision he made elicited critical reactions from fans of basketball while a couple of others felt he made the right choice.
Nevertheless, the young baller with lots of potentials was drafted by the New York Knicks as the 9th overall in the 2018 NBA draft, on July 5, 2018, he signed his first professional contract with the Madison Square Garden based team. As it stands, the coast is clear for him to go all out and be at the top of his game, the sport and a favorite of American basketball fans.
Here are 5 Enthralling Facts You Need to Know
1. He came from a Sports Family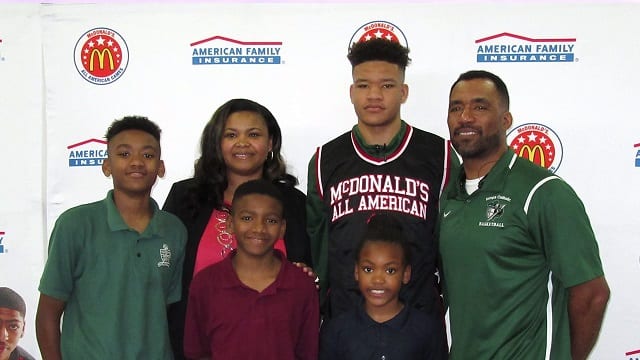 As earlier stated, his father was a National Football League (NFL) player who got drafted in the 1994 NFL draft as the 9th overall pick for the Buffalo Bills (recall that Kevin also got drafted into the NBA as the 9th overall pick by the New York Knicks). Kevin Knox Snr. played football right from his college days at the Florida State College and was part of the team that won the national championship in 1993. As his career progressed, he went on to play for other teams and made his mark in the sport.
2. College Scholarship
Due to his impressive playing abilities, he got the attention of renowned colleges like; North Carolina, Kentucky, Duke, Arizona, Florida State, Kansas, Alabama, LSU, Miami, etc. who all willingly offered the young player scholarship. After consulting with all the coaches, he opted for Kentucky University and played for the Wildcats.
3. Awards and Honors
Kevin's ingenuity on the court not only endeared him to fans it also got lots of awards and honors for him. Some of them include; First Team All-SEC in 2018, 2 gold medals during FIBA Under 16 and 17 Championships, McDonald's All-American, SEC Freshman of the year 2017, Florida Mr. Basketball in 2017, MVP of The Invite in John Wall Invitational games in 2016. The list is still growing as he has only begun his career. We know there are more to come with the skills he has shown already in the apex league.
Read Also: Gordon Hayward Bio, Injury and Career Stats, Wife, Salary, Age, Height, Weight 
4. Youngest Player in the 2018 NBA Draft
We don't know if his age was one of the factors that led fans to boo him when his name was announced during the draft or perhaps the fans had another reason for their actions. Whatever be the case, it will always remain a fact that Kevin Knox II was one of the youngest athletes who got drafted in the 2018 NBA draft at age 19.
The possible reason which the New York Knicks considered to draft him could be for his style and pattern. Kevin has attributed his style of play to be his adaptation to his favorite basketball star, Kevin Durant's style of play.
5. Net Worth
Kevin Knox II has a net worth estimated to be worth $3 million, it was reported that his parents earlier took out $1 million for an insurance policy for him in case of an injury. He had earlier refused an offer of $1.4 million made to him by a Chinese basketball club side before he opted for the NBA draft. In the course of time, expect this figure to rise exponentially going by how skillful and prolific he has proven to be so far in his career.