Kevin Selleck is an American musician and actor who gained attention when he made appearances in Magnum P.I. released in 1980 and Scream 2 produced in 1997.
He was born in 1966 to the former model and actress Jacqueline Ray. Not much is known about his birth father, except that his surname is Shepard. Kevin Selleck was adopted on the 7th of August 1987 by the iconic actor Tom Selleck when he was 19 years old, whilst Tom was still married to his mother.
Their marriage lasted just a little over a decade before they parted ways in August 1982. But though separated with his mom, Tom Selleck remained in Kevin's life ever since helping him sail through life. Kevin has one half-sibling, Umeko Ray and a stepsister Hannah. Read on to know more facts about his career, wife, and relationship with his parents.
6 Things To Know About Kevin Selleck
Career
In 1993, Kevin and four others formed the rock band Tonic which consisted of Emerson Hart – the lead vocal and rhythm guitarist, Jeff Russo – lead guitarist and backup vocals, Dan Lavery – the bass guitarist and also backup vocals, and Dan Rothchild – a bass guitarist and backup vocals, while he manned the drums. They released their debut album titled Lemon Parade in July 1996; the album had the singles Open Up Your Eyes; If You Could Only See and Solider's Daughter etc. 
The singles featured on the Billboard 200 and Hot 100 airwaves for 57 weeks in all and the album later became platinum. However, misunderstanding and fight between Kevin and another member of the band led to his exit from Tonic in December 1996; though he cited personal and family issues for his departure.
He eventually tried again with one of his friends to find his way back in the music industry by forming yet another band, sadly, the venture backfired as they had trouble launching out despite all the financial and moral support given to him by his stepfather, Tom Selleck. Largely due to his father's influence, he featured in the TV series Magnum, P.I.  in 1980, and Scream 2 in 1997 of which he wrote the soundtrack for the project. As at now, not much is known about his projects or career as he has gone off public eyes.
Net Worth
Despite the flops and setbacks in Kevin Selleck music career, the former American actor is estimated to be worth about $18 million, a figure obtained when he was very productive in the entertainment industry.
Family Relationship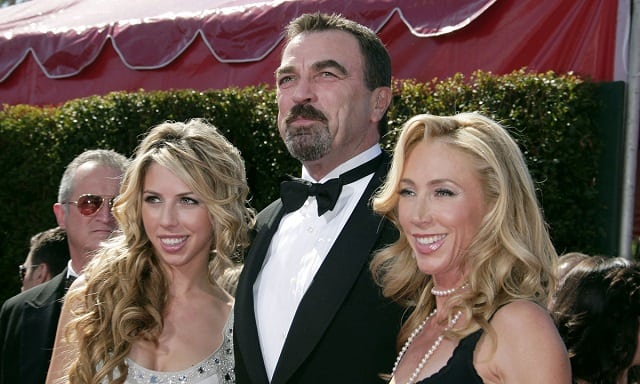 Kevin Selleck's mother, Jackqueline Ray, is well known for her characters in the films In Like Flints (1967), and Beyond the Universe (1981). She also appeared in Magnum, P.I. with her son and ex-husband, Tom.
Jackqueline's 11-year lovely marriage to the iconic actor and film producer, Tom Selleck, came to an abrupt end because of the strain caused by their long absence from each other while pursuing their career goals. She went on later to marry Clarence Barry Witmer in March 1992.
Luckily enough, Kevin had Tom Selleck in his life full time even after the divorce and by his adoption, he had for himself a supportive family with actress Jillie Mack-Selleck becoming his stepmother after Tom remarried in 1982 and that union provided a step-sister, Hannah Selleck. Hannah did not follow in the steps of her family in Hollywood but rather chose to become a horse breeder.
Tom Selleck is a 7-time Golden Globe nominee and he carted away one of the awards for his role in the Magnum, P.I. He is also a 4-time People's Choice Award winner, among others.
Struggles

Kevin started having issues way back in his teenage years which prompted his mother Jacqueline to almost send him off to a junior boarding school in order for him to imbibe discipline. Perhaps it was the mother's marriage break up with his biological father or her long absence from the home due to her career that left the young lad feeling unattended to and eventually led to him not finding his way in life.
After adopting Kevin, Tom Selleck made him a total part of his life even after he (Tom) parted ways with his mother, he still performed his fatherly responsibilities to the Kevin. At the age of 22, Kevin was faced with alcohol addiction and he had to be sent to Betty Ford rehabilitation center for him to pull through his addiction.
Kevin also faced financial troubles including getting slammed with a case of $6,000 accumulated bill by a credit card company in 2011.
Read Also: Who Is Demaryius Thomas? Here Are Facts You Need To Know 
Family Issues
Kevin Selleck is not the only one who seems to have issues in the family, as a report published in 2014 implicated his mother, Jacqueline in a murder case that landed her in jail for 18 years. Jacqueline contracted a hitman, Luis Baker, with the sum of $12,000, to murder her son-in-law Bauchum Leon whom she alleged was physically and emotionally abusing her daughter, Umeko Ray.
Wife – Annabel Selleck
According to an online source, Kevin is said to be very married to Annabel Selleck and has 6 kids with her. And although not much is known about their dating or marriage history, one thing is clear, he does not want the public on his private life and he has been off the media.
Annabel Selleck is also not a social media person and does not have any of her picture posted for public anywhere. It seems she is having the best time of her life and enjoying the solitude in her marriage outside the buzz associated with the Hollywood and all the media hype as no rumors or family squabbles has been heard from their quarter.