Kimberly Woodruff is an American philanthropist and charity supporter, who dedicates her time and resources to help those in need around her community. She has become famous as the loving wife to the popular gangster rapper, turned actor and screenwriter, Ice Cube; she is also the devoted mother of their wonderful and equally highly talented four children.
Though Kimberly Woodruff tries as much as possible to avoid being in the spotlight, she has helped her husband and children become very successful by providing the much-needed leadership, guidance, and very conducive and supportive family environment which has enabled them all thrive in their careers. She has been right beside her husband for almost three decades, which is something not many celebrities have managed to accomplish. It is in this light that questions have continued to be asked on who she is as well as her longlasting union with Ice Cube.
Raised In New York City, Kimberly Woodruff Met Ice Cube While They Were in High School
Born on Sept 23, 1970, to a father named Hosea Woodruff, and mother named is Doris, Kim studied at the William Howard Taft High School, South West Bronx, New York City in the United States. The people she met in this public school – in particular, one individual, a certain O'Shea Jackson would eventually change the course of her life later on.
Her high school mate O'Shea Jackson saw and fell in love instantly with the very beautiful and young Kimberly in the mid to late 1980s. As the story goes, immediately O'Shea saw her, he instantly knew in his mind that she was the one for him. They met very briefly, and while trying to get to know her; "she wasn't having any of it", as he would later disclose in an interview. He believed she was probably in a relationship then.
As fate would have it, O'Shea met Kimberly Woodruff about 6 months later, in a more relaxed atmosphere, and this time around, she was more receptive to his advances. They went on a couple of dates, and officially began dating sometime in 1988.
Their relationship continued to grow and blossom, and eventually, in 1991, O'shea announced that they were engaged. The duo got married on April 26, 1992, and has remained blissfully married for many years now. Their marriage is blessed with 4 children. The names of their 4 children are O'Shea Jr. (b. 1991), Darell (b. 1992), Kareema (b. 1994), and Shareef (b. 1995).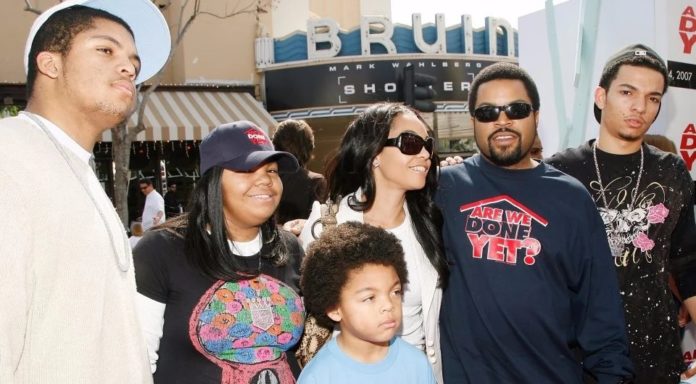 Kimberly's husband, O'Shea Jackson Sr, is more popularly known as Ice Cube – the famous American writer, producer, actor, and gangster rapper.
Ice Cube Proposed To Her Again To Celebrate Their 25th Year Together
Even though they were married for a very long time, their love has not seemed to fade a bit. Decades and four children later, Ice and his wife continue to profess their love for each other at any given opportunity. To commemorate their 25 years of being married, the rapper decided to propose to his wife.
The rapper was not under any pressure the second time as he had already asked her if she would say yes if he decided to propose again, she answered in affirmation. The "Straight Outta Compton" actor bought a new BMW 5-series for his wife when she opened it, there was a ring.
The couple has managed to stay this long in their marriage as a result of the partnership they have come to form through the years. Ice Cube revealed that one of their important secrets is that while his wife respects him, he also respects her. More so, they have not thrown romance through the window.
Some Of Her Kids Have Followed In The Footsteps of Their Father
Like most other kids born by a parent who is into the showbiz, some of Kimberly Woodruff's children have also joined the showbiz just as their father. The couple's first son, O'Shea Jackson Jr. took after his father in several ways. First, he looks exactly like him, then he is also an actor and rapper. He goes by the name, OMG. He played the role of his father in his debut movie feature titled "Straight Outta Compton" – a biopic of the pioneer gangsta rap group N.W.A. He has also featured in a handful of other movies, including "Den of Thieves" starring as the calculating Donnie Wilson. He has a few albums and singles and collaborations to his credit.
Their second son, Darell Jackson, is also a rapper, alias Dough Boy. Both boys – OMG and Dough Boy featured on Ice Cube's album released in 2010. Although his daughter, Karima is not in the entertainment cycle as her father and brothers, she is a philanthropist just like her mother. She is a research assistant at Rutgers University in New Jersey and possesses a Masters's degree. As of 2020, she was a Doctoral Student in the School of Public Affairs and Administration at Rutgers University. The youngest son of the family, Shareef has not joined the entertainment business, his interest is in tech, he's studying a tech-oriented course in college.
Kimberly Woodruff Shares In Her Husband's Fame And Fortune
On her own accord, Kimberly has not put any effort into becoming famous. In fact, she has always preferred life away from the spotlight but because she is married to someone as famous as Ice Cube and has no option but to be attending events with him, she has also come to share in his fame. More so, she is also a mother to a couple of famous kids.
That said, Kimberly Woodruff has never disclosed her earnings and the type of business endeavors she is engaged in with media and the general public; thus her true net worth is unknown. However, her better half is reportedly worth between $140 million to $160 million (2019 estimates).
Kimberly Woodruff is still very conservative though, she does not really show off the flashy cars that her family's wealth can buy, nor the multi-million dollar mansion that the family currently lives in. From all indications, it is safe to say that she is down to earth.