Kimora Lee Simmons is a former model who was also the CEO of Baby Phat, a subsidiary of Phat Fashions created by her ex-husband, Russell Simmons. She currently goes by the name Kimora Lee Leissner following her marriage to Tim Leissner, a former Goldman Sachs banker, in 2013.
The fashion entrepreneur, famed for producing high-end female urban wear after a successful career on the runway, is also an actress and stars in her reality television series Kimora: Life in the Fab Lane. We look at how Kimora established herself as an entrepreneur.
Kimora Lee Shamed Bullies By Going Into Modelling
Kimora Lee was born Kimora Lee Perkins in St. Louis, Missouri, on May 4, 1975, to a Korean-born mother who worked as a social security administrator and an African-American father who worked as a Federal Marshall, a bail bondsman and later on in life as a barber.
She is of mixed ancestry but her nationality is American. Her mother, Joanne Perkins, who was born in Korea, is half Japanese and half African-American while her father, Vernon Whitlock Jnr., is African American.
She attended Lutheran North High School in St. Louis, Missouri, where she got bullied a lot because of her height, frame, and mixed ancestry. In a bid to build her confidence and also utilize her natural physique appropriately, Kimora's mother enrolled her in a modelling class when she was just 11 years old. At this point, Kimora was 5 feet 10 inches (1.78 m) tall.
It took her two years to master what would turn out to be the best decision of her mother's life as she got awarded an exclusive modelling contract from the French fashion house, Chanel. At the age of 14, she moved to Paris to work under renowned Chanel designer, Karl Lagerfeld.
In Paris, she became a sensation in the fashion industry. Kimora, along with three other young models were known as "the four Karl-ettes," as she became a self-proclaimed muse of the designer.
Kimora also walked the runway for other designers, including Yves Saint Laurent, Valentino, Fendi, and Emanuel Ungaro. She also featured heavily in magazines, most notably on the cover of Harper's Bazaar Magazine.
How She Found Her Feet As An Entrepreneur
Following her exploits on the runway, Kimora delved into entrepreneurship. With the help of Russell Simmons, who at the time was her husband and an established entertainment mogul, she started an urban womenswear brand, Baby Phat by Kimora Lee Simons. The brand ran parallel along with Phat Farm, an urban menswear brand owned by Russell Simmons.
The new subsidiary was launched in 1999 and she served as director and president. Under her, the brand enjoyed growing success. Baby Phat recorded $30 million in revenue within her first year as president and a combined profit of $265 million with Phat Farm in her second year.
Three years afterwards, Phat Fashions, the umbrella brand for Baby Phat and Phat Farm, was sold to Kellwood Company. Simmons retained her place as President and Creative Director. Under her and the new management, she expanded Baby Phat into a lifestyle brand, adding fashion accessories like lingerie, fragrance, jewellery, and denim.
Having established her business acumen with Baby Phat, Kimora Lee Simmons expanded her entrepreneurial net. She partnered with Coty Inc for her line of fragrances in 2005.
Over the years, she has collaborated with other major beauty companies like Sephora, Macy's JCPenney for various fashion and beauty products. Kimora's range of products includes jewellery, cosmetics, and clothing lines. Lee Simmons also has an anti-ageing skincare line with Makari de Suisse.
Kimora Lee Is Also A Prominent Investor
Her business interests do not start and end with fashion. She also has a venture portfolio with investments in various companies across different sectors.
She is an investor in All Def Media and Screenbid, Sentient Technologies, Contra Software, and Friendsurance. Other investment vehicles in Kimora Lee's portfolio include Pureform Global, Celsius, and Pellequr. She is a co-founder of the latter, a Beverly Hills Spa.
Kimora Lee Simmons Is Among The Richest Celebrities In America
The modelling and entrepreneurial ventures that have defined Kimora Lee Simmons' life have not only made her a staple of pop culture but also got her rich. According to sources, Kimora has a net worth of $200 million, which makes her one of the wealthiest celebrities in America.
While her modelling earnings are significant contributors, the bulk of her wealth comes from her entrepreneurial moves. Owning the brands Baby Phat and Phat Farm has boosted her overall income. She also owns stakes in brands like Simmons Jewelry Company.
Her TV career, which includes hosting gigs, and reality shows like Kimora: Life in the Fab Lane, and Kimora: House of Fab are also notable sources of the model cum businesswoman's $200 million net worth.
Read Also: Lebohang Monyatsi: First African Woman To Model In A Wheelchair
All About Kimora Lee Simmon's Busy Love Life
She might appear too busy with running her business ventures and making a lot of money but Kimora still finds time for love. Below is a list of all the men she has dated.
Russell Simmons (1998 – 2009)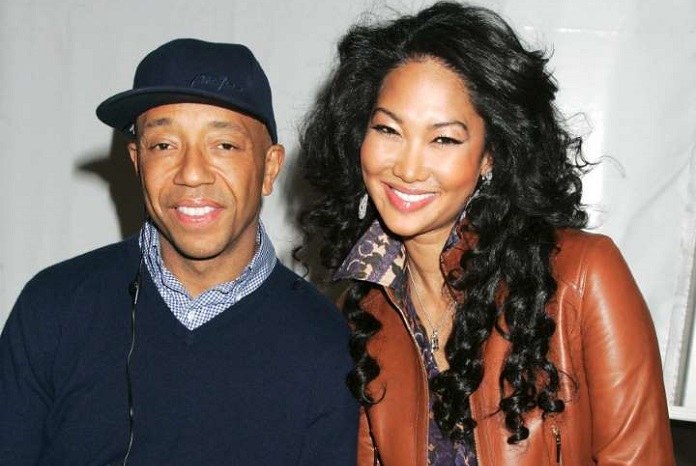 At around the age of 17, during New York City's Fashion Week, Kimora met 35-year-old music mogul, Russell Simmons. The two reportedly flirted with each other before beginning an on-again-off-again relationship that lasted for six years. The couple eventually exchanged vows in December 1998. The wedding ceremony took place on the island of St. Barth.
The couple has two daughters, Ming Lee Simmons, born on January 21, 2000, and Aoki Lee Simmons, born on August 16, 2002. In March 2006, Kimora and Russell announced their separation and they finalized their divorce in January 2009.
Djimon Hounsou (2007 – 2012)
Before she completed divorce proceedings with Russell Simmons, Kimora began dating actor Djimon Hounsou. The two, despite numerous publications reporting that they were married, never exchanged vows. They did, however, perform a traditional commitment ceremony in Hounsou's home country, Benin Republic.
In May 2009, they welcomed a son, Kenzo Lee Hounsou. Unfortunately, that commitment was shortlived as they separated in November 2012, four years after the ceremony. They have yet to disclose the reason for their break up. However, dominant rumours and sources close to the couple suggest they broke up over a financial dispute.
Tim Leissner (2013 – Present)
Kimora Lee Simmons joined the ranks of celebrities who secretly got married in 2013 when she married Tim Leissner. Tim is an investment banker who, aside from his relationship with Kimora, is famous for his role in the 2019 1MDB Scandal. He is a former Goldman Sachs executive who pleaded guilty to bribery, conspiracy and money laundering.
Since Kim and Tim got married, they have had two children. A son, Wolfe Lee Leissner, born in April 2015, and another son, Gary, adopted in January 2020.