Some people spend all their lives working towards an electoral position, like an item on their bucket list that they must check. For most of these people, a position of service is nothing more than a place to fulfil the thirsts of their ego and line their pockets. For others, they find themselves in positions like this because they were called to it. A position held out of personal responsibility to serve and make their part of the world a better place to be. Among these two groups of electoral office holders, Kirsten Gillibrand belongs in the latter.
Who is Kirsten Gillibrand?
Kirsten Gillibrand is an American attorney and politician. She is a serving U.S Senator from New York and she has been since her appointment in January 2009. Kirsten's future in law and politics was pretty much guaranteed the moment she was born to Douglas Paul Rutnik and Polly Edwina Noonan. Kirsten's parents, before they got divorced, are attorneys. Her maternal grandmother founded the Albany Democratic Women's Club. Kirsten attended Dartmouth College and studied Asian Studies. She passed the bar exam in 1991.
Her career in law was always intertwined with her need to serve as a public official. She joined the Manhattan-based law firm of Davis Polk & Wardwell in 1991. During her time at Davis Polk, Kirsten worked many pro bono cases, defending abused woman and children. Kirsten's time at Davis Polk is considered a controversial point in her career as she defended tobacco company, Philip Morris but she insists it was how she was able to defend so many pro bono cases.
At Davis Polk, Kirsten passion to serve did not stop at taking pro bono cases. She followed the steps of her grandmother and became involved in a Democratic Party program, the Women's Leadership Forum. It was a group that led her to work on Hillary Clinton's 2000 U.S Senate campaign in 1999. Both women became friends, with Clinton becoming something like a mentor to Kirsten. In 2006, like her mentor, she took her passion for public service to the ballot box.
Gillibrand ran for the New York 20th congressional district in 2006, running under the Democratic party against John E. Sweeney who at the time, was a three-term Republican incumbent. Despite what was considered a traditionally Republican district and a tough race, Kirsten got support from other Democratic Party office holders and stalwarts, including Bill and Hillary Clinton. Kirsten ended up winning the election with 53% of the votes.
During her time in the House of Representatives, she was on the Agriculture and Armed Services committee. One of the significant efforts during her time in the House of was 'The Sunlight Report', her office publication of her official schedule and her personal financial statement. She was the first member of Congress to do so and it was described as a 'quiet touch of revolution' by the New York Times in December 2006.
Following the appointment of Clinton by President-elect Barack Obama as Secretary of State in 2008, there was a need to replace her seat on the United States Senate. Kirsten was chosen by the New York Governor, David Paterson's to fill the seat, to mixed feelings among New York Democrats and media. She was sworn in on January 26, 2009, and became the youngest senator in the 111th Congress.
In the Senate, Kirsten made a shift from the moderate conservative that she was known for during her time in the house of representatives to a liberal, progressive position. She was a prominent figure in repealing the 'Don't Ask, Don't Tell' policy of the US Military regarding LBGT servicemen. She has introduced a few bills onto the US Senate and served on a few committees. She's an author, having published her memoir Off the Sidelines: Raise Your Voice, Change the World in 2014.
Kirsten Gillibrand is considered one of the Democratic party's most viable candidates to run for President in 2020.
Her Husband & Family Life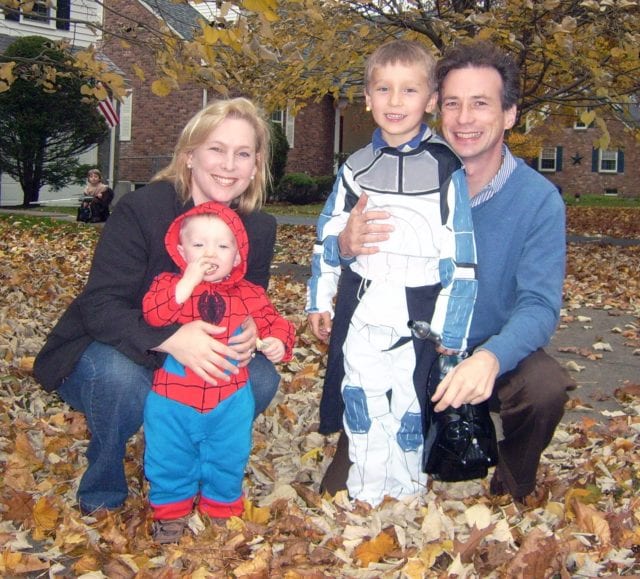 Kirsten and her husband, Jonathan Gillibrand, a venture capitalist, met on a blind date. The couple has two sons together with the oldest born in 2003 and the second son, born in 2008. The family live in Washington D.C due to Kirsten's job as a Senator but have a house in Brunswick, New York.
See Also: Tim Kaine Biography, Son, Wife and Other Interesting Facts
What is Her Net Worth?
Kirsten Gillibrand is reportedly worth $498,502, according to data from OpenSecrets. She has investments in the Pharmaceutical and Health sector, which go along with her salary as a U.S Senator.