Kirstin Maldonado is an award-winning American singer and songwriter. She is the only female member of the popular American a cappella group, Pentatonix. Formed in 2011, Pentatonix has captured the hearts of millions all over the world, thanks to their amazing harmonies, bass, and beatboxing. Their music, which consists of covers of popular songs, mashups, holiday songs, and original songs, have made them a global sensation. Asides her brilliant career with Pentatonix, Maldonado has a solo career as a musician in addition to being a Broadway actress. Get to know more about her here including her husband, ethnicity, net worth etc.
Kirstin Maldonado Bio (Ethnicity)
Kirstin Taylor Maldonado was born on the 16th of May 1992 in Fort Worth, Texas. Her mother, Angelica Maldonado is Spanish-Italian while her father, Michael Cisneros, is Mexican. The singer, therefore, has Spanish, Italian and Mexican roots. As a young child growing up in the Texan town of Arlington, Maldonado's first love was theatre musicals. She loved singing Disney songs and often accompanied her mom to watch stage plays. She, therefore, fell in love with theatre and aspired to become a stage actress one day.
In order to achieve her dreams, Kirstin Maldonado started singing and enrolled for voice lessons. She also joined a local drama troupe and performed at the community theatre. Maldonado had her high school education at Martin High School. It was while in high school that she and two others (namely Mitch Grassi and Scott Hoying) first formed an a cappella group and started performing locally. On graduating from high school, Kirstin Maldonado enrolled at the University of Oklahoma to study musical theatre performance. She dropped out after one year and joined Grassi, Hoying and two additional members to form Pentatonix in 2011. The group went on to win an NBC a cappella competition – The Sing-Off, that same year.
Since their 2011 victory, Maldonado and her group members have gone on to establish a solid career, proving that they are no fluke. The group has released a total of seven albums, with at least one certified platinum and one certified gold. They have also won numerous awards including three Grammy Awards. They are the 2015 Grammy for best arrangement, instrumental or a cappella for their medley of Daft Punk's songs, the 2016 Grammy for best arrangement, instrumental or a cappella for Dance of the Sugar Plum Fairy, and the 2017 Grammy for best country duo/ group performance for their collaboration with Dolly Parton on her popular song, Jolene.
Asides her involvement with Pentatonix, Kirstin Maldonado has also forged a successful career as a solo artist and an actress. She released her debut EP, L O V E, in July 2017. The Texas native has also fulfilled her lifelong dream of being a theatre actress as she made her Broadway debut in February 2018. This was in the Tony award-winning musical, "Kinky Boots."
Is She Married and Who is Her Husband?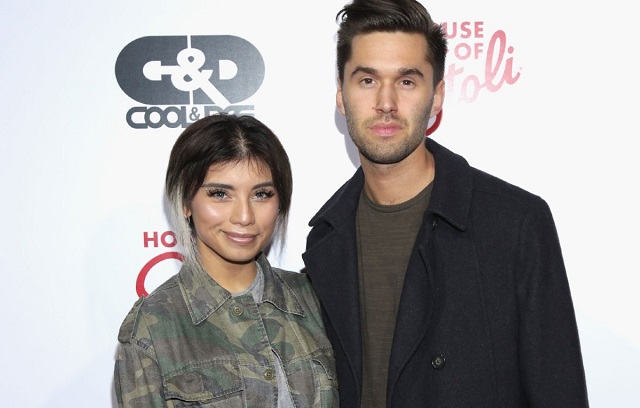 Kirstin Maldonado is not married but she is engaged to Jeremy Michael Lewis. Lewis is an accomplished businessman and owns his own digital marketing consulting company. Interestingly, he is also an a cappella singer and competed on the 2013 edition of The Sing-Off.
Maldonado and Lewis (Illinois native) started dating in August 2013. One may not be wrong to conclude that it was their mutual passion for music that brought them together. The cute couple are currently engaged to be married. They got engaged in the most romantic city in the world, Paris (specifically in front of the Eiffel Tower) in May 2016.
Height and Weight
Kirstin Maldonado is 5 feet 4 inches or 1.62m tall and weighs 121lbs or 55kg. The Texas native also boasts of a pair of charming eyes. With regard to hair color, her natural hair color is brown but the singer usually changes it to whatever color she wishes such as blonde, black etc.
How Much Is She Worth?
Pentatonix has a group net worth estimated at $60 million which is their earnings come from their album sales as well as their soldout concerts. They also earn money from their YouTube channel thanks to the millions of views they get on a regular basis. Their channel has at least 16 million subscribers and has garnered more than 3 billion views. Additionally, the group has also scored juicy endorsement deals with several companies. With regard to Maldonado specifically, she has a net worth of $8 million and reportedly earns $750, 000 annually.