Kirstjen Nielsen is the present Secretary of Homeland Security, United States of America. She is an Attorney by profession and was John F. Kelly's Chief of Staff when he was the Secretary of Homeland Security. Nielsen has also served as the Principal Deputy White House Chief of Staff to Donald Trump.
Her appointment as the Secretary of Homeland Security was confirmed on 5th December 2017. On the heels of the appointment, she enforced a policy stating that children are to be separated from their parents, once they are charged with illegal crossing of the U.S.-Mexico border.
Kirstjen Nielsen's Biography
Nielson was born on 14th May 1972 in Colorado Springs, Colorado into the family of James McHenry Nielsen and Michele Nielsen. Her parents worked as Physicians to the U.S. Army. Upon her birth, the family moved from Colorado Springs to Florida. She has a younger brother by the name; Fletcher, and a younger sister named; Ashley. She's the eldest of three children.
After High School, Nielsen went on to Georgetown School of Foreign Service and graduated with a Bachelor of Science degree. In 1999, she received her Juris Doctorate from the University of Virginia School of Law. She also attended Nanzan University, in Nagoya, Japan, where she studied Japanese studies.
Career Beginnings

Kirstjen Nielsen was a Special Assistant to the President, during the George W. Bush administration. She also served as the Senior Director for Prevention, Preparedness, and Response (PPR) at the White House. She worked as a senior member of the Resilience Task Force, under the committee of the Center for Cyber and Homeland Security at George Washington University.
In 2008, when Nielsen left the George Bush administration, she became the president and founder of Sunesis consulting firm which landed a federal contract in 2013. They provided policy and legislation, organizational development and technical writing to the Federal Emergency Management Agency. The initial award of the contract was for about $450,000.
Nielsen became John F. Kelly's Chief of Staff when he assumed office as the Secretary of Homeland Security in January 2017. Eight months later, she moved to the White House, because of her new position as the Principal Deputy White House Chief of Staff. At the White House, she also worked under John F. Kelly.
Homeland Security Career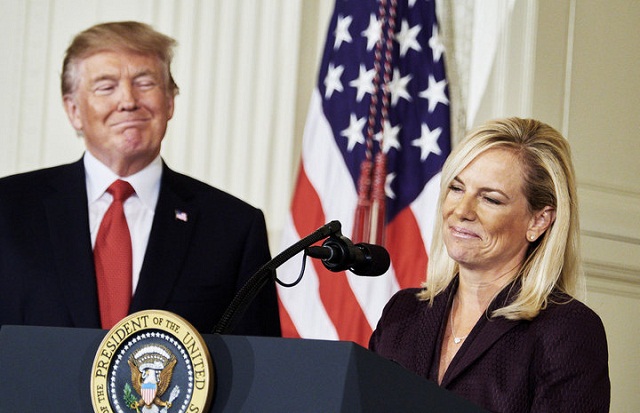 Kirstjen Nielsen was officially nominated by the United States President; Donald Trump as the 6th Secretary of Homeland Security on 11th October 2017 to replace Elaine Duke; the previous Homeland Security Acting Secretary. Two months later, the United State Senate confirmed her appointment. Her swearing in as the Secretary of Homeland Security took place on 6th December 2017.
As the Secretary of Homeland Security, she is responsible for aviation security, border security, port security, cyber security, maritime security. Her duties also cover counter-terrorism, administration, and enforcement of immigration laws, detection, and protection against biological, chemical and nuclear threats to the homeland.
Nielson became quite popular in the media after it emerged that she was considering a resignation because President Trump reportedly had some scathing words for her for failing to secure the U.S. borders. She further made headlines for refusing to implement Trump's call to separate illegal immigrant parents from their children, while they are in custody. This refusal was said to have caused a rift between the President and the Secretary of Homeland Security.
See Also: Is Gianna Toboni Married, Who Is Her Husband Or Boyfriend, Is She Gay?
Family – Married, Husband or Spouse
The former Special Assistant to the President, keeps her affairs off the camera, especially when it comes to the issue of relationship. It's quite obvious that she's not yet married and does not have any children. But whether she's dating someone or engaged, is still unknown. She has strongly managed to keep that information private over the years.
Some time ago, series of speculations sprung up about her relationship status and it was rumored that she was dating Chad Wolf; the guy she attended a State dinner with at Washington DC. With no further delay, Nielsen countered the speculation and stated that Chad Wolf is not her boyfriend or a date. In addition to that, she reiterated that Chad is just her subordinate.