Kirstjen Nielsen is an attorney by profession who is notable as the 6th Secretary of Homeland Security, United States of America. Her appointment as the Secretary of Homeland Security was confirmed on 5th December 2017. On the heels of her appointment, she enforced a policy stating that children are to be separated from their parents, once they are charged with illegal crossing of the U.S.-Mexico border. This resulted in a series of controversies unfolding during her tenure.
However, prior to her appointment as the Secretary of the U.S Homeland Security, Nielsen was John F. Kelly's Chief of Staff when he was the Secretary of Homeland Security. Nielsen has also served as the Principal Deputy White House Chief and held a position in the George .W. Bush administration.
Kirstjen Nielsen Political Career Started as Special Assistant to George .W. Bush
Kirstjen Nielsen was a Special Assistant to the President, during the George W. Bush administration. During that period, she also served as the Senior Director for Prevention, Preparedness, and Response (PPR) at the White House. Kirstjen would go on to form the Transportation Security Administration's Office of Legislative Policy and Government Affairs in which she was the assistant administrator.
However, she left the George Bush administration in 2008 and formed the Sunesis Consulting Firm. The firm which had only Kirstjen as its employee landed a federal contract in 2013 worth $450,000 and the services the film offers cover policy and legislation, organizational development, and technical writing to the Federal Emergency Management Agency.
Her Brief Appointments as Chief of Staff  to the U.S Secretary of Homeland Security & White House Principal Deputy Chief of Staff 
Nielsen became John F. Kelly's Chief of Staff when he assumed office as the Secretary of Homeland Security in January 2017. She held this position till July 2017 when she had to move to the White House. This move was a result of Kelly's recent appointment in the White House and Chad Wolf took over from her.
With the new development, Kirestjen assumed the position of the Principal Deputy White House Chief of Staff working under John F. Kelly.  Prior to her,  the position was held by Katie Walsh however, Nielsens stay in her new position was just short-lived as she served for only a few months covering September 6th, 2017 to December 6th, 2017 after which she was preceded by James .W. Carroll.
President Donald Trump Appointed Kirestjen Nielson as the 6th U.S Secretary of Homeland Security in October 2017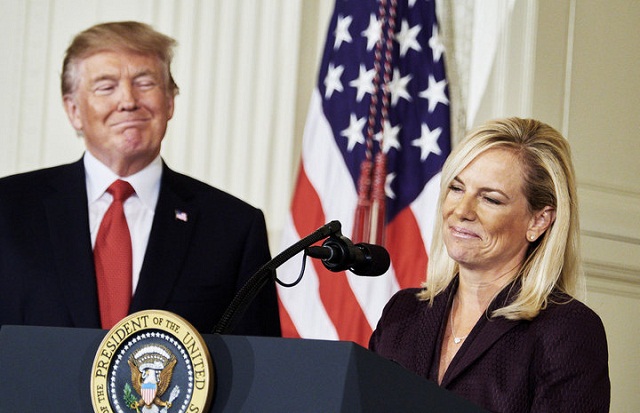 Kirstjen Nielsen was officially nominated by the United States President; Donald Trump as the 6th Secretary of Homeland Security on 11th October 2017 to replace Elaine Duke; the previous Homeland Security Acting Secretary. Two months later, the United States Senate confirmed her appointment. Her swearing-in as the Secretary of Homeland Security took place on 6th December 2017.
As the Secretary of Homeland Security, she was responsible for aviation security, border security, port security, cybersecurity, as well as maritime security. More so, her duties covered counter-terrorism, administration, and enforcement of immigration laws, detection, and protection against biological, chemical, and nuclear threats to the United States.
She Enacted the Family Separation Policy During Her Tenure
A few months into her appointment as the U.S Secretary of Homeland Security, Nielsen enacted the family separation policy on May 7th, 2018 which was drafted by the Trump administration. The policy supports the separation of minors (from their parents) who crossed over illegally into the United States via the U.S – Mexico border.
A few days after officially enacting the family separation policy, Kritjen also went for a congressional hearing on May 15th, 2018 where she testified to follow through the enforcement of the family separation. She cited that it was a needful action as the same separation steps are taken every day in criminal courts when dealing with parents that have minors.
However, the then Secretay of Homeland Security made a controversial revelation in June 2018 about the Trump administration's failure to enforce the same policy of family separation at the U.S Southern border. Albeit, these allegations were later discarded as reports by The Washington Post during that period highlighted that up to 2,000 children have been separated from migrant parents at the Southern border. More so, the DHS had proof on their website of the family separation policy was being implemented.
The Family Separation Policy Stirred up an Uproar at the Borders
During the course of implementing the family separation policy, Nielsen was caught up in several controversial incidents that transpired in the U.S – Mexico bother. They experienced a lot of clashes between law enforcement officials and migrants who were seeking to relocate to the United States.
One such incident occurred on November 25th, 2018 at San Ysidro Port of Entry which is found between California and Mexico. According to what was gathered there were several migrant caravans filled with families (who also had little kids in their midst) that were trying to cross over into the United States From Mexico. They faced resistance from the U.S Border Patrol agents. This action by the U.S officials was criticized by the international community.
An Upsurge in the Death Rate of Migrants Children at U.S Customs & Border Protection
Apart from the clash between the authorities and the migrants, there were also incidents of children losing their lives in the midst of all the chaos. On December 8th, 2018, a young girl, Jakelin Caal, who was 7 years old died while in the custody of the U.S Customs and Border Protection – an arm of the Department of Homeland Security Service. A couple of weeks later on December 24th, 2018 a boy named Felipe Gómez Alonso who was 8 as at that time also died in the custody of the CBP.
These deaths were described by Nielsen as "deeply concerning and heartbreaking" and she went on to cite that the U.S immigration system had failed to cater to the growing border issues. She also pointed out that she had given out instructions to her agency to intensify the medical screening of children coming in from the southwest border with the help of the United States Coast Guard. Kristjen pointed out that she was going to go there personally to handle issues however, she made mention of the fact that these kids were primarily exposed to all sorts of danger by the adults who embarked with them on such dangerous journeys.
During Nielsen's Tenure, the DHS Shunned Anastasia Vashukevich's Asylum Request
Another controversial situation that occurred during Kirstjen Nielsen's tenure was with respect to Anastasia Vashukevich who sought asylum in the U.S when she was arrested in Thailand in February 2018. The young lady who believed the Russians were after her life wanted to move down to the United States to seek refuge. As at then, she even revealed that she had proof of the Russians' alleged interference in the 2016 American election.
However, her appeal which was sent to the DHS was never responded to. There was even proof of her handwritten request which was displayed on the Radio Free Europe website on February 28th, 2018 but neither Nielsen nor any member of her agency attended to the matter.
Kirstjen Nielsen Resignation came Shortly After Her Rift with President Donald Trump
Although Nielson seemed to be at the forefront of the family separation policy, the United States president, Donald Trump did not think so. It was reported that she hesitated to outrightly separate some illegal immigrants from their kids while they were in custody. News of these actions got to the oval office and the aftermath was tension between Tump and the Kirstjen.
It was even rumored sometime in May 2018, that the astute lady had threatened to resign from her position as the Secretary of Homeland Security. There talks of Trump berating her at a cabinet meeting during which he likens her non-compliance as a failed effort to protect the U.S borders. However, Nielsen refuted such claims about making threats to resign her position.
About a year later though, Kristjen tended her resignation after a meeting at the White House with President Donald Trump on April 7th, 2019. This resignation came in after Trump had announced his decision to take more stringent actions as relating immigration. As at that time, Nielsen was in Europe on a trip to meet with the United Kingdom and Swedish government officials to settle issues relating to cybersecurity and terror threats but she had to return to sort out things which ended in her resignation.
As of now, Chad Wolf holds the position as the acting secretary of Homeland Security while Kristjen Nielsen is serving on the National Infrastructure Advisory Council. She was appointed to the position in October 2019 by President Donald Trump.