Smart, witty and pretty. But that's not all that describes her, Kishele Shipley is also a basketball player's wife; making her one of several special women who get the chance to literally look up to their husbands. Although Kishele worked as a human resource professional in San Diego, that profile has been quickly eclipsed by her wifey role to 2014's MVP in the National Basketball Association, Kawhi Anthony Leonard. In this article, we have all the lesser-known facts about Leonard's partner.
Kishele Shipley's Bio (Age)
Kishele Shipley was born in San Diego, California, the United States on April 10, 1989; to parents Kenneth and Cathy Marie Shipley. Her father is a successful businessman while her mom is a homemaker. Growing up, Kishele and her two siblings Kenisha and Kassandra were raised in San Diego where she attended high school. She later went to San Diego State University, where she earned a Bachelors degree in Public Administration in 2012.
Fresh from College, Kishele Shipley got her start working as human resource personnel in a private organization; a job she kept for two whole years until she had to relocate from San Diego to Texas to stay closer to her partner. Following her relocation, not much has been said about Shipley's professional life or prospects as she only appears in public with her boyfriend.
6 Things You Need To Know About Kawhi Leonard's Partner
1. Kishele Shipley's Net Worth
As of 2019, there are no sources stating Kishele Shipley's exact net worth. However, it's safe to say she is a millionaire by association. Yes. She shares a net worth of $25 million with her partner. Kawhi Leonard earns a whopping $16 million annually in salary alone. More so, he takes home millions of dollars more from endorsement deals. However, we're not sure about any properties the basketball player has enlisted such as houses or other assets under his name.
2. She's a Mother of one Already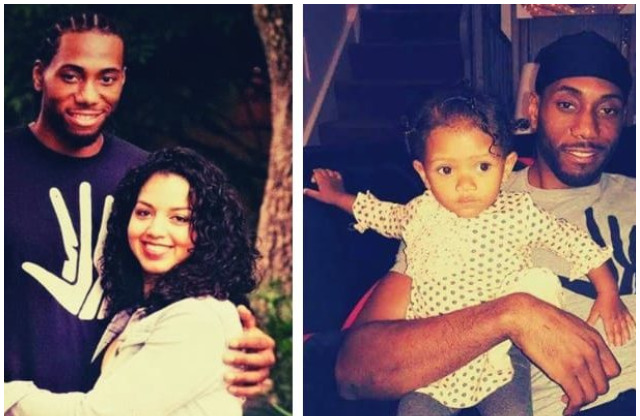 Kishele and Kawhi first met back in San Diego State University. The love-struck couple continued their relationship right after college. Although Kishele Shipley had a job for two years, she quickly left that to relocate to Texas with her partner when he got selected by the San Antonio Spurs. This was in December of 2014. After over a year living together, the couple announced Kishele's pregnancy in 2015; but revealed nothing else until Kishele gave birth to their daughter, Kaliyah, in July 2016. Though Kishele and Kawhi are not officially married yet, many fans believe that they are currently engaged and would announce their wedding soon. As for now, the family live's in Ontario, Canada, where Leonard plays for the Toronto Raptors.
In most of the Raptors matches, Kishele is usually spotted standing in support of her partner's team and cheering out loud. Kawhi considers her to be his good luck charm and the life wire of his sporting career; as her encouragement keeps him going.
3. She is Older than Her Partner
Kishele Shipley is two years older than Kawhi Leonard. While Kishele was born in 1989, her partner was born on June 29, 1991. Adding credence to the old saying that age is just a number. When hearts click, numbers scurry backstage.
4. Kishele Shipley's Sisters
Seems like the Shipley sisters have a knack for education and professional life. Kishele's sister, Kasandra, graduated from California State University and is reportedly an educator. Their elder sister, Kenisha, holds an MSc. in environmental science-hydrology from California State University and is a graduate state researcher at Scripps Institution of Oceanography.
See also: Alejandra Silva, Richard Gere's Wife – 6 Facts You Need To Know
5. Height and Body Measurements
Now a tricenarian, Kishele Shipley still maintains that graceful slim figure. She has curly black hair and dark brown eyes. She stands at a height of 5 feet 8 inches (1.73 meters) tall and weighs 64 kg (141 pounds). Kishele wears bras of size 36B and shoes of size 8 (US). Her bust, waist, and hips measure 38-28-36 inches respectively.
6. Kishele Shipley Operates no Known Social Media Account
As far as we know, Kishele Shipley has no Facebook, Twitter, Instagram, or LinkedIn accounts. Neither does her partner, Kawhi. The couple remains one of the most private celebrity pairs in the NBA and chooses to remain that way.