One of the most loved characters in the hit HBO drama seasonal series, Game of Thrones (GOT), Jon Snow is played by Kit Harington. His name in the series has expectedly taken over his birth name as most people have gained familiarity with the former. Through his acting career, he has spent more time with television series than in films. However, he has been quite exceptional with all his roles. Journey with us as we tell you more about him in the article.
Kit Harington Biography (Age)
Kit Harington's full name is Christopher Catesby Harington; a name he never got to know until he was eleven years old. He was named by his mom after an English playwright, poet, and translator, Christopher Marlowe who was often referred to as Kit. Harington was born on the 26th day of December 1986 in Acton, London England.
The actor studied briefly at Southfield Primary School but left in 1981 following his family's relocation to Worcestershire. He proceeded to Chantry High School in Martley before transferring to Worcester Sixth Form College where he subsequently studied Drama and Theatre. He moved to London and bagged a degree from Central School of Speech and Drama in 2008.
All through his years as a student, Kit Harington was passionate about acting. He was first bit by the acting bug when he watched the production of Waiting For Godt at age fourteen and later after witnessing Ben Whishaw's performance as Hamlet in 2004 when he was seventeen. Having been cleared with the affairs of his career path, the young Kit took drastic decisions in molding his acting stints.
Ironically, despite having clarity with his career field, Kit Harington struggled between concentrating on being a journalist or an actor. Through this tussle, he landed a role in War Horse; a stage play which later gave him two Olivier Awards and a redefined career purpose.
After graduation in 2008, he ventured into professional acting in 2009 and bagged several roles in the theatre production of a few plays like Posh, The Vote, Doctor Faustus, and True West. 
Following his announcement to fame with his striking performance in the War Horse, Kit Harington landed a role in the HBO drama series; Game Of Thrones; a drama that would become the panacea to his career struggles. In between his schedules playing as Jon Snow, he landed several roles in different television drama series.
In films, Kit Harington has appeared in Silent Hill: Revelation (2012), Pompeii, How to Train Your Dragon 2, and Testament of Youth.
Parents
Kit Harington was born to his mother, Deborah Jane nee Catesby; a woman skilled with the pen as a playwright and Sir David Harington; a business tycoon. Kit was born with a silver spoon. His immediate family and extended family dwelled in wealth.
Harington is related to a high caliber of people, they include the 14th Baronet; Sir Nicholas John Harington; his uncle and the 12th baronet; Sir Richard Harington; his granddad. Also, the Haringtons were formerly known as the Haveringtons.
Wife or Girlfriend, Is He Dating or Married?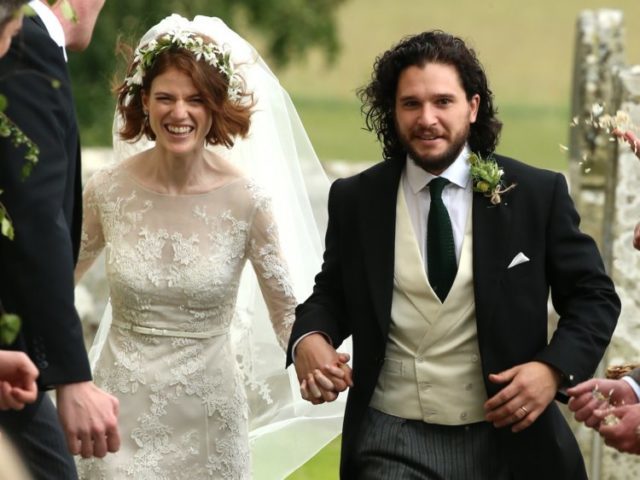 Kit Harington fell in love on his duty post. While filming the series that later became the platform of his breakthrough, GOT, he came across a woman who would later become his wife; Rose Leslie.
Their characters in the series started out as enemies but grew a romantic connection with time. Shortly after their encounter, the two became an item. They shared a good portion of both the smooth and rough ride of a relationship before eventually settling to be man and wife. They had a big wedding ceremony at the Rayne Parish Church in Aberdeenshire on the 23rd of June 2018. Initially, Harington and Leslie kept their relationship on the low key. It was not until late 2016 that their relationship became blazoned.
Just a few months after they took their vows, rumors had it that Kit was having an extramarital affair with the model, Olga Vlasova. The news came as a shock to most of his fans with some already criticizing his actions without confirmations. Later on, credible reports proved it to only be a mere rumor.
See Also: Rodney Carrington Bio, Wife, Divorce, Weight Gain and Net Worth
Height
Kit Harington is one sexy man. The British actor has got a well-chiseled body to compliment his good looks. Though not among the tallest in the industry, Harington isn't short either, standing at a height of 5 feet 8 inches.