One of the most loved characters in the hit HBO drama seasonal series, Game of Thrones (GOT), Jon Snow is played by Kit Harington. His name in the series has expectedly taken over his birth name as most people have gained familiarity with the former. Through his acting career, the talented entertainer has spent more time with television series than in films. However, he has been quite exceptional with all his roles.
Harrington made the news when he decided to pitch his tent with his female co-star, Rose Leslie. Curiosity ran rife with fans wanting to get tidbits on how the celebrity couple is fairing in the most recent world of showbiz where marriages are known to fizzle out before long, but the celebrity duo seems to be doing just fine.
A Plot Of Kit Harington's Family Tree
Kit Harington's full name is Christopher Catesby Harington; a name he never got to know until he was eleven years old. He was named by his mom after an English playwright, poet, and translator, Christopher Marlowe who was often referred to as Kit. Harington was born on the 26th of December 1986 in Acton, London England.
The identity of his parents have been revealed to be Deborah Jane (Catesby) who earned a living as a playwright and Sir David Robert Harington – a businessman as well as the 15th Baronet. Kit Harington obviously comes from a lineage of noblemen as his uncle Sir Nicholas John Harington served as the 14th Baronet. The 12th Baronet was Sir Richard Harington – Kits patrilineal great-grandfather. The name Harington is quite old and was formerly spelled as Haverington; the family name emanated from their family estate – a lordship in Cumberland.
His paternal grandmother, Lavender Cecilia Denny links Harington to Charles II of England who was his eighth-great-grandfather. He is a descendant of Henry Dundas – a Scottish politician and 1st Viscount Melville from his father's side. Kit is equally a kinsman of men who were involved on opposite sides of the Gunpowder Plot. According to Kit Harington, he has blood ties with Robert Catesby – the leader of the plot from his maternal side. His father's family connections link him to King James I grandfather to King Charles II and to Lord Harington – Houses of Parliament member.
Watching the Movie Waiting For Godt at 14 sparked his Interest in the Performing Arts
After studying Drama and Theatre at Worcester Sixth Form College, Kit Harington relocated to London where he proceeded to earn a degree from Central School of Speech and Drama in 2008. Though he has been passionate about acting all through his college years, the rising entertainer was first bit by the acting bug when he watched the production of Waiting For Godt at age fourteen and later after witnessing Ben Whishaw's performance as Hamlet in 2004 when he was seventeen. Having been cleared with the affairs of his career path, the young Kit took drastic decisions in molding his acting stints.
Ironically, despite having clarity with his career path, Kit Harington struggled between concentrating on being a journalist or an actor. Through this tussle, he landed a role in War Horse; a stage play that later gave him two Olivier Awards and a redefined career purpose.
After graduation in 2008, he ventured into professional acting in 2009 and bagged several roles in the theatre production of a few plays like Posh, The Vote, and True West.
He Made His Breakthrough On The Set Of Game Of Thrones
Following his announcement to fame with his striking performance in the War Horse, Kit Harington landed a role as Jon Snow in the HBO drama series; Game Of Thrones; a drama that would become the panacea to his career struggles. Game Of Thrones chronicles the power tussles among noble families as they fight for total control of the Iron Throne of the Seven Kingdoms. His performance on set earned him praises, making him a nominee for a Saturn Award for Best Supporting Actor on Television in 2012.
Kit Harington's performance in the series also earned him a nomination for Primetime Emmy Award for Outstanding Supporting Actor in a Drama Series in 2016. The next year, he emerged as one of the highest-earning actors on TV with earnings of £2 million per episode of Game of Thrones.
In between his schedules playing as Jon Snow in Game Of Thrones, Kit landed several roles in different television drama series. His debut in cinema was achieved in 2012 breathing life into the character of Vincent in Silent Hill: Revelation 3D – a horror movie based on the survival horror video game titled Silent Hill 3; the movie served as a sequel to the film Silent Hill. The Young Hollywood Awards in 2013 honored him with Actor of the Year award, celebrating the best upcoming young talent in movie, TV, and music.
Pompeii Marked His debut Major Lead Role in a Feature Film
The first time Kit Harington would be cast in a major lead role on the set of a feature film was in 2013 when he essayed the character of Milo in Pompeii. That same year, the famed actor joined the cast of How to Train Your Dragon 2 voicing Eret which went on to become a box office success, earning him an Academy Award nomination as well as the Golden Globe Award for Best Animated Feature Film. The next year 2014 saw him on the set of a fantasy adventure movie Seventh Son playing Billy Bradley.
He was part of The Death and Life of John F. Donovan which premiered at the 2018 Toronto International Film Festival. In 2015, the English actor played a starring role in 7 Days in Hell – an HBO comedy, and by the middle of the year, it was confirmed that he would be replacing Robert Pattinson in the western thriller film Brimstone by Martin Koolhoven. In 2016, Call of Duty: Infinite Warfare – the first-person shooter video game cast him as Salen Kotch, the main villain. Before the year ran out, Kit played the lead in a West End production of Doctor Faustus.
Kit Harington did not just star in 2017's Gunpowder, he wrote as well as functioned as the executive producer for the three-part historical drama for BBC. The drama which was based on the real Gunpowder Plot cast him as his ancestor Robert Catesby alongside screen legends like Liv Tyler, Mark Gatiss, and Peter Mullan. He was also part of Testament of Youth. After GOT ended, word got out that Kit was the Marvel Cinematic Universe role of Dane Whitman in The Eternals.
See Also: Rodney Carrington Bio, Wife, Divorce, Weight Gain and Net Worth
Love Story with Co-star Rose Leslie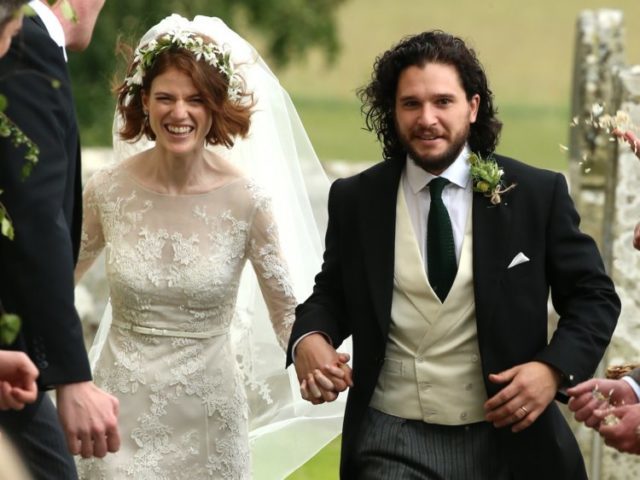 Kit Harington fell in love on his duty post. While filming the series that later became the platform of his breakthrough, GOT, he came across a woman who would later become his wife; Rose Leslie. Their characters in the series started out as enemies but grew a romantic connection with time. Shortly after their encounter, the two became an item in 2012. They shared a good portion of both the smooth and rough ride of a relationship before eventually settling to become man and wife.
The announcement for their engagement came on the 27th of September 2017 through the 'Forthcoming Marriages' section of The Times. The duo had a big wedding ceremony at the Rayne Parish Church in Aberdeenshire on the 23rd of June 2018 with the reception following immediately at the Wardhill Castle. Initially, Kit Harington and Leslie kept their relationship on the low key. It was not until late 2016 that their love life became blazoned.
Just a few months after they took their vows, rumors had it that Kit was having an extramarital affair with the model, Olga Vlasova. The news came as a shock to most of his fans with some already criticizing his actions without confirmations. Later on, credible reports proved it to only be a mere rumor. On Kit's part, he didn't seem to be affected by the rumors as he continues to share beautiful photos of them together on Instagram.