Kourtney Pogue is the wife of Justin Turner, an American professional baseball player whom he married in a civil ceremony in 2017. 
Kourtney Pogue is an actress and former Los Angeles Kings Ice Girl who was born on October 31, 1986, and is currently 37 years old.. The Indiana-born beauty has been in a relationship with Turner since 2012 before they tied the knot in December 2017. They have no kids together yet. This Piece takes you through the bio, family life, and other interesting facts about Justin Turner's Wife.
Summary of Kourtney Pogue's Biography
Full Name: Kourtney Pogue
Gender: Female
Date of Birth: October 31, 1986
Kourtney Pogue's Age: 37 Years Old
Ethnicity: Caucasian
Nationality: American
Zodiac Sign: Scorpio
Sexual Orientation: Straight
Religion: Christianity
Marital Status: Married
Kourtney Pogue's Husband: Justin Turner
Kourtney Pogue's Height in Feet:  5 feet 8
Height in Centimetres: 173 cm
Kourtney Pogue's Weight: 58 Kg
Body measurements in inches: 34-28-40 inches
Kourtney Pogue's Net worth: $250,0000
Famous for: Being Justin Turner
Instagram: @court_with_a_K 
Twitter: @court_with_a_K 
How Old Is Kourtney Pogue, and Where Was She Born?
Kourtney Pogue was born—Kourtney Elizabeth Pogue—in Chesterton, Indiana, on October 31, 1986, to the family of Anthony and Tina McDonald Pogue. She and her older siblings, Ryan and Kristin, were raised and schooled in Chesterton.
Although there is little information about her early childhood, Pogue attended Chesterton High School, where she graduated in 2005. After graduating high school, she proceeded to UCLA, where she got a psychology degree in 2013. Graduating from college was supposed to be a much-celebrated experience.
For Pogue, however, it would be a bitter-sweet experience. Unfortunately, she lost her father in February of the same year, He was 67 at the time of his passing. Like most beautiful ladies her type, back in school, Pogue was a cheerleader for the Indiana Ice Hockey Team and NHL Ice Girl for the L.A Kings.
She also contested in the 2008 Wheel of Fortune for Hawaiian Week. And had earlier contested at Miss Teen Indiana pageant. Long before graduating from college, Kourtney Pogue had her start on her career when she appeared in Untold Stories of the ER (2004) and Not Another High School Show (2007). She has a business of her own and is a self-made entrepreneur.
Kourtney Pogue's Parents Were Conservative Christians
The Pogues were a conservative, middle-class Christian family though we're not sure which particular Christian denomination her parents were members of. So far as we know, Kourtney's parents, Anthony and Tina McDonald Pogue, had three children, of which Kourtney is the youngest.
She reportedly has two older siblings; a brother, Ryan Pogue, and a sister, Kristin Pogue. We also don't have a handle on her mum or what she does as a job. Thousands of Kourtney's followers joined in sympathizing with the Pogues when they lost their father on February 22, 2013.
Facts About Justin Turner's Wife
1. Business Woman
Although it's unclear what it is, Kourtney Pogue has and runs a business. Talk about a woman-preneur. She operates a website www.kourtneyereppert.com. She posts photos of herself in a bikini shot and shares details about her modeling career with visitors.
2. Kourtney Pogue's Net Worth
With a career in modeling, film, and other auxiliary support streams, it's safe to label Kourtney Pogue a "moneymaking machine." Although we have no handle on her exact net worth and salary, we know that her husband, Justin Turner, has a net worth of $37 million as a baseball player. A 2018 estimate puts his net worth at $18 million. Turner's break came in 2014 when he had a breakout offensive season and earned a whopping $2.5 million pay bump in arbitration.
3. How Kourtney Pogue Became Justin Turner's Wife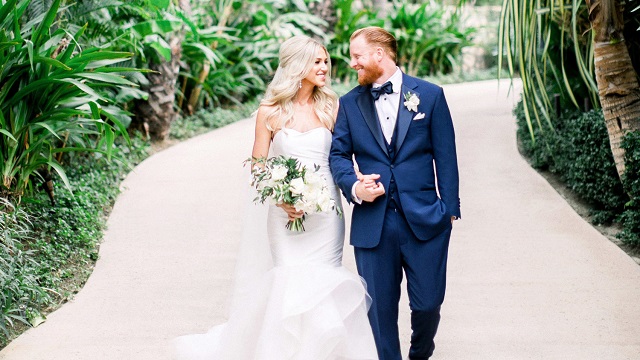 As far as we know, Kourtney and Turner began dating in 2012. After five years together, Turner made a spectacular proposal when he took Kourtney to the Grand Canyon on March 13, 2017, got on one knee, and popped the question. They were married nine months later, in December 2017. Their wedding was attended by close friends and relatives in Mexico; in a ceremony that climaxed in a stunning fireworks display. So far, there haven't been any posts from either of them having the words "expecting" and "child" or "baby" in it.
4. Kourtney Pogue Is A Dog Lover
In November 2018, Kourtney Pogue was deeply heartbroken and soon waxed vengeful when her beloved Miniature Pinscher, Dior, was violently murdered by a neighbor's German shepherd. According to Kourtney, the dog's owner knew it was violent with other dogs, and when it went after Dior, the owner did nothing to stop it.
She sued the neighbor for vet bills and other expenses related to Dior's death and demanded damages for pain and suffering, as she "relied upon the emotional support of Dior for her well-being." She now has a new dog, Moonshine.
5. Kourtney Pogue's Height and Body Measurement
Kourtney Pogue has a graceful, slim build. She is 5 feet 8 inches (1.73 meters) tall and has blue eyes and blonde hair. As of this writing, her bust, waist, and hips measurements are large. Also, we have no specifics about her bra, shoe, and dress sizes yet.