When The Chicago Cubs overcame a 108-year curse to lift the ultimate trophy in baseball, the whole world, even those who are not baseball fans, celebrated with them. Also celebrated were the stars who helped them to achieve that feat and one person who was singled out for praise in this regard is Kris Bryant
A Third Baseman, Bryant had only spent just two years in the league before he took his team to the World Series. He eventually completed the good work he had started and was able to help them clinch the coveted trophy. These exploits fetched him several accolades. It also made the team quite indebted to him and they have gone on to show their gratitude through substantial financial rewards.
Kris Bryant's High School and College Exploits
Kristopher Lee Bryant was born in Las Vegas, Nevada on the 4th of January in 1992. All of his childhood was spent in Las Vegas and he attended Bonanza High School. He graduated from there in 2010 and was appointed salutatorian. This appointment was for his academic achievements, which placed him at second best in his class.
Bryant's foray into baseball started in his childhood and while he was at Bonanza High, he was part of the school's team for all of his four years there. His stats for the entirety of his high school career was a total of 103 hits, .958 percentage in slugging, 47 home runs and a batting average of .418. Bryant's gameplay was so impressive that right out of high school, the Toronto Blue Jays expressed their interest in having him on their team. He, however, turned down this professional offer and chose to go to the University of San Diego.
He got much better at his game, with obvious improvements in his scores as he continued his impressive strides at the collegiate level in San Diego. He also received awards that attested to his brilliance and talent. By the end of his junior year, he had already broken the record of 30 home runs set by Victor Roache, making him the college baseball player with the highest home runs (31) since there was a bat change in 2011.
His Protracted Journey from the Minor Leagues to the MLB
Kris Bryant's professional career kicked off in 2013 when the Chicago Cubs selected him during the draft. He was believed to be the best power college bat in that year's draft and as is standard MLB procedure, the Cubs gave him a contract which carried $6.7 million in signing bonuses. They subsequently sent him off to sharpen his skills in the minor leagues and he spent about two years there.
During this period, Bryant played for minor league sides such as Boise Hawks, Daytona Cubs, Tennessee Smokies, and Iowa Cubs. He gave such an impressive performance that many started yearning for him to be upgraded to the MLB in 2015. The Cubs however delayed on this decision, due to their own organizational interest, until April 2015 when they finally succumbed.
That year, he went on to tally an astonishing stat of 26 home runs, 99 RBIs, and a batting average of .275. This feat helped the Cubs to reach the National League Championship Series game (the last hurdle before the World Series) which they sadly lost to the New York Mets.
Breaking a 108-year Old Curse to lead the Cubs to the World Series Title
Following his outstanding rookie season, the Chicago Cubs rewarded Kris Bryant with a 38% salary increase which saw his annual salary shoot up to $652,000 (from $471,000). This encouraged the Nevada native to increase his productivity and output on the field and he was able to tally an astonishing 121 home runs, 102 RBIs and a batting average of .292 as the Cubs made it all the way to the World Series game. In the game itself, Bryant also performed superbly well as the Cubs came back from a 3-1 deficit to defeat the Cleveland Indians and win their first World Series title in over 108 years!
Since that historic-title run, Kris Bryant has continued to improve on his performances for his team and they have continued to reward him with a steady increase in salaries. For the 2017 season, the third baseman was offered a salary of $1.05 million while in the 2018 season, he was bumped up to a record-breaking fee of $10.85 million. In 2019 and 2020, Bryant earned $12.9 million and $18.6 million respectively. It, therefore, means that the Chicago Cubs star has earned a total of $39.520 million since being drafted in 2013. His estimated net worth is believed to be $8 million.
Some of the Accolades that Kris Bryant Has Won
Kris Bryant immediately hit the ground running in his rookie season and this reflected in the several awards that were bestowed on him that year. Some of these awards were MLB rookie of the year from Baseball America, the Esurance MLB best rookie award, rookie of the year in the NL (National League) from Sporting News and BBWAA and NL rookie of the year by his fellow players.
Additionally, Bryant received his first All-Star MLB call-up in his brilliant rookie season and would go on to repeat this feat in his sophomore season. That same sophomore year, the Las Vegas native was named the MVP of the National League and also received the Hank Aaron award for best hitter in the National League. He, therefore, made history as just the 6th player in MLB history to win NL rookie of the year and NL MVP in just two seasons in the leagues.
Bryant received his third All-Star call-up in 2019. A year before that, Sports Illustrated ranked him the third overall best baseball player behind L.A. Angels' center fielder, Mike Trout and Houston Astros second baseman, Jose Altuve.
Sharing Marital Bliss with his High School Sweetheart
Kris Bryant is not just winning on the baseball field but also in his personal life as he is happily married to his high school sweetheart, Jessica Delp. Also a native of Las Vegas, Jessica was born on the 4th of March 1992. She had her education at Bonanza High School, where she was on the school council and softball team. She subsequently obtained a degree in psychology from the University of Nevada Las Vegas in 2013.
Jessica first heard of her future beau after her mom pointed out that there was a cute kid on her brother's baseball team. That cute kid turned out to be Bryant and they started dating in 2007. They sustained their relationship even as life took them in different parts and eventually got engaged in December 2015.
On the 7th of January, 2017, Bryant and Jessica tied the knot in a Christian ceremony held at the JW Marriot Hotel in Las Vegas. The reception featured about 225 guests and Bryant's teammate, Anthony Rizzo, was one of his groomsmen. The MLB star and his wife have now settled down to family life and welcomed their first child, a son named Kyler Lee Bryant, in April 2020.
Kris Bryant's Other Family Members 
Bryant's parents are Mike and Sue Bryant and he has an older brother called Nick. It is safe to say that Kris Bryant gets his baseball talents from his father who used to play the sport as a young man. In the 80s, Mike was part of the Boston Red Sox team but only played in the minor leagues. He was able to spot his son's talent at an early stage and he vowed that he would train him to be great. In order to effectively do this, Kris sold off his furniture business and took up paid employment so that he could have more time to coach the young lad. That big sacrifice has now paid off as his son is a world champion.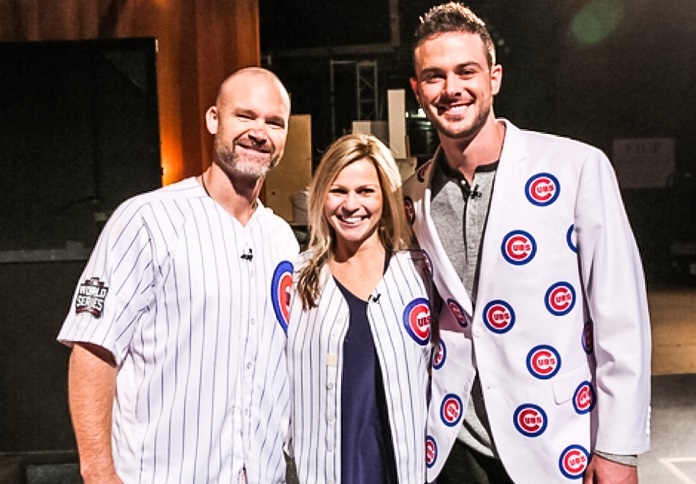 Another person who played a good part in Bryant's success story was mother, Sue. According to the baseball star, his mom is a constant fixture in the Cubs' dugout and would often bring him needed refreshments such as orange slices, granola bars, and Capri Sun pouches. She would also take him and his teammates out to the nearest fast-food joints in order to cheer them up after a loss.
Kris also has an elder brother named Nick. Both of them played baseball as children and Nick also played for the Bonanza High School team. He was a pitcher and led the school to a 2-0 defeat over The Wildcats in 2008. Nick called time on baseball after high school and proceeded to UNLV where he obtained a bachelor's in biology/pre-med. He also has a master's from the Massachusetts College of Pharmacy and Health Sciences. He resides in Las Vegas and works as a physician's assistant doing interventional radiology.