Kristin Tate is one of the most popular and influential American writers with her column appearing in several newspapers and journals. The skilful writer is widely known for her conservative commentary on politics focusing on government waste, federal regulations, and taxation. She has worked for several mainstream media outlets and is a weekly column writer for The Hill Newspaper.
The brainy columnist has also been featured as an economic and political commentator on many reputable news networks including CNN, Fox News, and MSNBC. She has established herself as one of the most formidable voices in America, listened to by millions, every day.
Kristin Tate Started Her Professional Career at Breitbart News
Kristin Tate was born in New Hampshire on September 14, 1992. She was raised together with her younger brother in New Hampshire. Tate is among those celebrities who would not disclose her personal information to the public, however, she did reveal that her father is Steve Tate. Kristin also shared that her parents taught her government and history from childhood years, which have tremendously helped in shaping her career.
The political commentator and columnist attended Boston Emerson College, Boston, Massachusetts and graduated with a degree in Arts.
While at the university, she served as Chapter Leader for Young Americans for Liberty. Her academic performance and her outspoken nature earned her a position as a journalist with Breitbart News Network immediately after graduation.
During her journalism days, she covered different stories for Breitbart, particularly stories about the US border and immigration. Aside from Breitbart, several of her reports were also published on the conservative news media outlet, Drudge Report.
She Began a Second Career as a Freelance Political Commentator in 2015
We are not entirely sure how Kristin Tate made her transition from journalism to political commentary. But having been raised to have opinions about the government, we imagine that character trait inspired her to make the career change.
Since making the career shift, her political commentary portfolio has only grown. She is both a columnist and a TV panelist. For the latter, she writes a weekly column for The Hill Newspaper and Real Clear Politics. Her work for those news outlets often gets republished on The Drudge Report and other national cable news networks.
But it is not just her writing that brings the networks running to the yard. Her public speaking qualities have also made a live TV political commentator. She has appeared in various programs by Fox News, MSNBC and CNN.
The government's COVID-19 "relief" was supposed to be "temporary" while Americans worked to "flatten the curve."

Months later, @KristinBTate says there is no end in sight for the shutdown madness as the Fed prepares to print another $1-3 TRILLION.@cvpayne pic.twitter.com/uz1ldMZzff

— Young Americans for Liberty (@YALiberty) August 6, 2020
As someone renowned for her libertarian views, whose interest focuses on taxes and government regulation, she has also appeared on Fox Business Network. Other noteworthy media outlets in her resume include The Washington Times, PBS, The Daily Caller, and The Washington Examiners.
The outspoken columnist is well known for her conservative commentary on politics. Observers and industry insiders consider her one of the most recognized young writers in America that concentrate on government waste, federal regulations, and taxation. She is a lady of many views, whether political, economic or social, etc.
She is Also a Member of the Executive Board of the College Conservative
Kristin Tate's libertarian views do not just end at being a talking head on television. Offscreen, she puts in the work studying and pushing for different policy directions. As of 2020, she is a Robert Novak Fellow at the Fund for American Studies.
There, Tate is studying about the size and scope of the federal workforce. She is also an analyst for the nonprofit, Young Americans for Liberty, continuing her college relationship with the organization.
Furthermore, Kristin is also currently rendering her services as a member of the Executive Board of the College Conservative. The organization is a lively platform for budding conservative journalists throughout America, and Tate is helping them achieve success, as she did.
Kristin Tate's Career Achievements Include Three Published Books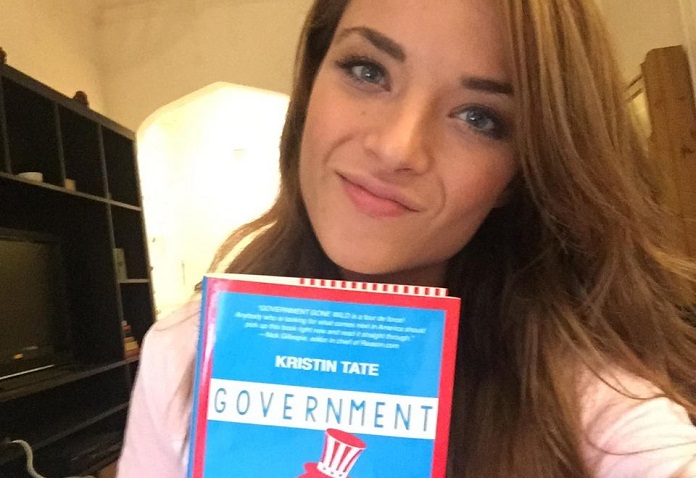 When she is not studying how to curb government waste, Kristin Tate is often writing about it. This dynamic has helped her become a renowned political commentator and made her into a public personality, all at a relatively young age.
But her resume of job experiences is not the only accomplishment of Tate's rocket-driven career. She has also published three books, Government Gone Wild: How D.C. Politicians Are Taking You For a Ride – And What You Can Do About It in 2016. In the book, she provides a look into the wild world of frivolous taxation, aimed at educating people of her generation in the evils of large government.
She has subsequently published two other books. How Do I Tax Thee published in March 2018 by St. Martins Press Group and The Liberal Invasion of Red State America, in January 2020. All three books have done commercially and critically well.
Beyond her achievements in writing, she has also been named among 30 Most Influential Leaders Below 30 years in 2016 by Red Alert Politics. In the following year, she was enlisted as one of the most influential right-of-center leaders below 30 years by Newsmax Magazine. In 2020, she was named a Leader of Tomorrow by the St. Gallen Symposium in Switzerland.
Other accolades of her career include more traditional achievements like a website, kristintate.com, visited by thousands of people. On social media, she also has a significant following, with more than 50,000 followers combined across Twitter, Instagram, and Facebook.
She Might Be A Single Woman
The beautiful American columnist has been tight-lipped when it comes to issues concerning her personal life, especially her past and present relationships. While a lot of young political commentators like her have a public significant other, Kristin Tate has gone the other route.
There is no evidence she is married in any of her public social media pages and website. However, her Instagram page is private. Thus, we cannot say definitively that the Fox News political commentator has no one special in her life, at least publicly.
With her public footprint considered, two things appear possible. One, the libertarian champion is a single woman, who is currently too focused on career for a relationship. The other is, she believes in the total separation of her personal life from her political work, and has a husband or boyfriend is lurking in the shadows. Wherever the truth may lie, one is quite sure, Kristin Tate's fans and critics are extremely interested.