Kristina Tholstrup is a Swedish millionaire socialite famously known as the wife of late English actor, Roger Moore whom she wedded in 2002. She and her late husband graced many high society events moving among Demark and Sweden royals in their latter days together.
The beautiful multi-millionaire had been twice married prior to her marriage with Moore and had two children – late Christina Knudsen and Hans Knudsen Jr. who became Roger Moores' stepchildren. The elegant woman and her late husband toured the world together doing many charity works for UNICEF until his demise in May 2017. There is more to this amazing woman who is fondly called Kiki by her loved ones.
7 Things You Didn't Know About Kristina Tholstrup 'Roger Moore's Wife'
1. Brief Biography
Kristina Tholstrup's parents were from Demark but she was birthed in Sweden sometime in 1941 and she grew up on Swedish soil. The young Kristina became an air hostee, a career that afforded the opportunity to travel to many parts of the world.
After several years of climbing the social ladder, Kristina Tholstrup soon started appearing on TV talk shows like This Morning in 2002, Vivement Dimanche in 2008. She was featured in the documentary of Prince Henri Marie Jean André de Laborde de Monpezat 70th birthday in 2004. She and her late husband, Roger Moore were also guests at Prince Albert II, Monaco's prince wedding ceremony in 2011 to Commonwealth Games Silver medalist, Charlene Wittstock.
Her other accomplishments include an uncredited role in the UNICEF charity Hallmark movie titled A Princess for Christmas (2011), appearances at high society events of Crown Prince Frederik & Mary's wedding. No wonder, she is labeled a powerful socialite as she has walked among royalty especially Denmark and Sweden royal families.
2. Kristina Tholstrup Past Marriages
The socialite has not been so lucky finding a long-lasting partner. Though she has inherited large fortunes and fame from her past two marriages.
Kristina Tholstrup wedded two big-time business moguls before her marriage to the late Roger Moore. Her first marriage was in 1962 to Christian Hans Knudsen, a rich Sweden businessman who dealt in leather manufacturing with whom she had two children.
Sadly, her first husband Kundsen committed suicide after he was accused of tax fraud. Kristina Tholstrup then wedded another Swedish big-time business tycoon in 1978 known as Ole Tholstrup. Their marriage ended after Mr. Tholstrup died from cardio arrest, because of his alcoholic habits. The marriage produced no children.
3. She Is A Mother of Two
As earlier stated, Kristina Tholstrup had two children from her first marriage – a son, Hans Christian Knudsen Jr (b. 1966) and a daughter, Christina Knudsen (b. 1969). Unfortunately, her daughter passed away at the age of 47 years after battling cancer in July 2016 in her Chichester house, England surrounded by the love of her family.
Hans Knudsen, on his part, is a businessman and a father of two. He is married to Henriette Grenaaan, an attorney from Denmark and he resides in Copenhagen with his family.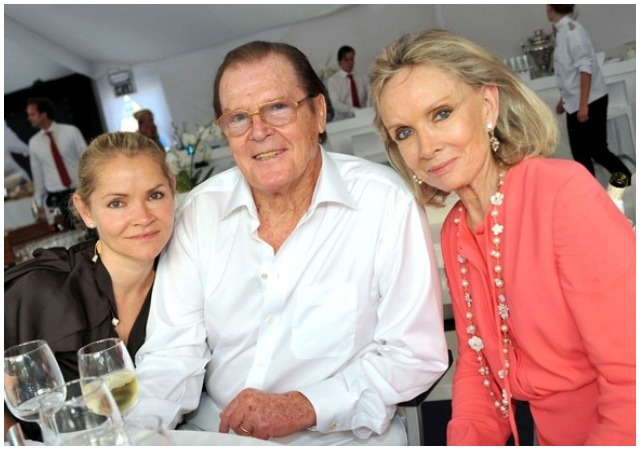 4. Roger Moore and Kristina Tholstrup's Relationship
Kristina Tholstrup relationship with Roger started in the South of France where they lived as neighbors before she cultivated a close friendship with his then third wife and mother to his children; Luisa Mattioli, an actress with Italian origin.
Their relationship blossomed after they were both diagnosed with cancer in the 1990s. Rogers had prostate cancer while Kristina was undergoing treatment for breast cancer. After back and forth interactions, the pair became quite close. In 1993, after Roger's separation from his third wife; he moved in with Tholstrup in Monte Carlos which irked Luisa who accused the duo of betrayal.
Luisa later refused to divorce Moore until she was paid the sum of £10 million in 2000. Two years later, the love birds jetted off to Monaco where they were quietly tied the knot sometime in 2002 in the absence of their family. Though their relationship created a rift between Roger and his three children (Deborah, Geoffrey, and Christian), Rogers and Kristina eventually won them over.
The former James Bond actor in his second book, My Word Is My Bond published in 2008, admitted that he married Kristina because he felt she was his soul mate and gave him tranquillity.
5. Her Net Worth
Many media sources claimed that the Kristina Tholstrup's net worth was more than all Roger Moore ever earned from his acting career. Her $60 million net worth mostly was inherited from her two dead husbands; Knudsen and Tholstrup.
A reliable authority stated that Kristina Tholstrup fortune may have also been impacted by the whopping sum of £10 million she received as a settlement in a libel case against Daily Mail in 2010.
6. She Is A Cancer Survivor
Tholstrup was diagnosed with breast cancer but she fought back and was cleared from the terminal disease – through treatments and the support she enjoyed. Sadly, Moore died from cancer complications at the age of 89 years. She is still kicking and alive as of September 2019.
7. Legal Contention With Son 
Kristina and her son, Hans got media attention after the latter got court injunctions in Monaco to halt financial transaction on his mother's account. He also appealed that the court appoints a financial guardian for his aging mother. He alleged that Per Trosen, his mother's lawyer, was exploiting her vulnerability.
According to court documents provided, it showed that Kristina Tholstrup transferred £479,000 as cash gifts to a couple – Carsten and Kate Hesselhoej – introduced to her by Per Trosen in June 2017. She also paid a service charge worth £155,000 to Trosen from November 2017 to December 2018 with a Rolex watch. While the sum of £2,200,000 was said to have been wired to a New Zealand trust fund account.
Her son has expressed worry that not just his mother's fortune is at stake but also some of the fortune of her famous late husband Roger Moore (worth $110 million).
Key Facts: 
Kristina Tholstrup is a Swedish-born Danish socialite and multi-millionaire.
She is the fourth wife of the late English actor Sir Roger Moore.
She appeared as herself in several television shows and documentaries.
She had an uncredited guest role in the TV movie 'A Princess for Christmas'.
She has been involved in charity work like her husband and often accompanied him to events organized by UNICEF.
Kristina Tholstrup was recognized for her beauty and influence in her youth, thanks to her marriages to wealthy Swedish businessmen.
She was hit by a drunk driver speeding at three times over the limit in 1999.
Tholstrup had been married twice before she tied the knot with Moore.
Moore was diagnosed with prostate cancer in 1993, around the same time Tholstrup was diagnosed with breast cancer.
Tholstrup took legal action against the 'Daily Mail' for false and defamatory allegations.